With more than 60 different programs, the City of White Plains Youth Bureau (WPYB) truly has something to interest, inspire and challenge every young person. The WPYB was established in 1970 as a formal office of the City of White Plains by the Mayor and City Council, and continues to evolve in response to community needs.
Comparing the City of White Plains Youth Bureau to more than 100 similar programs across New York State, Executive Director Frank Williams Jr. says, "There's no one like the White Plains Youth Bureau in terms of the scope of services we provide and our impact in our community." They have received numerous local, state and national awards, including recognition by President Barack Obama as a U.S. Model Agency.
Today the WPYB offers a full range of youth development programs and activities including after school offerings, employment, leadership and counseling, substance abuse prevention and community building. Programming ranges from a Flight Simulator/Flight Academy to encourage an interest in careers in aviation (and teach enrollees to take off and land a plane) to My Brother's Keeper, a collaborative program launched in 2016 between the City of White Plains' Mayor Thomas M. Roach and Dr. Joseph Ricca, the Superintendent of Schools, White Plains City School District. Dr. Ricca and Williams co-lead the initiative to address opportunity gaps faced by boys and young men of color. "The City of White Plains received the 100 Best Communities award by virtue of the collective impact of our community partners who work with us to provide opportunities and resources to help our children grow and succeed," says Williams. Cleveland Browns NFL Running Back William Green participated in the My Brother's Keeper program last year. Among other activities, the program encourages youth to get involved in the WPYB's annual Summer Readers Achievers Program to get a jumpstart on the school year.
Other offerings include Grandpas United, a program that utilizes the talents, skills and experiences of senior male role models and mentors. The WPYB has a diverse variety of programs centered on wellness, the arts, education, career development, science, business, technology, the environment, health and fitness, media labs and field trips to centers of commerce and learning, chess, lacrosse, boxing and so much more.
Generations of Community Support Are The Bedrock of the WPYB
Williams says generations of families are involved in their programs, beginning in kindergarten and participating all through college if they wish. "As the city has changed, the Youth Bureau has been a constant, though we have evolved too," he explains. "We've added more services, and work with the business community in all sectors. We don't turn anybody away, and serve a large immigrant community."
Though there are fees for some programs—like camps and after school programs—Williams emphasizes the Bureau's mission to "serve everybody. At the core of our work is a heart of compassion. I have worked here 33 years and we have produced significant outcomes: This work is like a calling. We're preparing young people for the future, and our staff genuinely likes what they do."
As "perhaps the most important agency in the city of White Plains," Williams says the WPYB works with public safety to help prevent criminal behavior and to offer interventions. "We touch 2,000 kids' lives each day. They are our sons and daughters, and our role is not so much enforcement as it is community membership."
Jessica Mckenzie is current director of public policy and government affairs for PepsiCo, and was formerly employed by the WPYB summer youth employment program. She is just one example of the countless success stories accrued over the past five decades, according to Williams.
Celebrating 50 Years of Inspired Leadership
This year, the Friends of the White Plains Youth Bureau will celebrate the Bureau's 50th anniversary with a gala fundraiser, "Soaring to New Heights," at the elegant Kanopi Restaurant on the 42nd Floor of the Ritz Carlton Westchester. The cocktail reception will be held on Thursday, September 26 from 6 to 9 p.m. and sponsorships are still available.
"In years past, we have attracted between $40-70,000 to support programming," says Williams. "This year, we hope to raise even more. Funds are used for our summer youth employment program, boys' and girls' Saturday Academy programs, our STEAM program, mentoring programs, at-risk programs, the Flight Academy and more. Last year, the latter program alone had more than 300 young people."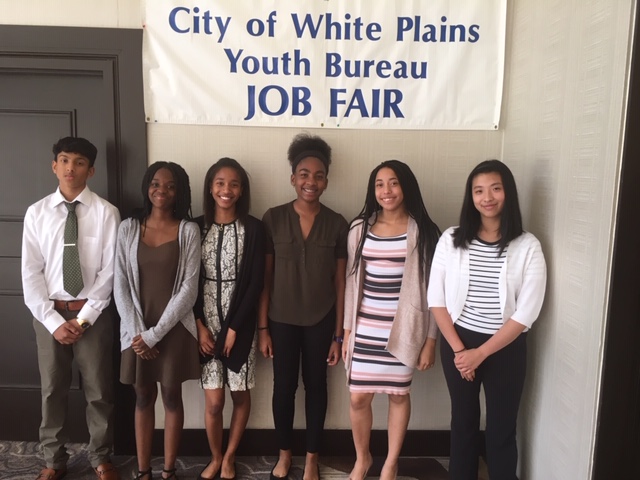 Registration for the After School Connection—childcare for working parents/guardians that offers both structured and non-structured learning opportunities under the guidance of trained, caring and professional staff—opens on August 26 and scholarship rates are available.
For more information about the September 26 fundraiser, or any of the WPYB programs and services, please visit https://whiteplainsyouthbureau.org.
The City of White Plains Youth Bureau
11 Amherst Place
White Plains
914.422.1378
www.whiteplainsyouthbureau.org
Hours:
Monday-Friday, 9 a.m. – 8 p.m.
Saturday, 1 – 8 p.m.
Summer hours:
Monday-Friday, 9 a.m. – 5 p.m.