A moon gate secrets the woodland garden until you lift its latch; along the way is an armillary sundial set on a large rock.
Listen to Dr. Ron Spiro and you might believe that he blundered into his backyard. Of course, it isn't so. But he'll insist that when he came to New Rochelle in 1966 with his wife, Nina, they were "a couple of garden ignoramuses."
When Ron Spiro speaks, you've got to put it into perspective. Sure, in the beginning he may not have been as swift with the shears as he is today. Perhaps he didn't ride into Westchester with the expertise to tackle the stewardship of the reclaimed gulley in his yard that once hosted the New York, Westchester, and Boston Railway. But now, judging from the deftly clipped azaleas around the patio, just footsteps from the expertly coddled native perennials and shrubs lapping the fringes of the woodland path, he's become the gardening version of a black belt. The moral: everything in gardening is relative.
The Spiros hadn't really penetrated the soil prior to arriving in New Rochelle more than 40 years ago. But they were both sympathetic to issues subterranean. In fact, they met at a summer camp, where Ron was a nature counselor and Nina a staffer. But the summer escape was a scenic detour (and certainly a providential encounter) in the life of both. For the rest of the year, their environment was strictly urban, although Nina's mother was known for stuffing tulip bulbs into any crevice that wasn't actually composed of concrete. They married, Ron became a surgeon, and they had children. Then, the country started calling.
Traversed by mulched paths lined with stones excavated from the property, the half-acre woodland garden is the property's latest wrinkle. "When we first moved in, you needed a machete to get into the area," Ron recalls.
Certainly, Brooklyn didn't offer abundant opportunity for interaction with nature ("although we did live half a block from Prospect Park," Nina recalls), but Ron insists that it was the school system, rather than his stifled urges to play in the dirt, that sparked the move to suburbia. And the Spiros similarly claim that the house wasn't originally selected with an eye toward its potential for gardening. Even so, they both can vividly recall the first impressions of the outdoors that greeted them on moving day in 1966.
When Ron and Nina Spiro and their four children came to the original 1.6-acre parcel that they bought in New Rochelle, the curb appeal wasn't half bad. Indeed, they left intact the lush and lovely rose border rimming the driveway. "And the foundation plantings were decent," Ron concedes. It was a perfectly fine nest egg—the only problem being that they continually found themselves casting an eye at the stone outcropping directly behind the trees bordering their property. Stone envy sounds like a strange fantasy, but the fact that these two supposed non-gardeners were coveting their neighbor's rocks and imagining what they would do—if only those boulders could be theirs—says quite a bit about the Spiros. They didn't have a concrete vision, but they did have a plan.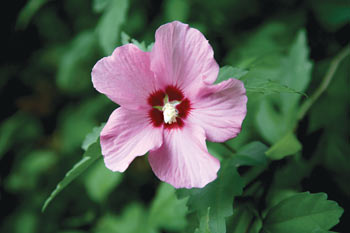 Forming a hedge between the Spiros and their neighbors, the rose of Sharon is disciplined by Ron's pruning shears
All sorts of doors opened when the opportunity arose in 1969 to acquire the land with the stones of their dreams. Admittedly, they were rookies. "We were such garden ignoramuses that a landscaper conned us into broadcasting fertilizer in the woods," Ron recalls. "He told us it would be good for the forest—and we believed him."
But they had good instincts. More than that, they had a fascination for Asian design and a naturalistic approach. They hoped to improve upon the scruffy forest they were given and thought they'd do "a little something with water." That was the full extent of their desires as far as the backyard was concerned. After all, it was the '60s and the average homeowner was putting in a few foundation marigolds at most. The Spiros' vision was head and shoulders above the rest.
A pair of foo dogs and a herd of hostas flank the stairway leading to a sitting area and waterfall.
Their first attempt at a waterfall failed miserably. And that's when Vinny Curzio came to their rescue. Curzio had learned Japanese/American design while working for the eminent landscape architect Kaneji Domoto who, in turn, had studied under Frank Lloyd Wright. Curzio came to view the property, poked around, scratched his head, and pronounced the project possible. "You got the material," he proclaimed and went to work. He drew up no plans, but declared that he would "make you a waterfall," and proceeded to move mountains.
"His vision was our vision," Ron says in retrospect—although the Spiros were acting largely on faith. They watched him move several tons of rock without machinery to build the water course. In the end, the tumbling water was so successfully engineered that it merged seamlessly into the land. And, from the day it made its maiden journey tripping down the boulders onward, Nina was able to throw the windows in the house open and hear the water music from every room. The waterfall emptied into a small pond next to which Curzio created a large natural stone patio where the Spiros could admire his handiwork close-up.
Quan Yin, the Chinese goddess of mercy, sits in a shady nook surrounded by liriope and myrtle.
From then on, Vinny Curzio and the Spiros were a team. So when the couple decided that they needed a swimming pool, they didn't think twice before calling on him. What they had in mind for the next collaboration was a free-form pool with its own small waterfall. By this juncture, it was 1976, and still, they were far ahead of their time style-wise. Most homeowners were madly performing every stunt in their power to banish the glistening tuffets of moss that the Spiros coddled and encouraged. And other gardeners were holding their in-ground pools at a safe distance with an immaculate collar of paving all around.
What the Spiros and Curzio came up with was a pool edged in rock and surrounded by grass to appear completely simpatico with its setting. Harmony was what they were thinking, and congruity was what Curzio delivered. At first, they misjudged the dimensions. But Nina's mother, an interior designer, took one look at the proposed 20-by-30-foot pool and set them straight, "This pool isn't large enough," she declared. And it summarily was bumped up to 24-by-54 feet.
In the meantime, the Spiros were getting up to speed on their gardening skills, mainly because the maintenance fell into their court. In particular, Ron signed up for the occasional gardening course at the New York Botanical Garden when he could wedge them into his spare time. In particular, he studied pruning. He read and he practiced. Eventually, when he retired, he swung into an intensive schedule of pruning nonstop throughout the winter to keep the maturing shrubs in prime condition. His second career is only a short leap from his initial vocation. "I traded in my scalpel for pruning shears," he likes to joke, "now I cut to please myself. If I make a mistake, it grows back. And I don't have to worry about a lawsuit."
Poised at one end of the pool, a pair of herons frame the view of Ron's carefully sculpted junipers and azaleas.

So the Spiros were fairly savvy before they acquired the final jewel in their crown property-wise. Initially, neither Ron nor Nina was much impressed by the abandoned railroad cut that lay beyond their immediate backyard. Of course, the gorge where the New York, Westchester, and Boston Railway—the first electric commuter line in the country—once rumbled was of historic interest and certainly a conversation piece, but they didn't see its horticultural merits. Nonetheless, in 1975, the acquisition of the defunct commuter gorge (service ceased in 1937) was the crowning chunk in the Spiros' 1.6-acre parcel.
Simply put, it was a dump. Anyone else might have left the forsaken land alone as a buffer zone. But not the Spiros. That project began seven years ago with a chance encounter over the back fence, when Eliot Goldfinger, a sculptor and author who owned the adjacent railroad parcel, asked if he could dig a bucket of mulch from their side of the property line. The Spiros then decided to emulate the Goldfingers, building a stairway for access into the gulley. The two neighbors removed decades of accumulated debris and created a stone-lined path the length of both properties. Goldfinger then transformed the swampy bottom into a dry stream bed that becomes a merry brook when it rains, while Ron terraced the adjacent hillside. What resulted is a delightful surprise—a startling, jolly green gorge in the middle of sedate New Rochelle, a city where most homeowners are happy if they've got a small parcel and a handful of blooms. And ever since the two began tackling the project, they've been calling each other "almost family" while working side by side, developing a sunken, hidden, magical Middle-earth-like scene that would make J.R.R. Tolkien smile.
The Spiros didn't stop there. In 2002, they began chiseling away at a wildflower and native plant garden on a wooded half acre of their property. Consisting of rock ledge covered by a few inches of soil, portions of the rock were deliberately exposed as a sculptural element. Then they added abelias, calicarpas, witch hazels, physocarpuses, and calycanthus, among other shrubs, and underplanted with tiarella, ajuga, Solomon seal, asarums, and sundry woodland natives. They're still struggling to make their "natural" woodland work, but they refuse to be flummoxed. And they labor at the project endlessly. "People think it just happens…" Nina says. As for the payback, the Spiros have no doubts about the rewards, "It's a tremendous creative challenge," Ron admits, "but it's a fulfilling craft. Both of us have fallen in love with gardens and it's a hobby that provides mutual gratification."
At the end of the day, the Spiros can sit on the patio, listen to the waterfall, and relax in the haven they've hewn together—proud of the green oasis they've given back to nature. As Nina often says, "If ever there was a garden that evolved, it exists in our backyard."
Photography by Michael Polito
Tovah Martin is the author of numerous gardening books, the most recent being The New Terrarium to be published in January 2009 by Clarkson Potter. She lectures frequently and serves as the editorial producer of the PBS television series, "Cultivating Life."