Bigger and Badder
In the last 20 years, portions have more than doubled in size.
The holidays are synonymous with food—and lots of it. But it turns out that we aren't eating more just during the holidays. Over the past 20 years, portion sizes have been growing steadily—often without consumers realizing it—and our waistlines are expanding at a similar rate. Knowing the portion sizes of your favorite snacks and limiting your intake accordingly, can help you get a jump on your New Year's resolution to get in shape and stay healthier for years to come. Below you'll find three examples of how some of your favorite foods (and drinks) have grown.
Chocolate Chip Cookie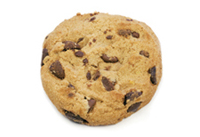 1986: 55 calories; 1.5-inch diameter
2006: 275 calories; 3.5-inch diameter
Muffin
1986: 55 calories; 1.5-inch diameter
2006: 500 calories; 4 ounces.
Coffee
1986: Coffee with whole milk and sugar: 45 calories; 8 oz.
2006: Starbucks Grande Cappuccino with whole milk and 2 packets of Sugar in the Raw: 190 calories; 16 oz.