Imagine sampling crisp, fresh-from-the-earth vegetables, creamy cheeses, luscious berries, and sparkling gold honey—all made in Westchester. Though we think of the county as a well-manicured bedroom community where open spaces are sacrificed to McMansions and (gasp) skyscrapers, if you know where to look, you can find verdant rolling fields dotted with raspberry bushes and dewy greenhouses packed with hothouse tomatoes. And working these farms are your neighbors—men and women who aren't afraid to venture into the field and get their hands and their clothes dirty.
Farmers in Westchester have had it rough for a long time. Though there were still many farms in the county in the 1920s, the Great Depression drove many out of business. After World War II, when suburbanization began in earnest, rising land taxes and falling profits led most of the remaining farmers to sell out to real estate developers. In 1964, 18,500 acres were farmed in Westchester; 10 years later, only 9,000. (This figure does not include horse farms and horticultural plantings.)
But things are turning around, thanks to Westchester locavores who are demanding fresh, locally-grown products and thanks to New York State which has been offering farmers tax advantages and land protection for the past seven years. As a result, our county now includes 128 farms—or 17,800 acres—located mostly in Northern Westchester. Here, a pictorial tour of some of our local farms.
The 18-acre Three Feathers Farm (Rte 123, Vista, 914-533-6529) is family owned. "I grow it and my wife's
the grocery store," declares farmer Joe Haberny. Even
in winter, the hand-lettered sign hanging out front on
Rte 123 announces the fruits of 400 tomato plants, 150
pepper plants, and an acre of corn, as well as homemade
red pepper jelly, maple syrup, and occasionally some lamb
for sale. Shown here is one of the
family's four pigs, but the farm is also home to sheep, a
goat, and lots of chickens whose eggs sell out daily from
a small stand behind the farmhouse.
Marian Cross, a former non-profit
executive, and her husband Larry converted their weekend house into what is now a five-acre
"u-pick" farm, named Amawalk Farm (42 Wood St, Katonah, 914-245-2319, info@amawalkfarm.org). Visitors travel every weekend until the first frost (around October 15) to harvest their certified organic goodies. In the opening season of summer '07, the public picked 2,600 pints of luscious, organic raspberries. The couple, who married this past May, are shooting for 4,000 pints this year.
Yes, there's a wool farm in our county—a natural one, of course. The Merino wool from Hudson Valley WoolWorks (Maple Grove Farm, 22 Black Brook Rd, Bedford, 914-234-9550, hudsonvalleywool.com, open 9-12 Monday to Saturday) is locally raised and hand-dyed with natural plant material and non-toxic dyes. Shirley Bianco, a former currency trader, and her husband, George, began restoring the 30-acre, 1757 Maple Grove Farm 12 years ago. "Knitting a sweater from the wool of a lamb you helped to be born is like eating a tomato you started from seed," says Bianco. Bianco is learning to breed her flock, which includes this Merino sheep, for fineness.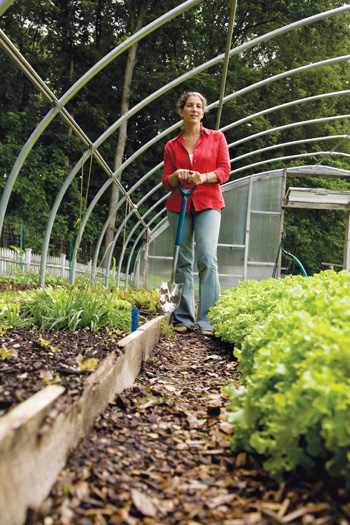 Lisa Schwartz and her husband, Mark, have recombined 35 acres of what was known in the 1930s as Beaver Ridge Farm and created Rainbeau Ridge Farm (49 David's Way, Bedford Hills, 914-234-2197, rainbeauridge.com). Lisa Schwartz on the grounds of her hands-on, suburban, diversified farm.
 Photography by Michael Polito