Well, Informed
Ask any 10 people what they consider "mindful" living, and you'll get as many different answers. Ask Robin Harmon-Myers and you'll get a determined one: it's about raising consciousness.
Harmon-Myers owns Harmony Designs Furniture & Interiors, a Mount Vernon-based home furnishings and accessories store and interior design studio with a mission. "My goal is to help consumers be consistent in their thought processes, to be conscious about how they live and what they buy," she says. "It's about being aware of what purchases mean to your lifestyle, to your pocket, and to your health and wellness."

At Harmony Designs, that means shelves are stocked with stainless-steel water bottles ("if you read up on the dangers of plastic bottles, you'll never want to drink from one again," she says), biodegradable cleaning products, pretty glass containers for food storage, soy candles, and personal products, such as sweet-smelling organic moisturizers. Underfoot are bamboo mats that double as area rugs, surrounded by distinctive furniture, some of which is allergen free.

Many of the distinctive home accessories at Harmony Designs are pieces its owner looked for—and often struggled to find—as a consumer. "As a young African-American woman shopping for her first home, I felt a void in the market. It was either completely ethnic or not at all," says the Mount Vernon resident. To fill that gap, Harmon-Myers began carving her niche, consulting dozens of like-minded design professionals. Eventually, she traded animal prints, Kente cloth, and other traditional African themes for a sensibility that celebrates a wide variety of cultures.
Robin Harmon-Myers
Today, Harmony Designs is housed in a century-old, 12,500-square-foot structure (complete with 18-foot ceilings) in Mount Vernon's downtown shopping district. The building was transformed by Harmon-Myers' keen design sensibility and the "structural know-how" of her husband, Floyd Myers, a native of Mount Vernon and brother of one of the city's biggest stars, Heavy D, of rap group Heavy D & The Boyz. For Harmon-Myers, the renovation itself was proof positive that reclaiming the old can be as valuable as starting new. "New development has its place," she says. "But being here proved that oftentimes, we have what we need right where we are."
Harmony Designs
Furniture & Interiors
115 South 4th Avenue
Mount Vernon
(914) 699-0809
harmonydesigns.net
Armchair Traveler —and Shopper
Miguel Jaime wants his customers to search for French treasures or explore the markets of a small Mexican village. Well, to stroll and explore virtually, at least. The founder of Port Chester- based OriginCrafts.com has filled his website with handmade home and garden accessories and decorative accents with a global feel—more than 2,000 products made out of blown glass, clay, wood, and wrought iron. "We're the website for the worldly adventurer, traveler, and collector," says Jaime.
origincrafts.com
Take the Floor


As a former marketing exec for high-profile companies such as Revlon, Procter & Gamble, and Cadbury Schweppes, Debbie Gartner decided it was time to add entrepreneur to her resume. In December 2007, she opened a Port Chester studio for Floor Coverings International (FCI), a shop-at-home retailer with more than 3,000 flooring options from top brands, including hardwood, carpet, ceramic tile and natural stone, laminates, luxury vinyl, and area rugs (and—for those going green—a number of eco-friendly ideas, including bamboo, cork, and recycled carpeting). FCI's visualization technology, FCIInspireNet, lets clients upload a digital picture of their room to view floor options in their own spaces with the click of a button. Explains Gartner: "The software puts an end to ambiguity by bringing the flooring to life."
Floor Coverings International
26 Putnam Avenue
Port Chester
(914) 937-2950
floorcoveringsinternational.com

Window of Opportunity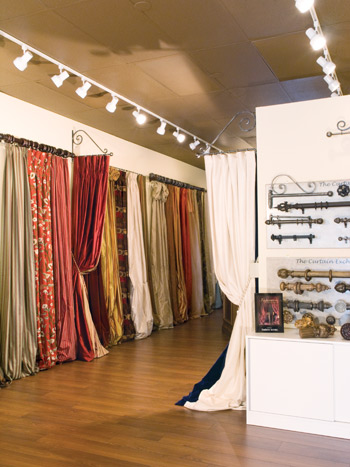 Those distressed that a dark storefront means it's curtains for their favorite Larchmont window-treatment studio have little to fear. The Curtain Exchange, which has earned loyal clients for its ability to bridge the gap between off-the-shelf, store-bought curtains and custom workroom window treatments, simply moved to Scarsdale. At its new location, which doubles its size, the store offers new selections of styles and fabrics, as well as custom window shades and bedding. You'll still find ready-to-hang curtains (which you can try on for size in your home before making a cash commitment), Hunter Douglas shades, and custom curtain rods.
The Curtain Exchange
of Westchester
747 White Plains Post Road
Scarsdale
(914) 834-6373
thecurtainexchange.com
East Meets Westchester
When guests ask where you discovered the Theyyam tribal mask, the Thambura stringed instruments, or the teak-and-rosewood chair from an old fishing boats in Kerala, you can tell them about your exotic trip to India—or you can tell them the truth: you found them at East India Designs in Bronxville. This source for dramatic furnishings and accessories is filled with jewelry, scarves, jackets, boxes, and blankets, as well as furniture, lanterns, architectural elements, and antiques awash in the colors and detailing of Indian designs. (Owners Janet George and Susan Piper travel to India several times a year to fill their store with Indian treasures.) If you can't make the trip to Bronxville, visit the virtual store at eastindiadesigns.com, which is filled with samples from George and Piper's inventory.
East India Designs
3 Pondfield Road
Bronxville
(914) 337-2177
eastindiadesigns.com