Photo of Wendy Gee! chair by John O'Donnell.
Bathing Beauty

"These fabulous tubs from the Wetstyle Cube Collection go with any transitional, minimalist, spa-inspired bathroom," says architect Carol Kurth of Bedford. "Their expressive geometric lines and clean forms create a fresh modern aesthetic for relaxing in after a long day."
â– Carol Kurth Architecture PC, Bedford (914) 234-2595;
New Wallpaper: Custom Wall Art
We're big fans of interior designer Phyllis Harbinger, so when she suggests we check something out, we do. Case in point: The hand-painted wallpaper collection by California-based artist David Bonk, whose team literally hand-paints every order. Yes, his surface wall coverings have been used all over the world, but what drew us in is not so much his portfolio (though it is impressive), but his intricate attention to detail, the wide array of patterns and colors, and the truly unique designs, many with metallic or pearl finishes. If you didn't know better, you'd swear the walls were made from fine silks.
POLLACK
979 Third Ave, 17th Fl
New York, NY
(212) 421-8755
Babar Prints
Le Petit Éléphant
Even though Babar the Elephant was born in 1931, his adventures still resonate with generations of fans of the classic children's series. Blithewolde Home owner Sandy Saiger, who finds many of her gems on buying trips to France, purchased an original printing of the book and brought it home with the idea of framing the pages that were in good condition. Lucky for us, many pages were. According to store manager Alexandra White, everyone who comes in, regardless of age, is drawn to them. "They just translate to a lot of people," she says. Prices start at $375.
â– Blithewolde Home
495 Lexington Ave
Mount Kisco
(914) 666-7533
Let There Be Light!

Photo by Robert Grant
We just love these Tracy Glover hand-blown glass lamps—gorgeous works of art, lit or unlit. Her inspiration is rooted in traditional Venetian glassmaking, in particular, the Italian a "cane" technique that creates those fabulous stripes. "I like how the stripes accentuate the curves in the glass, widening around the 'bellies,' or nipping in tight where it narrows," Glover says. "I'll add a solid color 'bead' to highlight or draw attention to one color in the mix, and because they're transparent, when you look through to the other side, the colors overlap and create new colors." All work is made to order; color, pattern, and lampshade fabric can be customized. From left: Striped Bocce Table Lamp, Veronese Table Lamp, Turk Lamp; although these happen to be all stripes, the same styles may be ordered in translucent solid colors or a lace pattern
â– Urban Cottage
112 Kraft Ave
Bronxville
(914) 337-0077
Photo by Robert Grant

Tray Chic

Be it shells, fruits, birds, or scenery, Annie Modica's visually appealing trays make gorgeous design statements. Use as an accent or for entertaining and be prepared for lots of "oohs" and "aahs" from your guests, $205 and up
â– Urban Cottage
112 Kraft Ave
Bronxville
(914) 337-0077
New Home Accessories Store
A garden of earthly delights awaits within: fragrant soaps and candles; sumptuous Italian and Egyptian cotton linens; ultra-luxurious terrycloth towels; a tempting selection of trays, pitchers, and tabletop ware. And Company is one of a foursome of stores owned by Eygptians Jenni and Sammy Elmished (the others are in Norwalk, Connecticut, with two in Egypt). Most items range from $20 to $300.
And Company
Rye Brook
(914) 305-4029
New Tile: Metal Works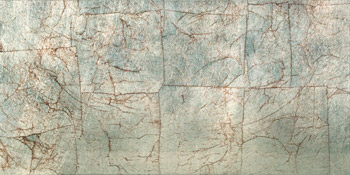 Want to add some pizzazz to your parlor or powder room? Check out the stunning new La Leaf Collection from Artistic Tile, which comes in antique copper, gold, and silver leaf. The leafing is applied to the underside of glass tiles, and sealed using a proprietary process that allows it to shine where ordinary metallic leaf couldn't. Designers have called it both timely and timeless; we have to agree. Pricing starts at $64.60 per sq foot for 12″ x 24″ tile.
Artistic Tile
65 Tarrytown Rd
White Plains
(914) 422-0041
Best Seats in the House
Faux Formal
Patricia O'Shaughnessy loves this look she calls "faux formal." She says, "You can see it in the return of painted furniture in more formal, not country, furnishings, like your Aunt Helen's Bergere chair. Frames are painted in tangy colors and the fabrics are formal, overscaled, and bold in toiles and prints. The Carlie Chair from Crate & Barrel is one example; Anthropologie has a similar chair, formal with an urban, British, twist. I'm doing my own custom version, with a local chair frame importer in Mount Vernon."
â– Christopher Douglas
214 S Fulton Ave
(914) 665-5412
Those Fabulous Fifties We may have hated our parents' furniture growing up but…how time changes our perspectives. This retro chair by American Leather features walnut legs and a fabric called Verona Twig. It has become the new go-to comfy spot for lounging. The styling speaks for itself: a funky, slightly exaggerated shape, tight back and single-needle top-stitching.
â– Wendy Gee!
1949 Palmer Ave
Larchmont
(914) 834-8507
New Fabric: Ombre
In French, the word ombré means shaded—a perfect description of the color effect created by this new J. Robert Scott collection. According to on-top-of-the-trends expert Phyllis Harbinger, who commissions the fabric for many of the homes she designs in Westchester and New York City, this new fabric has a sheen and a personality that basically changes with the light as you move from right to left; we never get tired of looking at it.
J. Robert Scott
979 Third Ave, 2nd Floor,
New York, NY
(212) 755-4910
The Oomph Factor

Photo by Robert Grant
Eco-friendly upholstery textile is the Mehndi pattern from Sina Pearson Textiles, shown in Joyous Orange colorway; available through Fabu Fabric, Bedford Hills.
We love these adorable occasional Tini tables (shown on page 49)—named for their size, as well as the cocktail, of course. They're fun, not only for their tiny dimensions (a great way to pack a lot of style into a small space), but also for their design options: select the size, shape, tabletop material, and color (you've got more than 16 choices). Even better: We love that they're local (sort of); handcrafted across the border in New Canaan, Connecticut.
Blithewold Home
495 Lexington Ave
Mount Kisco
(914) 666-7533
Vase is by Tracy Glover