Photography by Gus Cantavero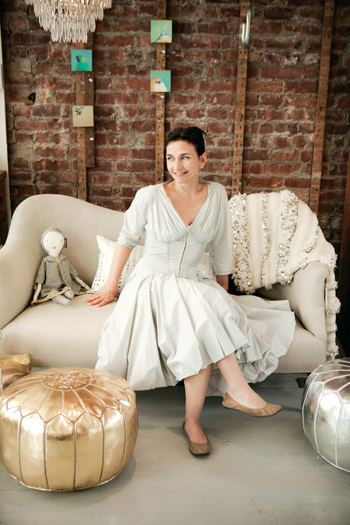 Photo by Rana Faure
David at her shop, Wake Robin
You'd expect a high-end interior designer to get excited about over-the-top design elements like dramatic window treatments, overly expensive imported rugs, and museum-worthy sofas. But design guru Megan David, the owner of Wake Robin, the chic home accessories/interior design boutique in Briarcliff Manor, seems to have more affection for flea-market finds and inventive storage spaces than furniture that's too precious to sit on.
Perched on a hill, David's four-bedroom, 1930s house in Croton-on-Hudson is the designer's first "real home," and its special significance goes far beyond decorating. Growing up with divorced parents in Park Slope, Brooklyn, from the age of 6, David split her time between her mother's railroad apartment and her father's loft, toting her essentials in a duffel bag. "It was really hard," she says. "I was a nomad. I used to rebel by making a total mess of my room."
Today, the mother of three children (ages 14, 9, and 2) has a house that's comfortable and organized, where each room serves a specific purpose and everything has its place. "This house is a reflection of my family," she says. "There's a place for everything—even the toilet paper goes in a spot. My kids have their own space. It's so liberating to fill a space and have it reflect who I've become."
| | |
| --- | --- |
| David sets the dining room table with textiles from her shop; the mirror is from ABC Carpet | A washbasin functions as an entryway table |
Walk inside and you're greeted by an open space where the sun beams in through the front windows and, like in a railroad apartment, it's hard to tell where one room ends and the next begins. The open feel, though, didn't always exist. "To buy this house, we really had to see the potential in it," says David, who purchased it with her husband, Joseph Green, six years ago. Since then, the couple has ripped up carpets, refurbished floors, and opened walls to maximize every square foot.
"You have to be in touch with how you truthfully use your space. I think every part of the house should be designed for how it's used." To that end, she made a bold real estate move: transforming a former bedroom, right off the entrance, into a mudroom. Now dramatic, sweeping white curtains hide a gigantic coat closet, while a hand-painted Chinese cabinet from ABC Carpet & Home, where David was once a buyer, adds more storage. "This is our catch-all room," she says. "We had the closet installed because we had no place to put our coats."
Designer or not, David makes no apologies for protecting precious furniture, like her Cisco Brothers couch, draped in un-precious slipcovers, in the casual entry sitting room. "The lines on this couch are beautiful," she says. "I'll have it forever." She plans to recover the piece when "my kids are old enough," but for now, it's just practical extra seating that can handle an occasional spill.
The living room is the focal point of the first floor and where the family likes to sit and talk. "At one point, we had a fifty-inch TV in the living room. Instead of a room to relate, it was a TV gathering spot. I hated it. Now it's a more peaceful room—a place to be with other people."
| | |
| --- | --- |
| "I have more mirrors than brains," says David, who calls these Ochre Mercury glass tables in the entry sitting room "mirror tables | An Art Deco mirror is a focal point over the mantel |
Here, two Cabriolet chairs—one given to her by her mother-in-law, the other by her stepmother—face the working fireplace. The previous owners had painted over the brick, making it look plastic, David says. To turn that around, she painted the brick white and added an old mantel she found at a florist in the city. "I loved the color of the chipped paint," she says. The final touch: an etched-glass mirror to hang above it.
David tore down walls, ripped up carpets, and refinished the floors to make the first-floor living area open and bright; the rugs are from Anthropolgie
The cozy nook behind the living room is now the dining room. "It used to be my daughter's room," David says. "I move things around constantly. Friends will come over and say, 'Oh I haven't seen it this way.'"
While some people prefer a dining room to be a fancy setup used only for company, for David's family, it's a glamorous—but utilitarian—part of the house. "We always eat at the table," she says. "As a kid, we never sat down together to have a meal, so, for me, that was important." The table is an Arts and Crafts piece that David found at The Craftsman Home in Berkeley, California. She bought the custom-made leather-cushioned chairs there, too. "This was our first real piece of furniture. It's a beautiful piece, one of those things that I think my children will have."
| | |
| --- | --- |
| A small vintage lingerie bureau sits at the top of the stairs | This living room coffee table is actually a window, framed in wood planks with iron |
A huge mirror, also from ABC, leans against the wall behind the table. "I'm a stickler for mirrors. I think they open up and brighten rooms. I have more mirrors than brains." Two Indonesian prints, from David's father, hang over the sideboard, adding a regal touch.
And while a dining room might seem like an odd place for a wall of family photos, David showcases not one, but two walls of family pictures. They're framed in all kinds of colors, on either side of the archway. She also built an open closet with shelves into the dining room to showcase her books. "Books are memorabilia," she says.
| | |
| --- | --- |
| The kitchen desk is home to David's laptop, and it's also where she keeps track of her days via days-of-the-week wall decals she found on etsy.com | David redid her kitchen with IKEA last year, just in time for Thanksgiving, which she refers to as "my holiday." "This kitchen is such an improvement," she says |
The kitchen, way at the end of the first floor, is spare and simple. David renovated last fall (2010) and transformed her the space with the help of IKEA. "I didn't want to spend a lot of money, because I don't love cabinetry," she says. "IKEA is a great source for very minimalist, functional cabinetry. I love my double-sink and my pull-out drawers."
The master bedroom is "everything a bedroom should be," says David. "It's cozy, soothing, and bright with tons of space. I like that's it high up—I feel like I'm in the trees."
Glass-paned double French doors, which lead to the stone patio, keep the kitchen sunny and bright. The countertops are Formica, and David inherited the almost-new appliances from various family members.
The kitchen is actually the most modern place in the house. Everything else has lived a former life, which adds not only aesthetic appeal to David's home but nostalgia as well. "Everything that I had that didn't have a place does now," David says. Even those old flea-market finds. "I'm not giving them a new life. I'm just finding a home for them."