For some reason, it's hard to believe that the holiday season is here. Maybe it's because it's been so warm. Maybe it's because I'm not ready to start shopping. Maybe it's because time flies faster and faster the older I get.
Of course, the one sure thing to always get me in the spirit is putting up the Christmas tree. I'm actually really looking forward to it because for the first time, Maisie will be able to help me decorate it or, probably more likely, un-decorate it. No matter… it'll be fun to watch her little hands handling ornaments my parents bought almost 70 years ago.
I'm a big fan of real Christmas trees. We always had a fake one growing up. In fact, my dad has a patent on fake, pre-lit Christmas trees—a patent with which he never did anything. Truth is, there just aren't a lot of Christmas tree farms in West Texas where I grew up, but once I got here in the Northeast, look out tree farms. I just love tromping through the snow and finding just the right tree. Last year, we took Maisie with us. She didn't get it, but she did get a kick out of the guy dressed like a tree.
If you want to cut your own tree here in Westchester, there seems to be only one spot, the same farm where we went apple-picking, Wilkens Fruit and Fir Farm. It's open daily until the 18th from 10am to 4pm. There are plenty of spots in the surrounding counties, so if you're closer to the county line than you are to Yorktown Heights, you might want to Google another spot. The cool thing about Wilkens is that it gives you free hot cider when you buy a tree and it has three stores filled with all sorts of decorations and food. Yum!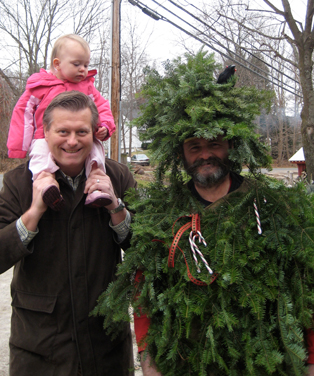 Of course, a visit to Santa always does the trick, too. Lucky for us, you don't have to go to the North Pole. Santa will be right here at The Westchester, ready to hear your kid's wish list. Maisie met him last year and wasn't quite so sure what to think.
There are a couple of other neat things the Ritz-Carlton, Westchester, in White Plains is doing that might get you in the mood. On Sunday the 5th, The Ritz is hosting Breakfast with Santa at 8:30am. It'll set you back $45, but kids under 3 are free. The following Sunday, the hotel is hosting a Winter Holiday Festival from 1pm to 3pm which includes a visit from Westchester Ballet Company's "Nutcracker," food, cookie decorating, and more. The cost is $40 for a family of four or $15 per person. Kids under 3 are free. The hotel is also hosting gingerbread cookie decorating workshops on the 4th, 11th, and 18th from 9am to 11am. Whew. That's one busy place!
There's a cool, newish holiday tradition in Chappaqua: The Third Annual New Castle Community Sing. It's kind of a variety show meets sing-a-long that features a lot of local performers. Don't fret if you don't know the words to all the songs. The folks here pass out the lyrics so everybody can join in. If you can't carry a tune in a bucket like me, well then—just listen. The concert is free at the Robert E. Bell Middle School Auditorium at 3:30 on the 4th. If you're feeling up to it, you can join afterwards at the old Horace Greeley House for the New Castle Historical Society's holiday tree lighting.
Of course, Hanukkah has already started and Chabad of The Rivertowns  seems to know just how to celebrate with a seasonal boutique and holiday events it calls Hanukkah Wonderland. You can decorate a dreidel, make a Hanukkah candle, go on missions in its glow room, join an archeological dig, participate in its Lego menorah competition—the works! This Sunday, it'll be hosting the Balloon Mania Hanukkah Family Festival at 1pm, with balloon menorahs and sculptures as well as latkes and donuts. It sounds pretty cool to me and the best part is that it's free! It's every day through December 8.
And for the 21st consecutive season, you can catch Frosty the Snowman at The Rochambeau Theater in White Plains. You and your little ones (recommended for PreK to 3rd Grade) can catch it on December 4 at 11 am or December 6, 7, and 8 at 10:30am. Seats are 14 bucks a pop!
So I guess I need to get my patootie off the couch and kiss my bah humbug goodbye. The holidays are here, like it or not.