Kick off your weekend in rocker-chic looks that raise eyebrows — in a good way.
ON HIM: Rodd & Gunn army-green jacket, $248, and khaki pants, $128; The Original Retro Brand T-shirt, $35; and Noah Waxman gray suede sneakers, $295, all at Rothman's; Herschel Supply Co. gray bag, $90, at Lester's
ON HER: MadeWorn rock T-shirt, $175, at House of 29 Lifestyle Boutique; Dries Van Noten nylon-mesh pullover, $155, and Brunello Cucinelli olive cropped pants, $945, at Neiman Marcus; Chakarr Byzantine bangle bracelet, $99, at Clutch; Burberry mini bag, $1,595, and Kenneth Cole gold Brooke sandals, $130, at Bloomingdale's
Photography: Marc Kayne; Styling: Kathy Kalafut; Creative Direction: Halina Sabath; Text: Amy R. Partridge
Models: Martyna Soboleska, Wilhelmina and Tim Ryan, Next Management
Hair and Makeup: Tara Pagliara Grooming Carissa Swany for Agency Gerard, using M.A.C cosmetics and Bumble and Bumble
Art & Styling Assistance: Rebecca Bonney, Tykischa Jacobs, Alexis Napoli, and Katie Nevin
Location: Westchester Country Club, Rye
Who says guys can't wear pink? The vibrant color ruled the men's runways.
BOSS Ceberus jacket, $745, Onzo knit sweater, $195, Tessler T-shirt, $125, Delaware3 jeans, $175, and Noir Slon Itws slip-ons, $225, all at HUGO BOSS; Bucks Club gray braided belt, $95, at Rothman's; Herschel Supply Co. bag, $90, at Lester's
Nothing like a cold-shoulder top (paired with the new must-have boyfriend-fit jeans) to heat up a spring weekend.
Victoria Beckham striped blouse, $530, ribbon-trimmed jeans, $490, and leather motorcycle jacket, $1,240; Marni bag, $1,820; and Nicole Schumann choker, $500, all at Pamela Robbins; B Brian Atwood denim sandals, $175, at Lord & Taylor
No shrinking violets here: This season, the bold-floral trend is on point.
Trina Turk floral dress, $328, at Lord & Taylor; black flowered bag, $38, at Lester's; resin oval-link bracelets, $28 each, at Clutch
Tuck trendy sorbet brights under a classic spring trench for a sexy, pop-of-color look.
Sandro blue ruffled dress, $470, khaki trench coat, $595, and gold belt, $120, and Loeffler Randall pink shoulder bag, $425, all at Bloomingdale's; Stuart Weitzman adobe satin Partisan sandals, $455, at Stuart Weitzman; Prada eyeglasses, $325, at Raymond Opticians; Lauren K Fine Jewelry aquamarine earrings, $4,995, and boulder opal cocktail ring with diamond accents, $4,750, at Vincents Fine Jewelry
Balloon sleeves blow up this season; pair them with a knit-denim skirt and flowered coat for a fresh take.
Byron Lars coat, $449, and skirt, $310, at New York Dolls; blue-and-white striped Petersyn blouse, $295, at Angela's; Galaxy Bijoux pearl-and-leather floral choker, $150, at Galaxy Bijoux; Michael Kors Kit Vachetta sandals, $169, and Mena gold-tone leather floral watch, $195, at Michael Kors
Stand out from the crowd in globetrotting styles like this Frida Kahlo-inspired look.
ON HER: Giada Forte double-crepe red coat, $985, red-and-white dress, $600, green-beaded necklace, $210, and cloth bag, $425, and Erin Considine black and beige Porter necklaces, $160 each, all at m.DRATTELL; Marc Jacobs black satin espadrilles, $250, at Lord & Taylor
ON HIM: Salvatore Ferragamo navy suit, navy bib shirt, blue studded belt, and navy nylon trainers, price upon request, all at Salvatore Ferragamo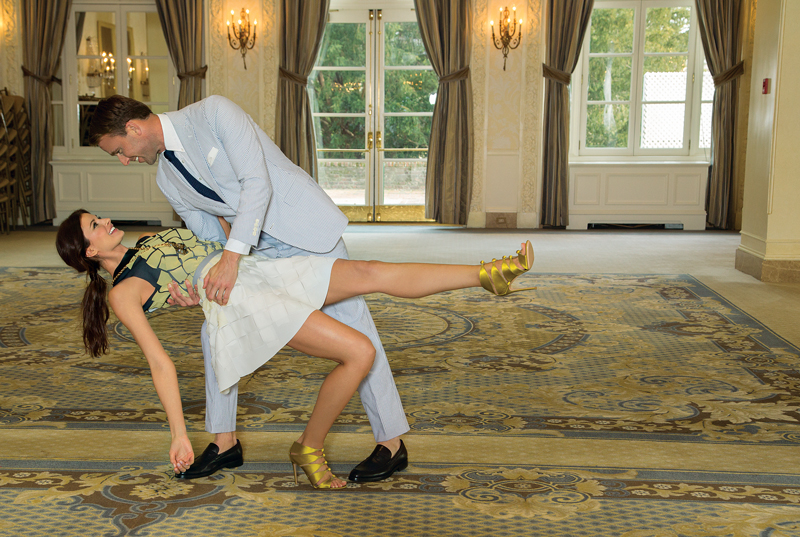 It's hard to resist the allure of this citrusy hue — fashion's new favorite shade.
ON HER: Marco De Vincenzo yellow-and-gray silk cutout dress, $3,300, and Oscar de la Renta vintage brooch on chain, $575, all at Mary Jane Denzer; Gianvito Rossi chartreuse satin sandals, $1,045, at Angela's
ON HIM: Brooks Brothers Regent-fit seersucker suit, $498, Regent-fit Irish linen sport shirt, $105, and textured knit tie, $79.50, all at Brooks Brothers; Cole Haan Hamilton Grand penny loafers, $280, at Cole Haan
Elevate a classic suit with a touch of sheer linen for a modern — and dapper — date look.
Brooks Brothers Golden Fleece navy Glen-plaid suit, $2,498, and white linen sport shirt, $225, at www.brooksbrothers.com; Brooks Brothers black-frame glasses, $250, at Raymond Opticians
Where to buy what you see:
Angela's
Rye; 914.481.5894
Bloomingdale's
White Plains; 914.684.6300
Brooks Brothers
White Plains; 914.644.8616
Clutch
Larchmont; 914.315.1434
Cole Haan
White Plains; 914.997.7480
Emily Amey
Tarrytown; www.emilyamey.com
Galaxy Bijoux (Susan Pascal Johansson)
White Plains; 914.413.5914/914.997.5613
House of 29 lifestyle boutique
Chappaqua; 914.861.2928
Hugo Boss
White Plains; 914.681.1955
Lester's
Rye Brook; 914.908.5688
Lord & Taylor
Scarsdale; 914.723.7700
m.DRATTELL
Larchmont; 914.815.0226
Mary Jane Denzer
White Plains; 914.328.0330
Michael Kors
White Plains; 914.422.0000
Neiman Marcus
White Plains; 914.428.2000
New York Dolls
Mount Kisco; 914.244.3655
Pamela Robbins
Scarsdale; 914.472.4033
Raymond Opticians
White Plains; 914.328.2020
Rothman's
Scarsdale; 914.713.0300
Salvatore Ferragamo
White Plains; 914.946.0604
Vincents Fine Jewelry
Pelham; 914.235.5000
She's fit and fierce in this high-low mashup: A sporty bomber adds an unexpected touch to an extravagant skirt.
Valentino beaded skirt, $12,900, and Brunello Cucinelli white lace blouse, $2,675, at Neiman Marcus; Pam & Gela jacket, $295, and Guyana brown beaded leather choker, $48, at Beginnings Bleus; Sondra Roberts multicolored beaded bag, $325, at Angela's
Where to get what you see:
Beginnings Bleus
Armonk; 914.765.0004
Always chic, stripes show their wide appeal this season on playful basics with flirty potential.
ON HER: Dex white shorts, $49, and Black Tape striped shirt, $69, at March; Kate Spade hat, $98, at Lord & Taylor; brown choker lariat with gold moon, $15, blue-and-tan tassel lariat necklace with gold feather, $32, and brown rawhide bracelet with blue beads, $28, all at LOLA New York; Stuart Weitzman Cake sandals in pastry suede, $485, at Stuart Weitzman
ON HIM: Benson striped shirt, $55, and Alternative Apparel blue sweat shorts, $48, at Lester's
Where to get what you see:
March
Briarcliff Manor; 914.923.2100
LOLA New York
White Plains; 914.358.1314
stuart Weitzman
White Plains; 914.682.1923
Click here for a look behind the scenes of the spring fashionshoot.