I have never seen Armonk so alive as I did on December 13th when the Jets came to Westchester to host a "Dinner with the Jets" Fundraising Dinner at the Livanos' trendy new restaurant Moderne Barn on Bedford Road. Guests joined James Ihedigbo and teammates to raise money for HOPE Africa and the Make-A-Wish Foundation of the Hudson Valley. The event raised over $15,000, and the total will benefit two children and will fulfill their wish requests. The meet and greet dinner to benefit HOPE Africa and Make-A-Wish Foundation was one of the best events I have been to in Westchester. The players walked around to every table shaking hands and signing footballs for families. The energy, enthusiasm and sense of hope in the room made it an unforgettable evening.
Jets Players in attendance included James Ihedigbo, Calvin Pace, Jerricho Cotchery, Dustin Keller, LaDainian Tomlinson, Brodney Pool, Braylon Edwards, Tony Richardson, Bart Scott, John Conner, and Eric Smith. President and CEO of Make-A-Wish Foundation® of the Hudson Valley, Tom Conklin also attended.
NightFly Hair styled by Paulos Atelier
HOPE Africa Foundation

(from left to right) Corina Livanos, James Ighedibo & Nick Livanos
New York Jets Safety James Ihedigbo established HOPE Africa Foundation in 2008. The organization strives to improve the educational landscape of underserved communities in Africa by providing educational resources and career development assistance to students. 

The word HOPE serves as an acronym of the foundation's mission: Help Our People Excel. The foundation directly impacts the public welfare of Africans through a variety of initiatives that include: funding scholarships to top-ranked universities in the United States, agriculture and community development projects, as well as tutoring and mentoring programs.
For more information about HOPE Africa, visit www.HOPEAfricausa.org.
About Make-A-Wish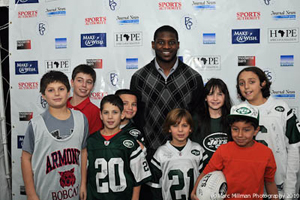 Make-A-Wish grants wishes to children with life-threatening medical conditions to enrich the human experience with hope, strength and joy. Since its inception in 1986, the chapter has granted wishes to over 1,800 children in the communities it serves. A primary objective is to make sure that every child eligible for a wish receives a wish. Although the child is the main focus of the wish, Make-A-Wish involves the entire family so they can all enjoy a happy, carefree experience with no strings attached. This allows everyone in the family an opportunity to share in the child's dream and to fully participate in a positive wish experience. The wish experience is a combined community effort involving volunteers, staff, donors and medical professionals to make each wish come true.The Chapter serves Delaware, Dutchess, Orange, Putnam, Rockland, Sullivan, Ulster and Westchester counties.
For more information about the Hudson Valley Chapter visit www.hudson.wish.org.
Have an upcoming event you want Westchester Magazine's Nightfly to cover? Email us at kruby@westchestermagazine.com
Click here for a complete photo gallery of the evening visit.