| | |
| --- | --- |
| | |
Summer Refreshment
Instead of iced tea, try iced tea Sangria. Begin your beverage with a fruit-based brewed tea. Chill well and add ingredients like fruits, herbs, and your favorite juice and wine. I like to serve it on a warm afternoon with corn and black bean salsa and fresh shrimp.
Or make lavender ice cubes. Use a water bottle ice tray—perfect for the length of a lavender bloom—to create long, beautiful ice cubes. Place flowers in the tray, fill with water, and freeze. Lemon peel, fragrant herbs, and small blueberries also make interesting ice cubes.
Rely on farmers' markets, CSAs, and local purveyors for the best seasonal ingredients, and then effortlessly create a salad like goat cheese, cherries, and microgreens with a peppery citrus vinaigrette.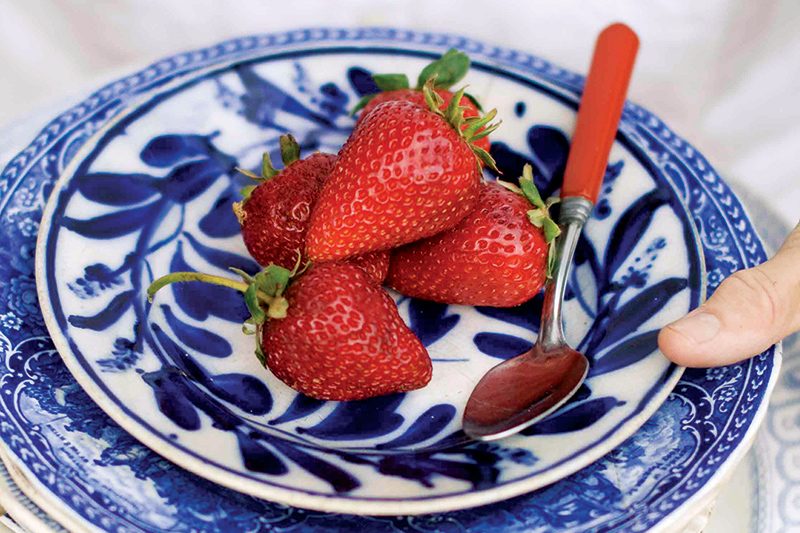 Just because it's casual, doesn't mean it can't be pretty. Use a mishmash of vintage transferware in shades of blue as serving pieces, trays, and dessert dishes. Collect dishes at flea markets and estate sales, and keep them handy for serving appetizers or to float flowers in for an easy centerpiece.
You don't need to have flower beds to create stellar arrangements. Visit a farm stand for a mixed bouquet that can be rearranged or
simply plunked into a favorite vessel. Use colorful stemware collected from flea markets to create multiple arrangements for a large table or just a single profusion for a bistro set. Surround with flickering votive candles for evening elegance.