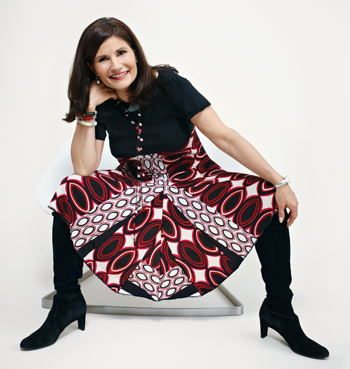 Photography by Toshi Tasaki
Scarlett De Bease
Founder of Scarlett Image, professional image consulting

Self-described style: Classic with a dramatic flair. Fashion icon: Katharine Hepburn—she had great individual style and class. Plus, when she walked into a room, she owned it! Recommended fall purchase: A jacket that emphasizes a waistline that can be worn with skirts, pants, and jeans. Favorite clothing item: Scarves—I have about twenty-five or thirty of them. Biggest splurge: Six hundred dollars on a pair of black suede Stuart Weitzman boots. This will be the fourth winter they'll get well used, so they were a good investment. Favorite vintage pieces: My father was a jeweler, so my favorites are the pearls, charm bracelet, and diamond wedding band that he made for my mom. Daydreams about splurging on: Custom-made black leather pumps with red details and a slightly embellished heel that I could safely walk in and wear all day long without any discomfort. Why she loves Mad Men: A woman was considered beautiful because she had curves, as opposed to now, when the ideal shape is unattainable for most women. The world's best-dressed celeb: Duchess Kate of England—she's the perfect example of style and class. Why American celebs aren't well dressed: They have all gotten too caught up in getting attention or just showing too much.

De Bease is wearing a handmade red, black, and white print retro mod dress by DOLITA Paris (price upon request), available at Dolita Boutique in Manhattan; a black cashmere and cotton short-sleeve draped sweater by TSE, available at Saks Fifth Avenue in Greenwich, Connecticut (about $100); and black suede boots by Stuart Weitzman ($600), available at Stuart Weitzman in White Plains. Her jewelry includes a silver Chico's watch ($40), available at Chico's in White Plains; a lariat-style black leather cord necklace featuring red coral and freshwater pearls by Jean Jurson Jewelry ($100), available at jeanj.artfire.com; a black agate and pearl oval shaped necklace by M-Belleish (about $130), contact mbellishjewelry@gmail.com; red, white, and black bracelets (about $20 each) available at White Tulip in Manhattan; and silver hoop earrings from her own closet.