April 29
Bird Brain
If you think back to one of your earliest childhood friends, the first that comes to mind was probably about eight feet tall, about 6 years old, and lived down the street—on Sesame Street. Big Bird is universally beloved, so much so that more people are acquainted with him than with Caroll Spinney, the puppeteer who's performed as Big Bird since 1969. The documentary I Am Big Bird takes a peek at what lies beneath all of those yellow feathers, with the now-80-year-old Spinney telling lots of stories about his Sesame Street exploits. If you can't wait until its May release to watch the film, the Avon Theatre Film Center in Stamford, Connecticut, will hold a sneak preview on April 29.
April 10
Composed
It's definitely a hard-knock life for a Broadway composer, and no one knows that more than Martin Charnin, the director and lyricist for the Great White Way's Annie. The Tony winner, who can also add composer, librettist, and producer to his resumé, will stop by the White Plains Performing Arts Center to discuss his life and career. He'll also give out advice for aspiring actors, and a handful of audience members will even be able to perform for him on stage (after auditioning beforehand). Charnin will appear as part of the ongoing "Creating Broadway" series, so expect more luminaries to visit the WPPAC in the future.
April 17
The Entertainer
There are few living comedians as legendary as Carol Burnett. The Carol Burnett show, which ran for 11 seasons, was named one of the greatest shows of all time by TV Guide (and with good reason). Now, at the age of 81, Burnett still has plenty to laugh about. She'll give a performance titled "Carol Burnett: An Evening of Laughter and Reflection" at the Westchester County Center in White Plains, where she'll mix comedy with some behind-the-scenes tales about working on her show.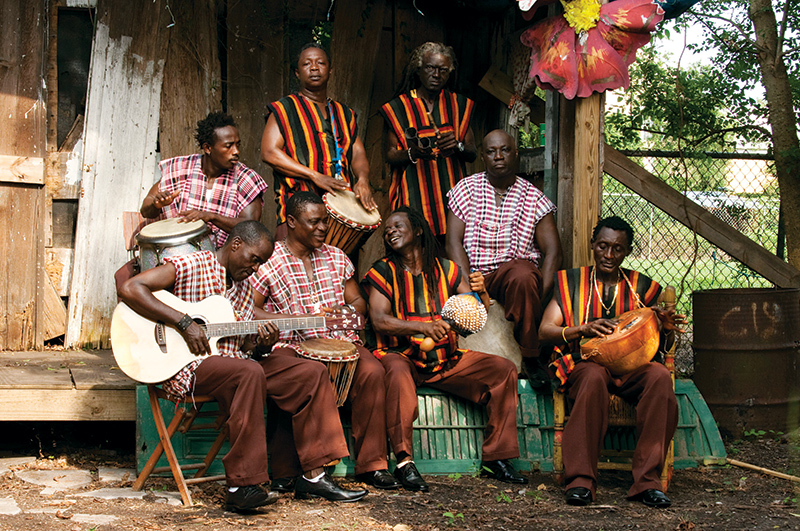 April 18
Music Over Adversity
Few musical groups have come together in circumstances as dire as the Sierra Leone Refugee All-Stars. They started, with just a couple of donated instruments, by performing in camps for other refugees of Sierra Leone's civil war. The band became the subject of an eponymous documentary in 2005, and surprise stardom followed. Even though they've been able to return to their home country, they're still performing and touring—and making a stop at the Emelin Theatre. There, the band will play reggae- and baskeda-style songs from their 2014 album, Libation.
April 18
Country Strong
We all think of "I Hope You Dance" as that song that's soundtracked thousands of wedding slow-dances, tearful TV episodes, and one-drink-too-many karaoke sessions. Well, the country singer behind it all, Lee Ann Womack, is back, and she's ready to break hearts again: Her most recent album, The Way I'm Livin', called "sad and lovely" by The Telegraph, earned a Best Country Album nomination at this year's Grammy Awards. If you're ready for some country-style catharsis, see Womack when she comes to the Ridgefield Playhouse.
April 20-May 5
Behind the Curtain
It's true. It's fiction. There's comedy. There's drama. It's hard to classify just what A Living Documentary is. It's definitely a one-woman show by playwright Cynthia Hopkins, who was once called a "breathtaking visionary" by Time Out New York. Throughout the piece, Hopkins sings, tells stories, and inhabits a cast of characters, all to tell the story of what it's like to live as professional theater artist in the 21st century. To get a look behind the curtain, check out A Living Documentary when it comes to the Schoolhouse Theatre in Croton Falls.
April 25
Piano Woman
It came out way back in 2002, but we bet you're just getting Vanessa Carlton's always-on-the-radio hit "A Thousand Miles" out of your head now: just in time for her new release, Liberman, her fifth studio album. "I just really wanted it to feel like…an escape—kind of lush, trippy and, beautiful," she told CBS News. Liberman doesn't come out until June, but if you want a preview of some of the songs, take a trip to Beacon, New York, where Carlton will perform at the Towne Crier Café.