Photography by Andre Baranowski
Do you remember when bartenders squirted sour mix with soda guns? Or when they skipped the fresh citrus in margaritas for the Aqua Velva tang of Rose's Lime juice? Thankfully, those days have passed; Westchester's enjoying a reunion with handcrafted drinks. From biodynamic wines and local craft-brewed beer to cask-aged cocktails and New York State-distilled spirits, Westchester's drinks are all about quality. And it doesn't stop with alcohol, as much as we love it. There are plenty of sophisticated soda spots and coffee bars where you can still savor a well-made drink.
So go ahead and pour yourself a tall one. Here are Westchester's 50 hottest spots for cool quaffs.
Mix Masters
Bedford Post Inn
954 Old Post Rd, Bedford
(914) 234-7800
bedfordpostinn.com
"Beer-tails" is a less-than-glamorous name for drinks that combine ale with juices, spirits, and liqueurs. At Bedford Post, look for the Lager Snap, the restaurant's take on the Bermudian classic Dark 'n Stormy. It combines lager, Saranac Ginger Beer, dark rum, and candied ginger, and gives them some punch from Art in the Age's SNAP liqueur, flavored with molasses, vanilla, cloves, ginger, nutmeg, and other spices. According to Bedford Post Beverage Director Meng Chiang, the Lager Snap offers, "everything I would want in a summer cocktail: bubbles, lowered alcohol, a little bit of sugar, and a refreshing kick from the ginger." Perfect for sipping on Bedford Post's terrace, overlooking blooming May fields.
Restaurant North
386 Main St, Armonk
(914) 273-8686
restaurantnorth.com
In 1998, when Stephen Paul Mancini was beverage director of Union Square Cafe, he was discovered by the New York Sun, holed up in the restaurant's basement, tinkering with his family's ancestral limoncello. Nowadays, Mancini's all grown up (he owns Armonk's chic Restaurant North with James Beard Award nominee Chef Eric Gabrynowicz), but he still sneaks time to get up to old tricks. Drop by North in any season to find serious, hand-crafted cocktails, like this month's Grazie Maria (recipe on page 57), or the Wise Guy, which is grounded by Harney & Sons Fine Teas black tea from Millerton, New York. The key to the Wise Guy—besides Woodford Reserve bourbon—is Mancini's own sugar syrup, which he's flavored with nepitella, a minty, oregano-like herb native to Tuscany. Of course, at Slow Food-approved North, it doesn't do to source from afar—which is why North's nepitella comes from Bedford, where it's grown by Mimi Edelman of I & Me Farm. (BTW: Restaurant North is a triple threat when it comes to bevvies. Look for Mancini's obsessively curated roster of biodynamic wines and house-concocted, non-alcoholic sodas.)
Blue Hill at Stone Barns/StilltheOne Gins
630 Bedford Rd, Pocantico Hills
(914) 366-9600
bluehillfarm.com
As one might predict, Blue Hill at Stone Barns does stylish cocktails—but the secret is that you don't need to commit to a tasting menu to enjoy one. Snuggle into the cozy, hearth-warmed bar built into this former Rockefeller barn and sample one of Blue Hill at Stone Barns' bespoke gins made in partnership with Port Chester's StilltheOne Distillery. StilltheOne, which makes Comb Vodka and Comb 9 Gin, has distilled four seasonal, proprietary gins made from honey (including Stone Barns Center honey) with botanicals either grown or foraged on Stone Barns' Pocantico Hills property.  To be clear, some of these gins' components (like juniper berries and a few other things) are not local—but their main flavorings, herbs, berries, and flowers come from Westchester's most elegant backyard. In spring, look for green coriander, elderflowers, elderberries, and ginger. In summer, find holy basil, lavender, lemon verbena, and coriander. In fall, you'll be warmed by sassafras, cardamom leaves, and blue basil. And in winter, you'll be comforted by ginger, sumac berries, and cinnamon. Mmmm.
Bellota at 42
1 Renaissance Sq, White Plains
(914) 761-4242
42therestaurant.com/bellota
Touted as "Westchester's Living Room" by the mayor of White Plains, Bellota offers sophisticated traditional tapas along with the molecular gastronomy that made Chef Anthony Goncalves famous. Overlook the entire county—from shore to shore and north to south—while sipping an Artesia: Courvoisier VSOP, Averna, Amaro Montenegro, Cointreau, and an orange twist.
NoMa Social
1 Radisson Plz, New Rochelle
(914) 576-4141; radisson.com
Just because there might be a bikini in your future doesn't mean that you can't catch a buzz on Saturday night. Check out NoMa Social, the highlight of the Radisson's $2 million makeover. There, you'll find a quartet of drinks that each come in at around 150 calories—like the Cuba Lb: Bacardi rum, Diet Coke, and muddled limes, or the Gilt, No!, which offers a liquor of choice, honey, Splenda, and Red Bull Sugarfree. PS: Not to suggest the obvious, but speedy Red Bull might also keep you on NoMa's dance floor, jiggling those calories away.
Sparkle for a Cause at Crabtree's Kittle House
Consider it sort of a micro-gala-fundraiser. Every Tuesday night in summer and early fall, the Kittle House opens Amy's Garden (dedicated by owner John Crabtree to his late wife, Amy) to different charitable causes. A portion of each night's receipts have gone to benefit the Boys & Girls Club of Northern Westchester, the Mount Kisco Child Care Center, and the Holocaust & Human Rights Education Center. All good causes, but these intimate, alfresco soirées offer a chance to sip Champagne and socialize in one of Westchester's toniest spots. (PS: If bubbly is not for you, check out PDT–obsessed head mixologist Emilio Urteaga, whose house-made bitters are derived from the Kittle House's onsite herb garden.)
Crabtree's Kittle House
11 Kittle Rd, Chappaqua
(914) 666-8044
kittlehouse.com
The Whiskey Bar
Pour
Restaurant Review
241 E Main St, Mount Kisco
(914) 864-0606; pourmtkisco.com
Though Pour is ostensibly a wine bar, its whiskey list reads like Fantasy Baseball. Even disregarding the list's nine rare, small-batch Scotches, you'll still see 35 of America's most desirable whiskeys. Look for A.H. Hirsch Reserve's cult, 16-year-old "pot distilled" bourbon (as rare as hen's teeth), plus the whole complement of coveted Pappy Van Winkles —13-, 15-, and 20-plus-year-olds—up to and including the rarest of them all. Pour's 23-year-old, limited-release Pappy Van Winkle is one of only 1,200 bottles on the market. But if your sipping veers more toward local producers, have no fear: New York is here. Look for a wide range of distillations from Tuthilltown Spirits, as well as from Finger Lakes (makers of McKenzie whiskey) and Delaware Phoenix Distilleries. And, if that's not overkill, then there's one more thing to keep in mind: The cozy porch on Pour's gingerbread Gothic makes it a cigar-friendly bar.
Wine Bars
Vintage 1891
2098 Boston Post Rd, Larchmont
(914) 834-9463; vintage1891.com
This urbane, adult alternative to dark, beery taverns offers a serious wine list and a well-heeled wine-geek vibe. Don't be surprised when someone in the crowd orders a $60 glass of Barolo, tapped from this bar's front-and-center Cruvinet system.
Barcelona Restaurant and Wine Bar
Restaurant Review
18 W Putnam Ave, Greenwich, CT
(203) 983-6400; barcelonawinebar.com/greenwich.htm
This Connecticut-based, seven-outlet Spanish restaurant is a popular tapas and dinner spot and recently opened a new outpost in far-flung Atlanta. Barcelona's secret weapon comes out only at night. Its packed bar scene showcases the work of Iberia-loving wine wiz, Wine & Spirits Director Gretchen Thomas. Best of all, her crack team is skilled in making recommendations—you'll feel your wine knowledge expanded.
The Gnarly Vine
501 E Main St, New Rochelle
(914) 355-2541; thegnarlyvine.com
This affable, dressed-down wine bar is cheery, with a well-informed bar staff ready to make suggestions from a rotating list of lesser-known wines. Look for inexpensive picks, craft beers in bottles, trivia nights, and live music—it's a New Rochelle  standard, great for any night of the week.
Mima Vinoteca
Restaurant Review
63 Main St, Irvington
(914) 591-1300
mimarestaurant.com
Think of enotecas as the discotheques of wine: they're spinning your favorite platters all night long. This buzzy little restaurant does double duty as a wine bar—even its waiters proudly wear shirts advising,  "Save Water…Drink Wine." All of Mima's wines are available by the bottle or in "mezzo" (3 oz) or "quartino" (6 oz) pours, with some picks available in half-bottles—it's a great bar for drinking around.
Arrosto
25 S Regent St, Port Chester
(914) 939-2727
arrostorestaurant.com
A vast wine list and buzzy bar scene make Arrosto an ideal spot for drinks. Look for Italian craft beers, cocktails like the Capri Cola (Averna, Luxardo Maraschino Originale, lime juice, Prosecco), and miles of Italo-centric bottle picks ranging from a cheap and cheerful $28 to a bankrupting $495.
12 Grapes
12 N Division St, Peekskill
(914) 737-6624
12grapes.com
Part wine bar, part restaurant, part music venue, 12 Grapes offers the opportunity to sip from 12 whites and 12 reds—all reasonably priced and available by the bottle. Look for tribute bands, open-mic nights, and musicians with strong local followings, like resident balladeer Steve Chizmadia.
New and Noteworthy
Crush Wine Bar
1985 Palmer Ave, Larchmont
(914) 834-6600; crushwinebars.com
Purple-walled and cozy, this clubby little wine bar opened March 7 with a roomy, by-the-glass list grouped by flavor intensity. Look for bottled beer, specialty cocktails, and wines-by-the-bottle, too—and this lady-friendly nightspot also offers a short but tasty tapas menu.
Recipe
Grazie Maria
(Restaurant North)
According to Stephen Paul Mancini, Restaurant North's co-owner (and noted cocktail geek), the Grazie Maria is named to honor Maria Scala, who, in 1845, invented the secret recipe for Fernet Branca, a bitter, aromatic spirit of grape alcohol flavored with more than 40 herbs and spices, including myrrh, rhubarb, chamomile, cardamom, and saffron. Scala's name became Branca through marriage, and the product's name was born. Branca Menta is the "mint alternative" to trendy Fernet Branca. Old Tom Gin is another history-based libation. Peaking in popularity in the early 1800s, the sometimes slightly-amber Old Tom differs from modernity's standard "London dry" gin in that its style stresses different botanical flavorings. Plus, it's lightly barrel-aged and sweetened.  
Mancini recommends his cocktail to negroni drinkers. "It's sharp and flavorful, and made in a classic cocktail style; it's a firm drink, but amazing!"
2 oz Dolin Blanc Vermouth (any blanc vermouth can be used, but Dolin is preferred)
1 oz Hayman's Old Tom Gin (if you can't find an Old Tom gin, use Plymouth Gin and then add ½ oz simple syrup to the
   drink's recipe)
½ oz Branca Menta
grapefruit twist
Combine all ingredients in a martini shaker with ice and stir intensely. (You know when to stop stirring when the outside of a metal martini shaker has frost on it.) Once you are confident that all ingredients are well mixed, strain into a martini glass. Garnish the drink with a grapefruit twist: twist it over the drink and drag it along the rim of the glass before dropping it into the finished cocktail. This step is often overlooked; the essential citrus oils in the grapefruit rind add a depth of flavor to the cocktail when done right.
 
Spicy/Tart/Smoky/Cool
4 Sure-Fire Ways to Feel Good
Heat: Chupacabra
Bistro Latino
64 Main St, Tuckahoe
(914) 961-2233
This brand-new Tuckahoe hot spot from Chef Rafael Palomino and his longtime GM at Sonora, Alexander Vanegas, dares to unite the undeniable pleasures of classic Spanish tapas with the charms of Latino cocktails. Sure, you could get a margarita, but why bother when you can get a Chupacabra? Named for a mythic South/Central American blood-drinker, it offers tequila, lime, cucumber, mint, and Tapatio Hot Sauce.
Wood: Cask-Aged Manhattan
Village Social Kitchen & Bar
251 E Main St, Mount Kisco
(914) 241-6260; villagesocialkb.com
Wood is the way, according to Village Social mixologist and General Manager Sean Maloney. He's got two cask-aged cocktails mellowing behind the buzzy Mount Kisco restaurant's bar as we speak. There's a Manhattan made with Michter's Rye, Carpano Antica, and Cherry Heering that Maloney finishes before serving with Fee Brothers Cherry Bitters. According to Maloney, six months of aging makes this brawny drink velvety smooth, while the oak imparts a subtle, almost-toasty character. For those who are less inclined toward brown, there's Maloney's Soul Power: Hendrick's Gin, Yellow Chartreuse, poire William, and Crème Yvette, a 19th-century liqueur made from violet petals, strawberries, blackberries, and other flavorings. Once decanted, the Soul Power gets some crispness from Fever-Tree's tonic water, and a bit more fruit from Fee Brothers Plum Bitters. According to Maloney, the result is "floral and slightly medicinal" (in a good way).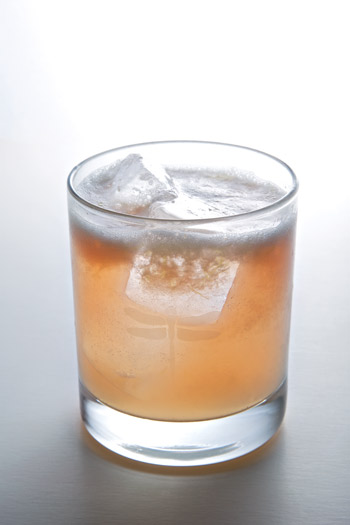 Leather: Smoky Cholula
bartaco
1 Willett Ave, Port Chester
(914) 937-8226; bartaco.com
Wine & Spirits Director Gretchen Thomas is Barcelona Restaurant Group's beautiful and talented wunderkind. She's responsible for the killer Spanish wine list that's won Barcelona countless oenophilic admirers. Last year, Thomas turned her hand to mixology, and it's no surprise that the results were magical. Our favorite sipper from the Group's bartaco is the leathery Smoky Cholula: Sombra mezcal, guava nectar, and freshly squeezed lemon juice. We're big fans, but if bartaco's buzzy noise and crowd don't move you, you can usually take your Smoky Cholula outside on the deck and drink it, warmed by fire pits overlooking the sleepy Byram.
Sun: Patrónita
Harvest on Hudson
1 River St, Hastings-on-Hudson
(914) 478-2800; harvest2000.com
For a drinks spot, Harvest is as lush as it gets. The restaurant's dense herb and vegetable plantings make for outdoor lounging nooks, while a long wraparound patio yields plenty of riverside room for drinkers. In fine weather, look for throngs inside and out, and a long, Mediterranean-based wine list, plus perfectly on-season cocktails like the Patrónita: Patrón Reposado, VeeV Açaí Spirit, fresh lime juice, jalapeño, and cilantro.
Beer Bars
Birdsall House
970 Main St, Peekskill
(914) 930-1880; birdsallhouse.net
John Sharp and Tim Reinke's perfect little beer bar offers 20 taps devoted to craft beers sourced mostly within a day's drive. Look for oddball and special brews, tap takeovers, and visits from brewing celebrities.Plus, when the weather is fine, there's a pretty beer garden lined with live, climbing hops.
The Peekskill Brewery
Restaurant Review
PB Taste Test
55 Hudson Ave, Peekskill
(914) 734-2337
thepeekskillbrewery.com
Brew pubs as a restaurant genre often suffer from a lack of specialization. Straddling two different challenges (making food, and beer), few excel at either. The great news for Westchesterites is that Jeff O'Neill, former brewmaster of Ithaca Beer Company, is now heading up Peekskill's tanks, elevating this cozy tavern-brew pub into a serious beer player.
Yard House
237 Market St, Yonkers
(914) 375-9273; yardhouse.com
Democratic in every way, the Yard House chain is like the Applebee's of beer. Each outlet boasts between 100 and 300+ taps pouring both popular and esoteric beers. Look for a classic rock playlist and a wide-ranging menu that spans from pizza and burgers to Hawaiian poke. The bar gets five deep (even though it's the length of a football field).
Captain Lawrence Tasting Room
444 Saw Mill River Rd, Elmsford
(914) 941-2337
captainlawrencebrewing.com
Listen up all you broke people: we are talking free beer. If you fork over $2 for a small tasting glass, no one will stop you from standing in Captain Lawrence's palatial, 24-tap Elmsford tasting room drinking beers all day long. Don't say we didn't tell you. Plus, you'll find cheese and charcuterie from Murray's Cheese shop for when you get hungry. Outside, you might even find the odd visit from local food trucks, like Ladle of Love's all-electric van. (Tasting room sample hours run from 4 to 7 pm Tuesday to Friday and noon to 6 pm on Saturday.)
Growlers Beer Bistro
25 Main St, Tuckahoe
(914) 793-0608
growlersbeerbistro.com
This low-key Tuckahoe beer bar slings no spirits, but it does offer 17 taps. Look for cask wines and hard-to-find Euro-brews, plus plenty of delicious, non-alcoholic sodas from Fentiman's and Wisconsin's-own Sprecher Brewing Company.
Bridgeview Tavern
226 Beekman Ave, Sleepy Hollow
(914) 332-0078
bridgeviewtavern.com
Eighteen taps in a barroom that's decorated with hundreds of tap pulls make this cozy, under-the-radar spot the perfect place in which to hoist brews. Look for a constantly changing draught selection, growlers, brewery takeovers, and more—like $4 pints on Tuesday and Wednesday, and, on Monday, 50¢ wings.
Lazy Boy Saloon
154 Mamaroneck Ave, White Plains
(914) 761-0272; lazyboysaloon.com
Do you crave a beer from Costa Rica or pine for a pint from the Philippines? This iconic White Plains tavern was the first in the county to offer an esoteric beer list (and, arguably, the one to put the Mamaroneck Avenue bar strip on the map way back in the '90s).  
Beer-Geek Bait
The Craftsman Ale House
235 Harrison Ave, Harrison
(914) 630-7484; the-craftsman-ale-house.com
This cute neighborhood bar and grill offers eight taps and plenty of beer-geek pleasure. Look for flights, home-brewer meetings, Saturday-night "Kill the Keg" parties (with $3 draughts), and frequent "meet the brewer" events.
Amaro
Tarry Lodge
18 Mill St, Port Chester
(914) 939-3111; tarrylodge.com
Do you remember recently in mixology when the whole world went barmy for bitters? As with most things, it turns out that the Italians did it first and, arguably, better. Cult amaros—like Fernet Branca, Averna, and China Martini—have long united exotic botanical flavorings in cool-looking bottles. To sample a wide variety—maybe to compare the alpine herbs of Amaro Braulio with the artichoke notes in Cynar—duck into always-packed Tarry Lodge, where you can take a flight: three full glasses for $20. Prego.
Cozy Spots
(With No Throbbing Beats)
The Dylan Lounge at X2O Xaviars on the Hudson
Restaurant Review
71 Water Grant St, Yonkers
(914) 965-1111
xaviars.com/yonkers
This chic, clubby bar overlooks the Hudson shoreline with views to Manhattan and up to the Tappan Zee. There is no better place in Westchester in which to share a quiet drink—and the view is only improved by delicious wines chosen by Xaviars Restaurant Group Wine Director Billy Rattner. If you're lucky, he'll also offer his witty, sake-based cocktail, a sophisticated take on the degraded Kamikaze.
The Lounge at The Ritz-Carlton, Westchester
3 Renaissance Sq
White Plains
(914) 946-5500
ritzcarlton.com
No TVs, no throbbing beats, plush upholstery, and a peninsular fireplace make this a quiet retreat from the street throngs of downtown White Plains. Drop your keys with the valet (along with all your troubles), and snuggle up with a martini to enjoy our idea of a pause that refreshes.  
Equus at Castle
on the Hudson
Restaurant Review
400 Benedict Ave, Tarrytown
(914) 631-1980
castleonthehudson.com
The snug bar of this historic Westchester estate makes one feel like the lord of the castle. You can play out your Downton Abbey fantasies while posing around the giant fireplace, or, in fine weather, you can take your sips outside and overlook a vast view.
Sip While You Shop
Tarry Market
179 N Main Street, Port Chester
(914) 253-5680; tarrymarket.com
Let's just say that the bar scene isn't where you're at; you much prefer the cleaner air of a boutique shopping experience. You can get the best of both worlds at Tarry Market, where you can shop holding a $60 glass of Sassicaia, dispensed by an Enomatic wine vending machine.
DeCicco's Family Market
50 Independent Way, Brewster, NY
(845) 278-0836; deciccos.com
Unlike the other growler-fill grocers in Westchester (we're looking at you, Yonkers Whole Foods), the Brewster DeCicco's Market is licensed to sell beers for drinking on-premise. You can sip; you can sample; you can sit down and watch the game. Be warned: buzzed shoppers have reported a sharp increase in impulse buys.
Drink Local
Comb Spirits Made by StilltheOne Distillery
This quartet of liquors (gin, vodka, brandy, and "white spirit") is proudly distilled in Port Chester by Mount Vernon residents.
Tuthilltown Spirits
Ralph Erenzo's trailblazing brewery is located just up the Hudson in Gardiner, New York, right outside of Poughkeepsie.
Captain Lawrence Brewing Company
It debuted in Pleasantville, and Captain Lawrence's Scott Vaccaro recently opted for larger digs just down the road in Elmsford.
The Peekskill Brewery
Along with Birdsall House, Peekskill Brewery makes Peekskill a beer drinker's heaven.
The Defiant Brewing Company
This collaborator with Blue Hill at Stone Barns is just over the border in Rockland County.
Blue Hill at Stone Barns
On any given day, you'll find Comb, Tuthilltown, Captain Lawrence, and Defiant Brewing Company products behind this chic, world-class bar.
Hump Thursdays
Gay-Friendly Party at The Cookery
When other restaurants have locked their doors for the night, The Cookery is just getting started. At 10:30, on alternate Thursday nights (after the last diner has left), The Cookery throws Hump Thursday: Gay Hangout at The Cookery with $5 drinks and $6 beers. Chef DiBari's fans know that his humor studs his menu (with desserts like PB&J on Acid and Stickabutta Pie), but his wit also can be found behind the bar in drinks like the Tea Bagger and the Master Cleanse. Spiked with citron vodka, the latter takes its distinctive flavor profile (maple syrup, lemon, and cayenne pepper) from a cult fasting regimen of the same name. After that, things get serious. Look for a Carpano Antica Manhattan made with Michter's Rye, Peychaud's bitters, and house-made brandied cherries courtesy of The Cookery's GM, Ralph Rubino.
The Cookery
39 Chestnut St, Dobbs Ferry
(914) 305-2336; thecookeryrestaurant.com
South of The Border
Caipirinhas, Mojitos, and More…
La Bella Havana (Caipirinha)
35 Main St, Yonkers
(914) 920-9777
labellahavana.com
Under new management since its French-Cuban fusion days as Belle Havana, the newly all-Cuban La Bella Havana is still an intimate downtown Yonkers restaurant with live music and mean Mojitos—but, call us contrarian, we prefer the sweet-tart cachaça in their minty caipirinha. Sabroso.
Sonora (Pisco Sour)
179 Rectory St, Port Chester
(914) 933-0200
sonorarestaurant.net
Pisco, a grape-derived spirit developed in the 16th century by Spanish colonists in the wine-producing regions of Peru and Chile, was virtually unknown in this country until the advent of the Pisco Sour. The classic cocktail, which unites Pisco with egg white, lemon juice or lime juice, simple syrup, and bitters, is the national drink of Peru—and just one more reason to visit Chef Rafael Palomino's chic, Nueva Latino landmark.
Sofrito (Mojito)
175 Main St, White Plains
(914) 428-5500
sofritowhiteplains.com
This White Plains offshoot of a Manhattan original offers glitz and throbbing salsa along with mofongo. Check out a killer sound system and a loungey, downstairs club; it's perfect for kicking back with a Mojito between turns on the floor.
Don Coqui (Sangria)
115 Cedar St, New Rochelle
(914) 637-3737; doncoqui.com
Don Coqui is a Westchester nightlife icon.  When other clubs are all swept out and dark, this Puerto Rican restaurant/dance club is still packing them in. But dancing and drinking pose serious hydration quandaries; that's why smart partiers here go for the light, thirst-quenching fruitiness of Don Coqui's signature sangria.
Down and Dirty
The Blazer Pub
440 Rte 22, North Salem
(914) 277-4424
theblazerpub.com
This bare-bones roadhouse snuggled off Route 22 slings cheap Captain Lawrence pints, great burgers, and tasty wings. It's the sweet sort of place where the word mixologist is never spoken. Admit it: sometimes, isn't that exactly what you're looking for?
River Roadhouse
533 Warburton Ave
Hastings-on-Hudson
(914) 478-5227
Look for a pool table and dartboard at this plywood-floored Hastings drinker's bar. Its low-key vibe, dirt-cheap tabs, and friendly barflies earn it the loyalty of many locals—some of whom (like Yonkers resident Chef David DiBari of The Cookery and many of the crew from Harvest on Hudson) think of bartenders Thalia and Clark as local legends. PS: When Clark is not making his own vermouth or alternately tending bar at Brute on 9 or Harper's, he pursues his hobby of being a college English professor.
Dudley's Parkview Restaurant
94 Hudson Park Rd
New Rochelle
(914) 235-4445
Located right next door to a bait-and-tackle shop, it's a slightly grungy sailor bar with a nasty, pitted parking lot. But Dudley's holds a secret weapon: in fine weather, it opens a long deck overlooking the New Rochelle Municipal Marina. Come summer, look for crowds hitting its outdoor bar (which is made from a repurposed shipping container). NB: you may want to stick to the basics, like adorable mini-pitchers of not-particularly-craft-brewed beer.
Farm-to-Table goes POP
Blue Hill at Stone Barns
630 Bedford Rd, Pocantico Hills
(914) 366-9600; bluehillfarm.com
Look for sodas made from ingredients like currant leaf, juiced cardamom leaves, purple shiso leaves, and Hawaiian ginger from Stone Barn Center's greenhouse. Mixed with watermelon (when in season), cucumber, and lime, the shiso juice is topped with sparkling water to make a soda. Also, look for an herbal nod to Coca-Cola, which, like Coke's modern recipe, does not actually contain kola nut. Blue Hill's Cherry Coke comprises preserves made in Blue Hill's kitchen, blending them into a sugary syrup with cinnamon, star anise, and orange and lemon zests. The cherry cola syrup is fizzed with sparkling water and then served with ice and a straw.
A Clean, Well Lighted Place 
Antoinette's Patisserie
417 Warburton Ave, Hastings-on-Hudson
(914) 478-7200; antoinettespatisserie.com
The unshakable morning habit of many rivertowns residents, it serves only organic, fair-trade, and locally roasted coffees.
Dessert Drinks
Yard House
237 Market St, Yonkers
(914) 375-9273
yardhouse.com
You need to be at least 21 years old to be served a sweet beer float at Yard House, which has its origins in John Steinbeck's novel, Cannery Row. It pairs either nutty Young's Double Chocolate Stout with vanilla ice cream, or Lindemans Framboise with vanilla ice cream. Take it from us—it's delicious.
Haven
472 Bedford Rd, Pleasantville
(914) 747-4646
havenpleasantville.com
Made with Captain Lawrence's root beer (whenever it's available), this basic, non-alcoholic root beer float has the elevating properties of strong herbal notes.
Sophisticated Sodas
Restaurant North
386 Main St, Armonk
(914) 273-8686
restaurantnorth.com
North's version of grape soda is made with locally raised Blooming Hill Farm Concord grapes, which are crushed by hand and then steeped with their skin for two days. For fizz, Stephen Paul Mancini puts the juice in a "corny" keg (a Cornelius keg: a five-gallon keg that works in conjunction with a CO2 gas line), which he sourced from his friend, Scott Vaccaro of Elmsford's Captain Lawrence Brewing Company.  In summer, look for other seasonal sodas, including peach/honey and smoked watermelon/basil.
 
China White Noodle Bar
578 Anderson Hill Rd, Purchase
(914) 437 9700
2490 Railroad Ave, Greenwich, CT (203) 422-5232
chinawhiteusa.com
The team behind the two local China White Noodle Bars worked with Bittersweet Syrups (an organic flavoring company in New Jersey) to create these sister restaurants' quartet of signature sodas flavored with ginger, green tea, pink grapefruit, and mandarin orange. Laura Saynay, Bittersweet's owner, personally demonstrated to China White's staff the correct proportions for each made-to-order drink, which dilute her syrups with triple-filtered club soda.
Hip Coffee (Etc.) Bars
Aroma Coffee Roast
1932 Palmer Ave, Larchmont
(914) 834-0989
aromacoffeeroast.com
Founded in 1992, this small roaster and coffee bar has such loyal fans that it even survived a Starbucks setting up shop right across the street. It's the preferred stop for locals looking for some gossip and joe.
Slave to the Grind
58 Pondfield Rd, Bronxville
(914) 961-7777
This 18-year-old coffee bar and roaster predates Starbucks's carpet-bombing. Students and residents loiter all day and into the night for chai, live music, and night-crawler closing hours.
Coffee Labs Roasters
7 Main St, Tarrytown
(914) 332-1479; coffeelabs.com
One of Westchester's favorites, it roasts its own beans—plus, it offers live music on the weekends.
Quimbaya
193 Main St, Ossining
(914)-941-0810
This strictly Colombian coffee bar is located in a cute, historic building. Expect brawny roasts, elite beans, delicious churros, and cinnamon-spiced hot chocolate.
Cult Caffeine
Polpettina Market
102 Fisher Ave, Eastchester
(914) 961-0061; polpettina.com 
Look for Brooklyn's cultish Blue Bottle Coffee, brewed in tweaky (and trendy) "pour over" style. It doesn't hurt that, at Polpettina, you'll also find Balthazar Bakery pastries.
Riverside Patios, Roofs, and Decks
Red Hat on the River
1 Bridge St # 150, Irvington
(914) 591-5888; redhatbistro.com
The loungey rooftop bar at Red Hat is a revelation. At sunset, you'll find yourself snuggled into cushy outdoor sofas, gazing at the glowing Hudson and Palisades, while the memories of roads, trains, and ground-hovering mosquitoes disappear. Sip something serious—perhaps a gin martini—as you feel your worries dissipating with the sunlight.
Half Moon
1 High St, Dobbs Ferry
(914) 693-4130; harvest2000.com
Not only is Half Moon's wide, riverside deck ideal for drinkers, but it offers, among all the riverside spots, the closest thing to toes-in-the-water drinking. While we love sophisticated sippers like Half Moon's Jacques Sidecar (JC Cognac, Cointreau, and lemon juice) or the Bitter Breeze (muddled citrus, mango rum, Aperol, and fresh grapefruit), Half Moon is made for groups so look for pitchers of sangria including our favorite: cool rosé wine amped with tequila and Triple Sec.