Photo by Scott Vincent
Ranging from a Grammy-winning rocker and a piano prodigy to a contestant on The Voice, Westchester boasts a bevy of talented young musicians. We take a look at six of the county's brightest.
— Jessica Lynn —
If a country musician from Westchester sounds improbable, Jessica Lynn is here to alter your expectations. A familiar face for anyone who tunes into PBS' annual Christmas specials, Lynn has already performed alongside the likes of Keith Urban, Brad Paisley, ZZ Top, and Hank Williams Jr., but this doesn't mean the Yorktown-based singer-songwriter was always so confident.
"My very first gigs were very scary, as I was so inexperienced, but also very exciting. They ranged from little acoustic sets at coffeehouses to performing at Maria Fareri Children's Hospital to New York City nightclubs," shares the 29-year-old. "I remember feeling the rush of what it was like, being in front of a live audience and knowing it was a feeling I wanted to have for the rest of my life."
Lynn has since made a major name for herself as an internationally recognized artist with two separate full-length-concert TV specials, singing the national anthem twice at Madison Square Garden, and recently opening for country-music legend Loretta Lynn. Two of her most recent songs, "Let's Don't" and "Crazy Idea" peaked at Nos. 39 and 48, respectively, on the USA Country charts, and she just wrapped a three-month, two-country tour. No surprise, Lynn's third special recently aired in the U.S. and the U.K.
"We just filmed my third nationwide concert television special in Peekskill, at the beautiful Dramatic Hall," says Lynn. "My last two PBS specials were very high energy, with big productions. At this point in my career, I wanted to strip it down and do an acoustic-storytelling concert special. That show, Live From Dramatic Hall, just got released to PBS and has been picked up already in its first two weeks by a multitude of stations. We are very excited, and I am very proud of this show; it really gives an inside look into who I am as an artist," she explains. Lynn adds that a live album and DVD for the show will soon follow.
On December 14, Lynn will be returning to Peekskill for what is a homecoming of sorts. Her annual Toys for Tots Show at The Paramount Hudson Valley has become a Westchester holiday staple.
"This year will be my fourth year doing the show at The Paramount in Peekskill. The concert has become Toys for Tots Westchester's biggest fundraiser of their entire season and was named the number-one thing to do for the holidays in the Hudson Valley," notes Lynn. "We have a lot of great Westchester-based businesses onboard that help me bring a spectacular-looking program to the theater that night."
Check out an exclusive look at Jessica Lynn's new Westchester-filmed concert special right here!
— Julius Rodriguez —
A stint at Juilliard, performing with A$AP Rocky and Wynton Marsalis, world tours, national prizes — these are just some of 21-year-old Julius Rodriguez's achievements. Yet, when the multidisciplinary musician was growing up in White Plains, long before he took the stage name Orange Julius, music was already an integral part of his life.

PHOTO BY GULNARA KHAMATOVA
Rodriguez attended the Jazz Forum Arts free summer-concert series as a child, during his years in Greenburgh Central Schools. In the fourth grade, his parents switched him to White Plains' Good Counsel Academy to study piano. Rodriguez says he started gigging when he was roughly 13, performing with friends he would meet at various summer camps and music programs. When he was accepted to Juilliard in 2016, however, Rodriguez's music took on a new sense of importance.
"Going to Juilliard introduced me to more dedicated musicians in my generation and taught me a great deal about individuality," explains Rodriguez. "I was the only undergrad pianist accepted my year. Most people would think there would be a sense of intimidation or competition, but we were all inspired by each other." Rodriguez, who left Juilliard prior to graduation in order to focus on his burgeoning career, credits additional inspirations, such as Duke Ellington, Amy Winehouse, Paul Simon, and Tyler The Creator, for stoking his creative flames.
In fact, Rodriguez has already worked with some very big names. "Wynton Marsalis is the head of the jazz program at Juilliard, so just by being around, I would accompany him in masterclasses and private gigs," he says. "I also play with [New York City-based musicians] ONYX Collective. I started playing with them regularly in 2016, and in 2018 we were asked to be A$AP Rocky's band for a few dates. I went along, playing keyboard and guitar. That's the highest-profile gig I've ever had. It was crazy, but it was fun. I learned a lot and made some great connections."
Yet no matter how big he may get, Rodriguez maintains he will always keep one foot in Westchester. "I think it's important when you become a prominent artist in any respect to pay homage to where you grew up," he explains. "Especially in music, styles are often classified by region. In modern jazz today, it's very evident which groups of musicians came out of Chicago or Houston or Miami. New York has never really had that outward pride in jazz because most people who live here come from somewhere else. But if I can inspire a wave of musicians from Westchester, who knows… we could put Westchester on the map."
— Amanda Ayala —
Though singing in front of millions of people on NBC's The Voice was just the start of a promising career for Yonkers' Amanda Ayala, it was a pretty lofty perch to launch from. "Performing on The Voice, and knowing so many viewers would be watching, was such a surreal moment," shares Ayala. "The only thing I have ever wanted to do since I was a child was to sing for millions, and here was my opportunity. Every time I walked onstage, I would close my eyes, just for a second, and take in everything that was happening to me."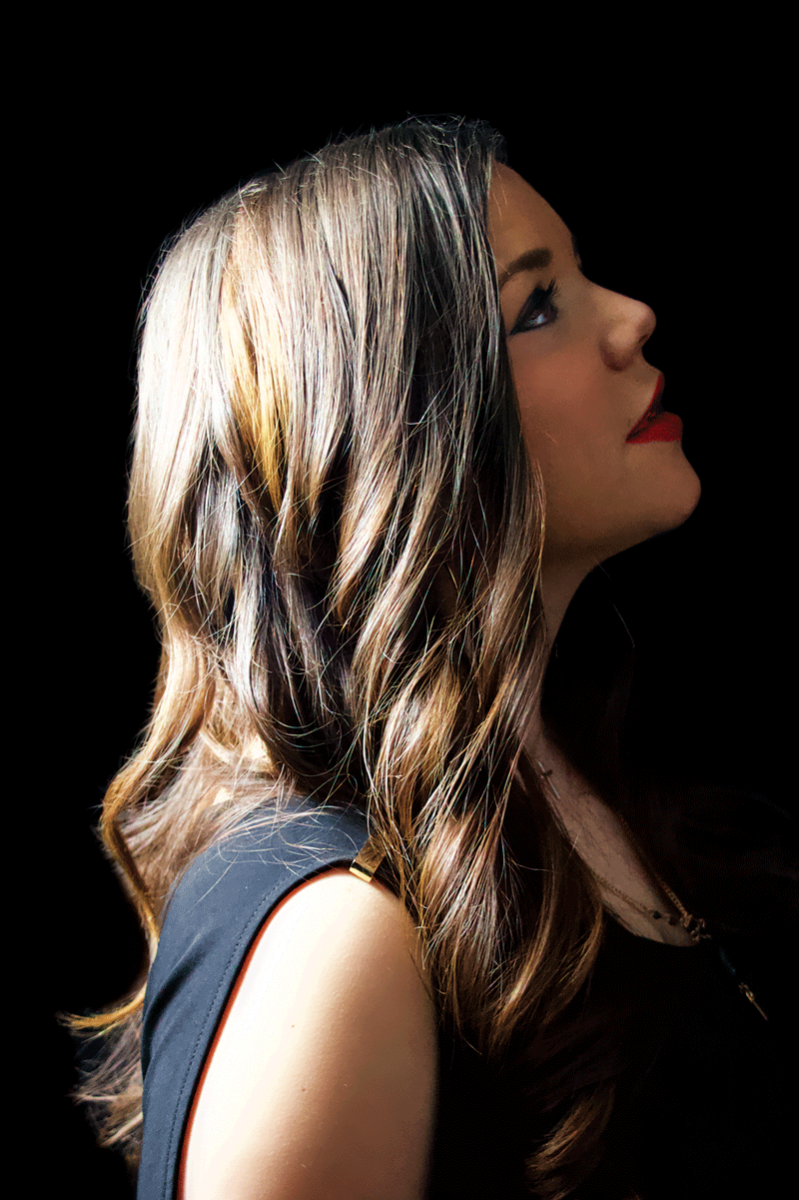 PHOTO courtesy of amanda ayala
The show supercharged a calling that had begun when Ayala was just 12 years old, performing at bars and grills around Westchester for curious adults rather than kids. "My Friday and Saturday nights were not spent the same way as my classmates. While they were at the school socials, I was singing my heart out, pursuing an early career in music," says the 22-year-old.
Everything changed for Ayala in 2015, when she took the stage to face Blake Shelton, Adam Levine, Pharrell Williams, Gwen Stefani, and millions of others. "Since my appearance on The Voice, many things have changed for me and my career," says Ayala. "It opened many doors and brought a new level of professionalism to me and my brand. The performances I have booked after my time on the show have been on a totally different scale than what I have done in the past. I have opened for legends like Eddie Money and Blue Oyster Cult, and have shared lineups with KT Tunstall, The Band Perry, and many more."
Ayala notes that the show still impacts her "because many people only know me as 'the girl from The Voice,'" she says. Now with a host of new recordings and projects in the pipeline, Ayala is already much more than just a flash in the pan. "This past March, I was a quarterfinalist on a show called Who Will Rock You?, and I have my sights set on new ventures on TV in the future. My latest track, 'Lost You,' is the first of many new singles to come. Compared to my last few recordings, 'Lost You' became the crossover track in my transition into a pop sound. As an artist, I find it extremely important to be open-minded and not close off other genres just because of my previous material."
Right now, Ayala is back in the studio, writing and recording a few new songs to be released in the very near future. "Each track is driven with passion and energy that will hopefully have people up on their feet," she says. "My latest single is scheduled to drop this coming January, so be on the lookout for it!"
— Jessica Antonette —
While her career is just revving up, Jessica Antonette already has plenty of big names on her CV. "I got my start as a background singer for Melissa Etheridge," says the country singer-songwriter. "Since then, I've gained the confidence to start my own original project, and I continue to perform as a background vocalist for Michael Bolton and Gary Douglas, in support of South Side Johnny & The Asbury Jukes, and others."

PHOTO BY chad crawford photography
For Antonette, it was her time with the multi-Platinum rocker Etheridge that cemented her resolve. "I think the opportunity to sing with Melissa set the tone of what I was capable of," she shares. "I had no idea what I was doing or that I was even good enough. It impacted me in so many ways. It inspired me to work really hard every single day. I practiced and practiced, and I'm still practicing."
Yet, Antonette isn't a homegrown White Plains musical treasure. "I actually moved to Westchester in 2006, from Whitesboro, NY, when I was 18 years old. I attended Berkeley College in White Plains. I loved being in Westchester. It was a quick commute to the city, and it was just the energy I needed. I gained some lifelong friends and had the incredible support from the community while I built my music career."
Surprisingly, stage fright nearly ended Antonette's career. "My very first gigs were when I was a child. My parents would put me on the kitchen table and have me sing at family events. They would also take me to coffeehouses to perform for strangers," she recalls. "I was terrified. Believe it or not, I didn't enjoy having the spotlight on me at that age. Truthfully, I never thought I'd be a singer. I was always terrified of being the front-person. I was afraid to be vulnerable, so I always hid behind songwriting. I think that life leads you to where you are meant to be. Music found me."
Music certainly did find Antonette. Her songs have already appeared on NBC, NHL music segments, and Animal Planet, and her most recent single, "Something I Said," was selected as a finalist in the John Lennon Songwriting Competition this fall. "I'm taking the next few weeks to get back in the studio and finish writing some new songs, not only for myself but some other artists I'm writing for, as well," says Antonette, who recently wrapped up a national college tour. "I feel that I've finally found my voice. I believe that a part of this musical journey was to truly find out who I was as a person. I've grown vocally; I've grown as a writer; I'm proud of who I am."
— Allison Leah —
Plenty of artists have an early start, but few can compare to Allison Leah, who recalls laying down her first track at age 4, in her father's Manhattan recording studio. Although it was largely an exercise in fun, what began as a lark turned into a bona fide career for the Pelham native just four short years later.

PHOTO BY LAUREN ABBONDONDOLO
"When I was 8, I was singing a few songs at a holiday party, and an agent heard me and asked if I would be interested in singing in commercials," says 23-year-old Leah of her first big break. "So, I did. I sang in Hess Truck commercials for a few years, but there were other commercials, for GE and Alexian Brothers, and I did radio tags for Z-100, WCBS-FM, and others."
Leah took her largest step forward in the summer of 2018, when she released her debut EP, Fly Home. "It was a true culmination of everything I had been working toward for the first few years of my career," says Leah. "I started working on this album at my father's studio, Chiller Sound, during my junior year of college. The six songs on the EP are about love, loss, and the curiosity that comes with growing up. While I had spent my fair share of time in the studio, this was my first experience putting together a fully produced album. It was a wonderful learning process."
The recording also changed the entire scope of Leah's work. "My goals are higher than they used to be," she says. "During the fall of 2019, I planned and carried out a 10-date, seven-city tour that spanned New York to Nashville. I wanted to challenge myself, to see if I could, and I did. I now have the résumé to book these shows and the music to back it up."
Leah actually traveled back to her alma mater, SUNY Geneseo, while on tour and performed at Crickets, the coffee shop where she played her very first gig. "It was a true full-circle moment," says Leah. "The room was filled with those who knew the words to my songs and sang them back to me."
Recently, Leah dropped her new single, "Coffee Cup." "It's a song about daydreaming in a coffee shop, and it has a folk-pop vibe. I'm so excited to share it," gushes Leah. "As a storyteller, it's definitely one of my favorite songs I've written. I also just completed my New York to Nash Fall Tour. Other than that, I'm working on my next project and, of course, writing new music."
— Rebecca Haviland —
Grammy winner Rebecca Haviland has Westchester flowing through her veins. The White Plains-based singer-songwriter's mother hails from the shore city of Rye, while her father grew up a pebble's throw away, in Rye Neck. Now well on her way to becoming a household name, alongside her roots-rock band Whiskey Heart, Haviland's musical influences are also eminently local.

PHOTO courtesy of rebecca haviland
"I grew up in a very musical family," shares Haviland. "My grandmother is a jazz pianist, and my grandfather was a drummer who played in swing bands for the supper clubs in Westchester. Hanging at my grandparent's house always involved piano lessons and singing along to jazz standards. My dad started sneaking me into bars when I was 13, to see my uncles play in their blues-rock band, and I was hooked."
Although she crafted some of her first EPs around 2004, Haviland hit the rock scene hard when she debuted her first album, Rebecca Haviland and Whiskey Heart, in 2012, and promptly took home awards in both the International Songwriting Competition and the Unsigned Only Competition. In 2015, Haviland garnered a Grammy Award for her contributions to the children's album Home by Tim Kubart. Her 2018 record, "Bright City Lights" was called "hauntingly beautiful" by Paste magazine and led to two more live albums — Sun Studio Sessions, Volumes 1 and 2 — both released earlier this year.
"[The new albums] feature live recordings from two sessions at Sun Studios in Memphis, where Elvis and Johnny Cash made their first recordings," notes Haviland. "It was a magical moment, getting to track late into the night in the same room where Elvis once recorded. We also filmed an episode for Live From Sun Studios, airing nationally now on public television."
With her experience, Haviland has a slightly different perspective from other burgeoning musicians. "When I was 19, I was told I would be 19 for the next 10 years. When I turned 29, I was told I should be 29 for the next 10 years," she says. "But at 35, I feel like I've finally reached the best version of me as a songwriter and singer, and in an industry where age is a commodity, especially for women, we need to embrace age as a rite of passage and not a stigma. I like to think of the music I make with Whiskey Heart as a 35-year-old Scotch: rich and complex but still a bit unpredictable."