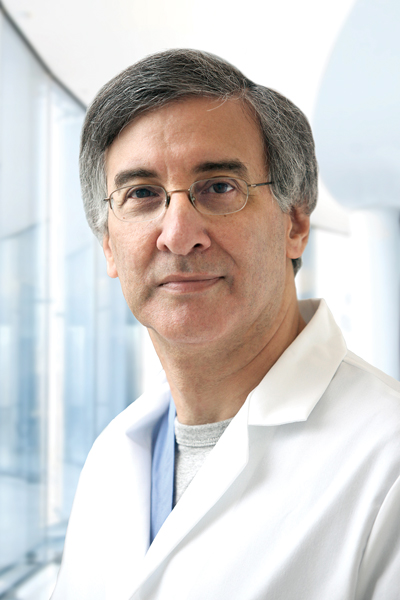 Mark A. Apfelbaum, MD
View Directory Listing
Q. With new cardiac catheterization labs in Westchester, how much more quickly can a heart attack victim receive needed treatment?
With the new Cath Lab at NewYork-Presbyterian /Lawrence Hospital, the treatment for heart attack patients who come to our emergency room is almost instantaneous. As soon as an electrocardiogram is done confirming that the patient is indeed having a heart attack, our team is immediately notified and the patient is brought directly to the Cath Lab. A catheterization is then performed confirming that one of the coronary arteries is in fact totally occluded, and an angioplasty follows to open up the blocked artery and re-establish normal blood flow to the heart muscle. This entire series of events—from arrival in the ER to opening the occluded artery—generally takes less than 60 minutes. Prior to the presence of a Cath Lab at NYP/Lawrence, patients would need to be stabilized in the emergency room, another facility with cath capabilities contacted, and arrangements made to transfer that patient elsewhere to have the angioplasty performed. This scenario generally meant that approximately two hours of precious time would have elapsed before the life-saving angioplasty procedure can even begin.
Q. Cardiologists say that for a heart attack victim "time is muscle." Can you explain why it is so important to get treatment quickly, and what difference immediate attention can make for a heart attack victim in terms of the survival rate and permanent effects?
A. Time is muscle." This is the popular slogan of cardiologists who treat patients having heart attacks. The heart attack itself is caused by the abrupt closure of one of the arteries that supply the heart muscle, generally because a clot has formed on top of a pre-existing blockage, totally interrupting blood flow to a certain segment of the heart muscle. The longer that artery stays closed, the more irreversible damage is done to the heart. Conversely, the faster you open the artery, the less the heart muscle is damaged, the better the overall pumping capacity of the heart, and the more favorable the overall prognosis of the patient will be. Losing precious hours to transfer a heart attack patient to another facility for angioplasty virtually guarantees a larger heart attack with more extensive damage to the heart, and as such, a poorer short- and long-term prognosis for that patient. Hence, being able to open that artery rapidly at NYP/Lawrence and no longer having to transfer these patients elsewhere literally saves lives.
Q. What are the symptoms and warning signs of a heart attack?
A. In its most classic form, heart attack patients experience pressure or a squeezing sensation in the center of their chest. This discomfort can be accompanied by shortness of breath, nausea, diffuse sweating, or a feeling of impending doom. The pain can sometimes radiate to the arms, more commonly the left, to the back, or to the jaw. Unfortunately, not everyone presents with a textbook description of classic symptoms. The presentation can be quite variable in different patients. Some may just experience shortness of breath without any pain; in some, the discomfort may feel more like indigestion; and the severity of the pain can be mild in some patients and very severe in others. Women, in particular, are more likely to manifest a heart attack with symptoms that are atypical. The important thing to remember is that if there is any question in your mind that your symptoms might be cardiac, call 911 and get to the emergency room as soon as possible. Don't delay in getting your symptoms evaluated and treated.
Q. What are the cutting-edge treatments for acute myocardial infarctions?
A. The treatment of choice for patients having a heart attack is emergency cardiac catheterization and angioplasty—identifying and opening the occluded artery in your heart. This therapy has been proven time and again to reduce the risk of death, improve heart muscle function and provide the best possible long-term outcomes. After the procedures, intensive medical therapy is instituted with anti-clotting drugs, cholesterol lowering medication, and other medicines to allow your heart to function optimally. But the treatment doesn't stop there—this must be done in conjunction with aggressive measures to modify one's lifestyle, such as eating a heart-healthy diet, weight loss where appropriate, a regular exercise program, and smoking cessation for those who smoke, just to name a few.
Q. What is the rate of full recovery from a heart attack, and how has that changed over time?
A. For patients who get to the hospital very early in the course of their heart attack and undergo successful catheterization and angioplasty, most can be safely discharged from the hospital within 48 to 72 hours, a far cry from the "old days" when patients with a heart attack were typically hospitalized for one to two weeks, and sometimes even longer. For those with more complicated heart attacks, the hospitalization might entail a few additional days. Again, the quicker you seek treatment, the less damage is generally done and the shorter amount of time you need to be in the hospital. Patients will typically be told to recuperate at home for an additional one to two weeks, gradually increasing their level of activity during that time. All patients are strongly urged to enroll in an outpatient cardiac rehab program after discharge from the hospital, where they can exercise in a supervised environment for a period of six to eight weeks, and then be prescribed an exercise program tailored to their specific situation that they can continue on their own at home. And obviously, regular follow-up with your cardiologist is essential.
---
Dr. Apfelbaum is Medical Director, Cardiac Catheterization Laboratory at NYP/Lawrence Hospital; an Associate Clinical Professor of Medicine at Columbia University College of Physicians and Surgeons; and Director of NYP System Cath Labs at the Center for Interventional Vascular Therapy at NewYork-Presbyterian Hospital/Columbia University Medical Center.
Dr. Apfelbaum received his MD degree from Columbia University College of Physicians and Surgeons. He pursued his residency in Internal Medicine at Columbia Presbyterian, serving as chief resident for the Department of Medicine. He was then a visiting clinical fellow in Internal Medicine for the Division of Cardiology at Columbia, followed by a visiting clinical fellowship in invasive and interventional cardiology there.
Dr. Apfelbaum is a Diplomate of the National Board of Medical Examiners, the American Board of Internal Medicine, the Subspecialty Board of Cardiovascular Disease, and the Subspecialty Board of Interventional Cardiology.
NewYork-Presbyterian Lawrence Hospital
NewYork-Presbyterian Cardiac Catheterization Laboratory at NYP/Lawrence Hospital
55 Palmer Avenue
​Bronxville, NY 10708
914-787-2270
www.nyplawrence.org
---