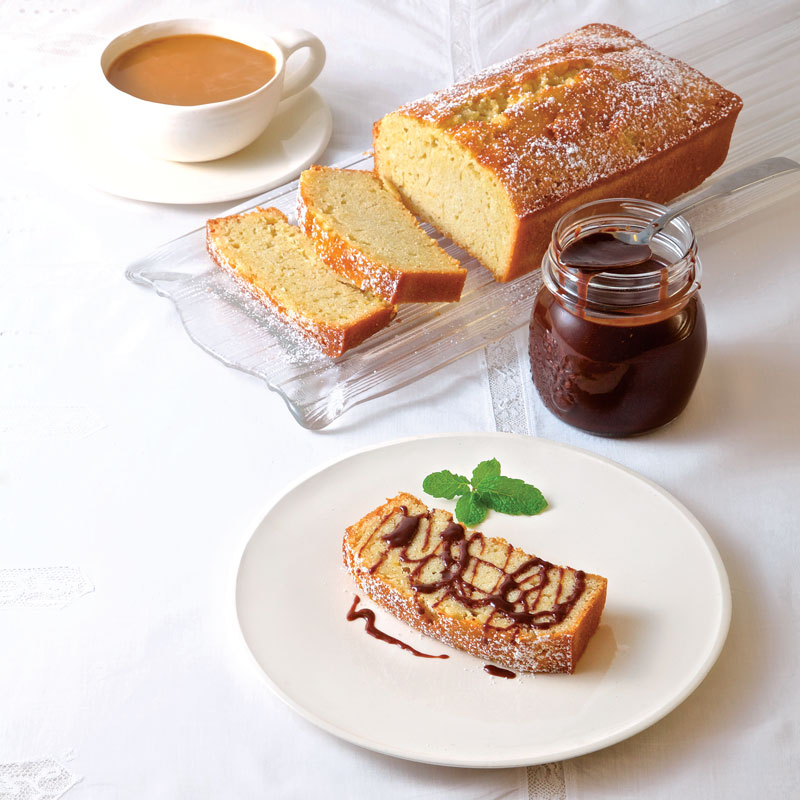 photo by andre baranowski
A British creation of the early 1700s, pound cake obtained its name from the original ingredient list: a pound each of sugar, eggs, flour, and, of course, butter. (In a time when most people were illiterate, it was an easy-to-remember recipe.) Modern recipes, like this one, have adjusted the proportions and added leavening agents to make a lighter cake. Despite contemporary amendments, it's still an indulgent (yet relatively simple to make) dessert to serve to holiday guests, who'll likely do their best Oliver Twist, by asking for more. Serves 6-8
Ingredients
1 cup unsalted butter, at room temperature
1 cup granulated sugar
4 eggs, at room temperature
2 cups all-purpose flour
1¼ tsp baking powder
1 tsp salt
½ cup milk
1½ tsp vanilla extract
Zest of one orange (optional)
Preparation
Preheat oven to 350ËšF. Lightly grease a 9" x 5" loaf pan.
Using a stand mixer, beat butter on medium-high speed until light, about 1-2 minutes. Gradually beat in sugar and then eggs, one at a time, scraping down the sides between additions. Beat until fluffy.
In a separate bowl, whisk dry ingredients together until just combined.
In a small bowl, whisk milk, extract, and zest (if using).
Remove bowl of butter/sugar/egg mixture from stand mixer. Add a little of the dry ingredients and mix until just combined. Add a little of the wet ingredients and stir to combine. Continue this process, alternating dry and wet ingredients, ending with the dry ingredients.
Pour batter into prepared pan and smooth the top. Bake for 60 to 65 minutes, until it the cake springs back when touched and a toothpick inserted in center comes out clean. If the pound cake browns too quickly, tent with aluminum foil for the final 10 minutes or so of baking.
Remove from oven and loosen edges. Wait 5 minutes and then turn cake out of pan to cool on wire rack.
---
Pro Tip:
Everything's better with chocolate! Microwave 3 Tbsp of heavy cream or milk until simmering, about 30 seconds. Remove from microwave and stir in 1/3 cup of chocolate chips until melted and smooth. Pour over pound cake and start drooling.