July 3rd
Original Fin
Stephen Spielberg's 1975 blockbuster shocker, Jaws, should be required summer watching and, at The Avon Theatre in Stamford, it is. This month, the Avon will hold its annual summer screening of the acclaimed horror flick that launched a generation of ocean-shy beachgoers. Starring Roy Scheider, Robert Shaw, and Richard Dreyfuss, the film follows three men who go on an Atlantic odyssey to stop a gargantuan great white shark from making mincemeat of the swimmers off Amity Island. With incredible acting and edge-of-your-seat action, this Spielberg classic is not only considered Hollywood's first blockbuster, it's a perennially prime way to celebrate the summer.

Photo by Gabe Palacio
July 4th
Snap, Crackle, Pops
Celebrate July 4th with a bang! Bring the whole family to Katonah's Caramoor Center for Music and the Arts for an evening of eye-popping fireworks accompanied by a musical tribute to Leonard Bernstein, during their Pops, Patriots, and Fireworks. Rousing classical works will be performed by Westchester Symphonic Winds, as well as alumni from Caramoor's Schwab Vocal Rising Stars. The patriotic program kicks off with "The Star-Spangled Banner" and concludes with both the 1812 Overture and "Stars and Stripes Forever."
Related: Where to Watch Fourth of July Fireworks in Westchester
July 5th – September 9th
On Tap
A storm is brewing on the high seas, and anyone traveling to London via Westchester Broadway Theater is in for a delightfully rocky ride. Extravagantly choreographed dance numbers mixed with an engaging plot make the three-time Tony Award-winning Broadway classic Anything Goes compelling from start to finish. With bouncy numbers like "I Get a Kick Out of You" and "It's De-Lovely," the merry tap musical directed by Richard Stafford tells a tale of a brassy nightclub singer falling in love on the high seas.

Photo courtesy of Warner Brothers Records
July 14th
American Made
What better time than the birthday of our country to see America in the flesh? This month, the Grammy Award-winning British-American rock band known for such hits as "Sister Goldenhair," "Ventura Highway," and "A Horse With No Name" bring their celebrated songs to Peekskill's Paramount Hudson Valley Theater. With a star on the Hollywood Walk of Fame and an impressive 17 Billboard-charting singles, this is one legendary rock group well worth a listen.

Photo courtesy of Pleasantville Music Festival
July 14th
A Pleasant Day
Westchester boasts plenty of rockin' summer events, but the Pleasantville Music Festival is undoubtedly one of the best. Drawing big-name groups, ranging from Cracker and The Psychedelic Furs to Robert Randolph and the Family Band, the event located in Pleasantville's Parkway Field also features a beer-and-wine garden for adults, as well as fun activities for kids. Add in food for sale and a popular Battle of the Bands, and you have one can't-miss event.

Pottery by Mariko Paterson
July 21st – September 15th
United Art
Pottery and patriotism collide this month, when Port Chester's Clay Arts Center holds an exhibition exploring exactly what it means to be an American. In the inventive new show US, 13 artists ranging from a United States military veteran to a Canadian immigrant offer compelling works of ceramic art covering our country's tumultuous past, current events, and bright future. Invited artists include Natalia Arbelaez, Ehren Tool, and Mariko Paterson.

Photo by Dara Munnis
July 27th
One Swell Season
Academy Award-winning singer-songwriter Glen Hansard is a veritable one-man musical army. The Irish-born rocker first drew attention leading the acclaimed band The Frames, after which his duo, The Swell Season, earned worldwide fame and spawned the hit Broadway musical and award-winning film Once. On July 27, the emotive musician will take the stage at Port Chester's Capitol Theatre, where he will perform songs from his catalogue and new album, Between Two Shores.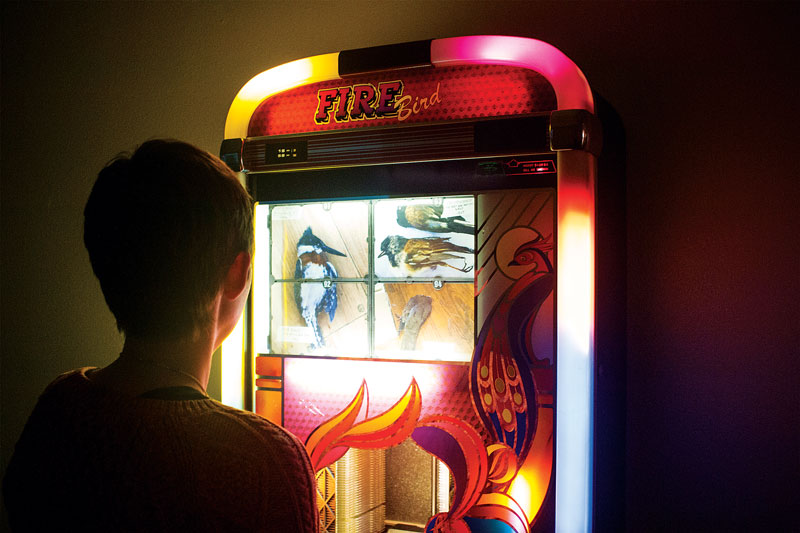 July 28th
Three-Year Itch
ArtsWestchester has long curated some of the finest creative works produced throughout the Hudson Valley. Now, the gallery's inaugural Triennial brings this mission into even greater focus, with a special exhibition to be held once every three years in its White Plains space that celebrates the range of Westchester's art scene. Area artists with mediums ranging from sculpture to painting, including Natalia Arbelaez, Michael Barraco, and Mansheng Wang, will be on show in this striking exhibition.