Cortlandt Manor resident Lisa Ocasio has debuted breakfast-and-lunch café The Tasty Table (21 Campwoods Rd, Ossining; 914.762.4000) in the location that previously housed Wobble Café. On the lunch menu: a jumbo Bavarian pretzel, house-made empanadas, panini, deep-dish pizza, chicken marsala meatballs, and baked mac 'n' cheese.
The owners behind 105-Ten in Briarcliff Manor and Mission Taqueria in Pleasantville have opened 105-Twenty Bar & Grill (120 Grand St, Croton-on-Hudson; 914.862.4494) in the space that once housed Tagine. The 80-seat Traditional American restaurant has a menu of thin-crust flatbreads, salads, burgers, and sandwiches, plus entrées ($15-$28), including tuna tacos, free-range roasted half-chicken, whole-wheat linguine, and braised short ribs.

Photo courtesy 105-Twenty
Wild striped bass at 105-Twenty Bar & Grill in Croton-on-Hudson
ERL Hospitality group (Tomatillo, Red Zebra, Sweet Grass Grill) has launched Grass Roots Kitchen (124 Wildey St, Tarrytown; 914.909.5588). The counter-service casual eatery has breakfast (grain and açai bowls, house-made buttermilk biscuits, buckwheat pancakes) and afternoon (avocado toast, carrot-quinoa burger, salmon avocado sandwich) menus daily. There are numerous vegetarian/vegan options.
New inside the J House hotel is Tony's (1114 E Putnam Ave, Riverside; 203.698.6999), an Italian steakhouse and bar offering in-house dry-aged steaks and a raw bar bursting with New England clams and oysters, jumbo shrimp, lobster, and seasonal crustaceans. Executive Chef Daniel Radovic, formerly executive chef of Gabriele's Italian Steakhouse, serves a menu of fritto misto (fried rock shrimp, calamari, zucchini chips, and long hot peppers), short-rib arancini, tagliatelle with truffles, and Chilean sea bass with parsnip purée in a porcini-leek cream sauce. The owner is veteran Greenwich restaurant maître d' (Gabriele's, Valbella!!) Tony Capasso, who is known for his fun trivia challenges at the tables.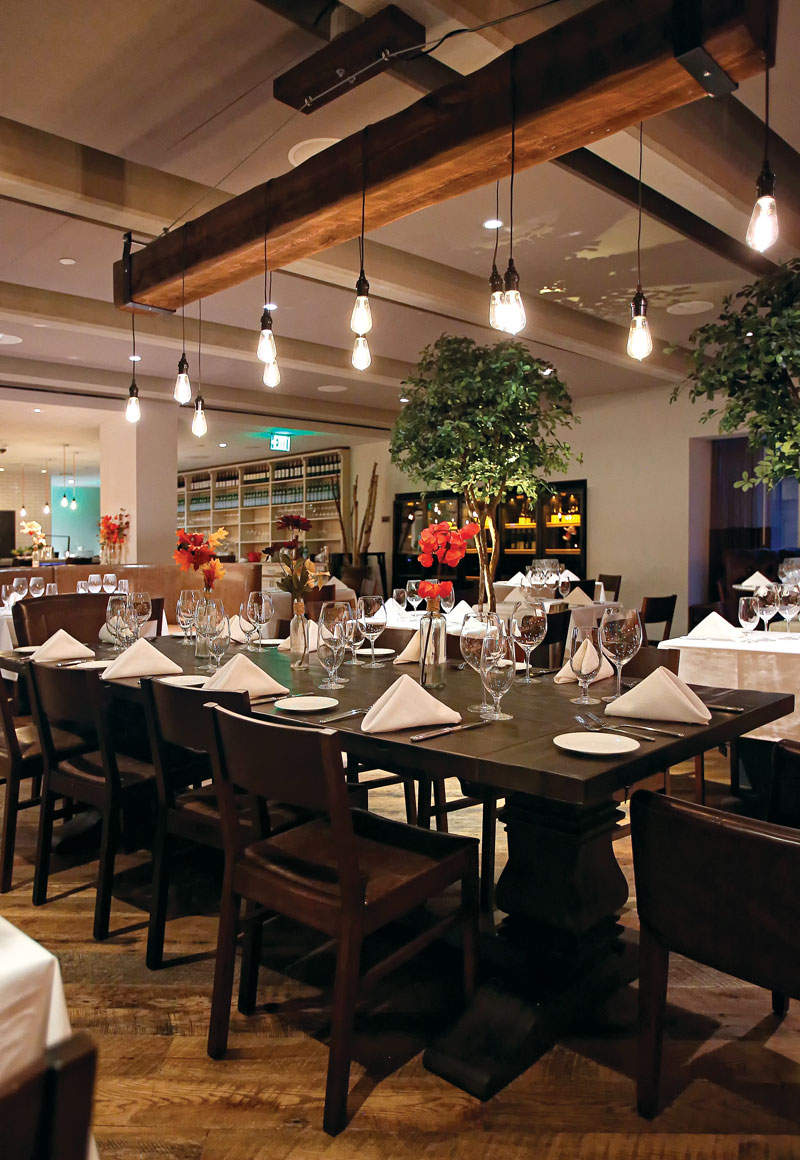 Photo courtesy of j house
You'll dine in style at Tony's in Greenwich's J House hotel
In the place of Jennifer's Restaurant is German-French hybrid Nadine's (715 Saw Mill River Rd, Yorktown Heights; 914.962.4298). On the menu: garlic sausage with warm lentil salad; fois gras terrine, sauerbraten with spaetzle and red cabbage; and skate in a caper-lemon-butter sauce. Partners Christian and Pamela Schienle have owned UES French restaurant Sel et Poivre since 1989.
Agritourism is alive and well in our county as the New York State Maple Producers Association is sponsoring Maple Fest Weekends on March 23 and 24 and March 30 and 31. Event guests ($10 adults, $8 children) enjoy a hot breakfast at Hilltop Hanover Farm (1271 Hanover St, Yorktown Heights) and then drive less than a mile to White Oak Farm (680 Croton Lake Rd, Yorktown Heights) for a free maple syrup demo. Finally, it's a 10-minute ride to visit Hemlock Hill Farm (500 Croton Ave, Cortlandt Manor) where the hormone- and antibiotic-free bacon and sausage for the pancake breakfast was prepared.