A trio of CIA-trained chefs owning one restaurant may seem like a recipe for disaster, but in the case of Joey D'Angelo, Alex Avellino, and Joe Engongoro, it's a successful formula predicated on shared culinary philosophy and deep friendship. "We're all on the same page with our cooking style or when discussing menus or which ingredients to highlight," says D'Angelo, who lives in Hartsdale and opened Copper House in late May, in the space that once housed Trevi Ristorante. "Plus, I've been friends with these guys for a long time."
Owner/chef of Hartsdale's three-and-a-half-year-old Copper Kettle Café, D'Angelo's new venture has a similar concept of comfort fare made with locally sourced ingredients — but with one significant difference.
"We wanted to put a bit of Trevi into it," explains Engongoro, a West Harrison resident who owned Trevi for 10 years and opened Esca in Manhattan's theater district 20 years ago, "so there's an Italian focus to many of the menu items." Engongoro will head up the kitchen at Copper House, with Avellino running the front of the house. D'Angelo will spend most of his time at Copper Kettle.

Pies like the Hangover take less than 2 minutes to cook in the 800ËšF oven.
Starters to try include short-rib bruschetta, eggplant "meatballs," and whipped ricotta dip with house-made bread. For main dishes, there's a house-ground burger on a homemade challah bun, steelhead salmon (fish is delivered four times a week) with farro "fried rice," and ricotta gnocchi made in-house. A wood-fired oven that can reach 800°F pumps out crisp-crusted pies — the Hangover, with apple-smoked bacon, egg, mozzarella, and truffle pecorino, is a worthy order.
In keeping with the local-sourcing mantra, Blooming Hill Farm, Sycamore Farm, John Fazio Farms, and Harmony Springs Soda are among the Copper House purveyors.
As to his recent expansion, D'Angelo admits to some growing pains. "I prefer to have one," he quips. "But seriously, how do you prioritize one over the other? You can't. It's like having kids and having to consider one as more important than the other — impossible! But you're only as good as the team around you, and I have a really good one."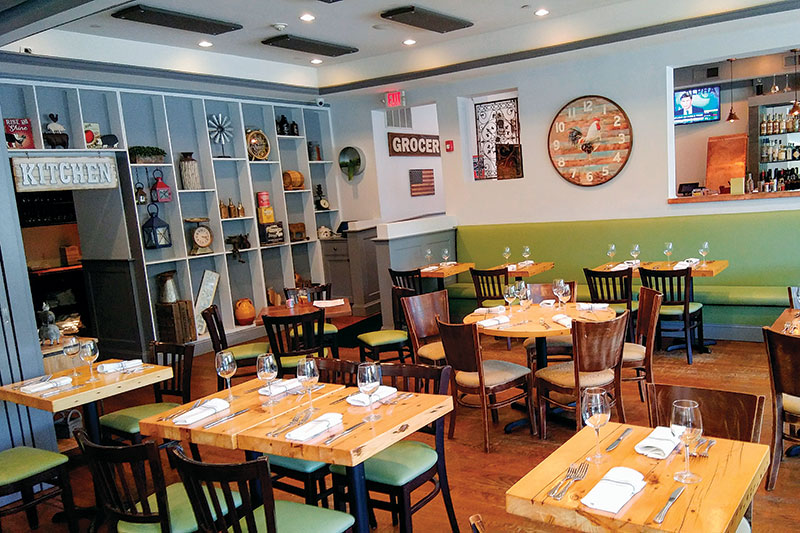 Copper House's modern farm-chic interior.
The renovation to transform the more formal, white-tablecloth Trevi space into a casual, "modern farm" eatery included opening up the wall between the bar and the dining room. "We wanted the buzz of the bar to spill over into the dining space," says Avellino. The beverage program includes creative cocktails (e.g., Peppy Special with cucumber vodka, house-made lime cordial, peppercorn) and craft beer on tap.
"For regular weekly meals," says Avellino, "most diners want simple comfort food prepared with fresh, quality ingredients and to spend an hour or so out. To be at a table for three hours in a high-end setting is not the normal dining-out experience. The interior design, as well as the menu, reflects this."
Copper House is much larger than the 32-seat Copper Kettle, with a 70-seat dining room, plus 30 seats outside and 30 at the bar. There is also a market when you walk in, tempting with homemade pickles, jarred sauce, jams, Mason-jar desserts, breads, spun-to-order ice cream, and "whatever else we feel like making," says D'Angelo.
Copper House
11 Taylor Sq.
West Harrison
914.949.5810