Peter Tomasi has guaranteed himself a place in history as the editor-writer in charge of overseeing such iconic DC Comics' properties as Superman, Batman and Robin, and Green Lantern, among others. But on April 17, the longtime Croton-on-Hudson resident stepped away from caped crusaders and power rings to release his new graphic novel, The Bridge, which tells the compelling story of what was once proclaimed the "eighth wonder of the world" — the mighty and majestic Brooklyn Bridge — and the Roeblings, the remarkable family who practically gave their lives to create it. Recently, Tomasi sat down with Westchester Magazine to discuss his latest thrilling chronicle of superhuman endeavor.
How long did it take you to complete The Bridge?
Believe it or not, if I gauge it from writing the first word until publication on April 17 of this year, it comes to seventeen years, four more years than it took to build the actual Brooklyn Bridge itself! But to clarify that a bit, I was also working full time as an editor at DC Comics along with other freelance writing gigs to make ends meet. In other words, it took a while as I juggled things. I can be a procrastinator, but I'm not that crazy.
Roughly how many hours of research were required?
Honestly, I have no idea. The amount of time is probably mind boggling, but research is my favorite part of any project I take on. I love being a student. I love learning something completely new, especially when it comes to delving into American history. Being able to pour through countless newspapers of the era, Harper's Weekly, The Brooklyn Eagle, and New York Times, along with books, actual journals and letters written in Washington and Emily's hands up in Troy, New York at the wonderful Rensselaer Archives where a great deal of the Roebling Collection are meticulously kept — that time is golden, I actually have to force myself to stop researching sometimes because I want to absorb everything and be able to truly be in the mind-set of the characters I'm writing, on their wavelength so to speak in terms of speech patterns, traits and reactions of the day.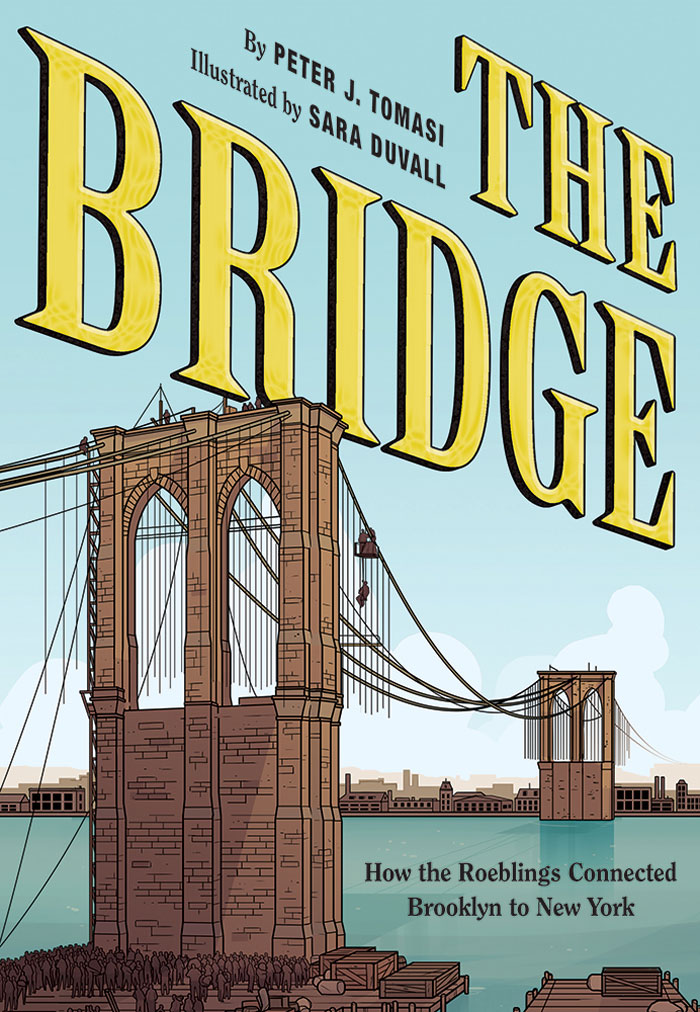 With all the technical stuff, including very recondite aspects of engineering, including the infamous caisson, was it difficult to wrap your mind around that stuff?
Having to pop on an engineering hat and get a handle on the technical aspects of bridge building in the late 1800's was exhilarating. There was a great deal of information to absorb but I loved every second of it. There was so much material, including John and Washington Roebling's own detailed notes and drawings, that I luckily never found myself struggling to understand it. Speaking of the caissons, they are the foundations of the bridge and if you look at them simply as being upside down hollow boxes it all starts to take shape. Those caisson crews digging under the riverbed and sending rocks and dirt up to the surface, under all that pressure and in that dim light, the East River surrounding them…it blows my mind every time I think of them working for months on end searching for bedrock that the caissons can firmly rest upon. The respect and admiration I have for those men is boundless. Hell, I dove in so deep into the material and first-hand accounts that I'd start sweating and stressing out when I'd get to writing a caisson scene.
Where did you take the most literary license. For example, you go into significant detail about Washington's relationship with his father, as well as his relationship with his wife, Emily. Was that fictionalized, or did you draw on source material for those aspects? How did you surmise how they felt about each other and their basic character traits?
I didn't take any literary license when it came to the foundational elements of the Roebling relationships. Being real people I wanted to do them justice, yet show that they were human and not just names from a text book. All the source material I have on hand or read in the archives, and it's quite a bit, clearly defined their interpersonal actions along with, at times, their thoughts and dreams. I didn't want to embellish or veer away from the core of their life story if I didn't have to. Nothing is fictionalized. Truth is stranger than fiction. The Roeblings lives were filled with enough drama and tragedy that I had to leave some of it out. Washington Roebling's Civil War service alone is startling and would make an amazing book of its own. He fought at so many major battles it's truly amazing he ever made it back home to build the Brooklyn Bridge. Now, I don't want to say I was channeling the Roeblings so that the dialogue rang true, but as I mentioned above, when you feel you've enveloped enough of yourself as a writer in their time and place, the characters have a way of speaking for themselves in such a way that you end up feeling like a stenographer and simply try to write fast enough to keep up with their pace as they speak. I really felt like I was part of the family by the time I was done. There's some supporting characters that I took a few liberties with, otherwise I simply dramatized the true record.
You'd written in the preface that 9/11 inspired you to get going with actually sitting down and writing the project, but what made you pick the Brooklyn Bridge when there are so many other subjects you could have focused your talents on?
Yep, as I mentioned in the preface, I grew up in Washington Heights, 181st, in the shadow of Ammann's George Washington Bridge and the mighty Hudson River less than a hundred yards away. My fascination with bridges grew from there and when I walked across the Brooklyn Bridge and learned about the Roeblings and the construction, it just captured my imagination and never let go. As the great historian, David McCullough, said at some point, and I'm paraphrasing here, spanning the East River from 1870 to 1883 was akin to an Apollo mission going to the Moon. And damn if he wasn't right. Over the years I kept building up a library of books, papers, and pamphlets on the Brooklyn Bridge with the intention of one day hoping to dramatize it. Crazy enough, aside from McCullough's wondrous The Great Bridge which was published in 1972, and recently just this past year, Erica Wagner's wonderful book Chief Engineer, there hasn't been a great deal done to bring this epic American story to life. With the help of Charlie Kochman, editor at Abrams Publishing and the talented crew there, I'm incredibly happy to have finally been able to help visualize it for generations to come with the uber-talented artist, Sara DuVall along with our amazing colorist, Gabe Eltaeb and letterer, Rob Leigh.
Seems like it was a very dangerous project. Did many workers die in the process of building it?
It's safe to assume at least 30 people died building it.
Was Washington injured during the Civil War?
Washington was injured in the leg in 1863, but it wasn't a life-long wound. It healed fully in time. He used a cane for a short period of time during his military service but did not return home with it. The fact that he made it home at all in one piece is a miracle when you look down the list of battles he fought at from Antietam to Gettysburg to Petersburg, and many more.
When and how did Washington finally die, and at what age? Has there been any credible conjecture about what malady had plagued him for so many years during the bridge's construction?
Washington Roebling died on the afternoon of July 21, 1926. Eighty eight years old. Unbelievably, he outlived everyone from his era, including his beloved, Emily, who died February 28 1903 of stomach cancer at the age of fifty nine years old. I say "unbelievably" because after you read their story it's Washington who you would have thought to as going to an early grave. What plagued Wash for years was no conjecture, it was a fact that he suffered from the bends (which wasn't fully understood at that time) due to his going up and down into the caissons which ended up wreaking havoc with his nerves and muscular health. The bends by the way is still known formally as caissons disease.
Which on-the-horizon DC project do you have coming up that you are really excited about?
I wish I could tell you, but the DC Comics Flying Monkeys would swoop down and whisk me away into the night. Let's just say they're popular characters and leave it at that.
On your personal Mount Rushmore of (real-life) comic-book icons, whose faces appear?
It'd have to be a lot bigger than Rushmore to accommodate them all, but a few would be: Jack Kirby, Bill Finger, Frank Miller, Alan Moore, Stan Lee, Denny O' Neil, Roy Thomas, Gerry Conway, Jim Aparo, Neal Adams, John Romita, John Buscema, Gil Kane, Len Wein, Robert Kanigher, Joe Kubert, Russ Heath, John Byrne, Alex Toth, Neil Gaiman, Garth Ennis, and a few dozen others.
Whose your all-time favorite comic-book superhero and supervillain and why?
I'd have to say Batman, which I really enjoyed writing for almost 5 years (Batman and Robin), not to mention it was the first comic book I purchased and Halloween costume worn, along with the stupendous TV show in all its primary color glory. And I'd have to say the Joker — nothing scarier for a kid (hell, even an adult when you think of Heath Ledger's portrayal) of a villain who smiles as he kills.