Despite being housed in Peekskill's vast Factoria development, Fin & Brew is imbued with warmth, thanks to the gregarious nature, passion, and drive of its executive chef, Jan Michael Anastacio. Many nights, Anastacio — who helms the kitchen for the entire complex, including the Spins Hudson lollapalooza and the River Outpost Brewing Co. bar — circulates around the room, checking in with patrons to gauge their satisfaction.
I was glad he did during my visits, since I learned how he has continually tweaked the menu to appeal to diners. When the restaurant first opened, Anastacio focused on Mediterranean flavors, but he has gradually expanded his repertoire to incorporate other global influences. Building on his education at the Culinary Institute of America and experience at Winston in Mount Kisco and Purdy's Farmer & the Fish, Anastacio has developed a collection of seafood and American comfort-oriented dishes that is truly eclectic, with clear nods to Asia and the Middle East.

Chef Anastacio's grilled smoked chicken
The restaurant prepares almost everything in-house, from fennel sausage to dessert. Take note of the bread: It's warm-from-the-oven sourdough made by Journeyman Bakery served with salted, freshly whipped butter. Definitely worth it, even if you're watching your carbs.
Overall, the food at Fin & Brew was quite impressive. For starters, I was particularly taken with the creamy (but not rich) parsnip soup and the charred octopus with smoked yogurt, grapes, and the aforementioned sausage. Standouts from the raw bar included the salmon tartare with mango, avocado, and ponzu; as well as the shrimp cocktail, with its salty-sweet speckling of furikake (a Japanese mixture of seaweed, dried fish, and sesame seeds).
Across three meals and seven entrées, my dining companion and I were continually wowed. From the textbook-perfect medium-rare skirt steak with sweet potatoes, chermoula, and broccoli to the bass with shiitakes, wild rice, and bacon (an umami bomb if ever there were one), every dish was executed with care and skill. The fisherman's stew, with coconut-lemongrass broth and squash, was akin to an East Asian cioppino. The tender and moist falafel, vivid with Indian flavors, offered a new and improved take on the Middle Eastern standby.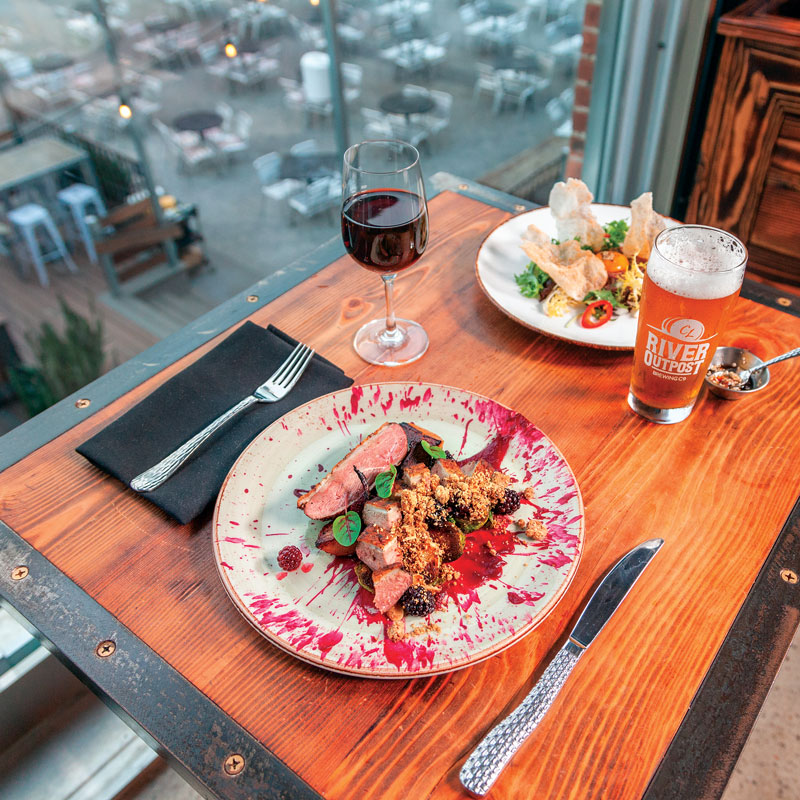 Beets and pickled blackberries give a splash of color to the Long Island Crescent duck.
On Wednesday nights, Fin & Brew offers a $34 prix-fixe menu, which includes all-you-can-eat chopped salad and soup, as well as a choice of entrée and dessert. The crispy, well-seasoned buttermilk fried chicken with creamy kale slaw was crave-worthy, while the hake with potato and lobster broth presented a sophisticated spin on fish and chips.
Considering that the restaurant is housed atop River Outpost, it's no surprise that Fin & Brew offers a knockout selection of the brewery's beers and provides pairing suggestions for every entrée. During one visit, we enjoyed a flight of Fram Boy rosé ale; Bear Mountain brown ale; Yea, See! Prohibition-style lager; and Apples to Oranges brut IPA (the latter two are brewed with local corn and cider, respectively). The wine list is extensive and the cocktail menu innovative (try the Winter Sangria with orange-blossom water).

Exquisitely plated dishes are commonplace at Fin & Brew.
Unfortunately, desserts were mostly skippable. Fin & Brew prepares two choices each night, but all were small and underwhelming. The atmosphere also left much to be desired. To reach the restaurant, you must first enter the warehouse-like building, not the ideal start to a special-occasion meal. The dining room itself is oversized and uncomfortable, with hard, metal seats. Quite cold, virtually all diners opted to keep their winter coats on. With no table-level lighting, I needed to use my iPhone's flashlight to read the menu.
Large windows and a deck reveal views of the Hudson River, but the waterfront location is moot in colder, darker months. There's little else to praise about the ambience, which is essentially that of a sports bar, complete with a large-screen TV and loud soundtrack. It would have been nice to linger over coffee, but each time I finished my meal, I was eager to return to the warm, cushioned comfort of my car.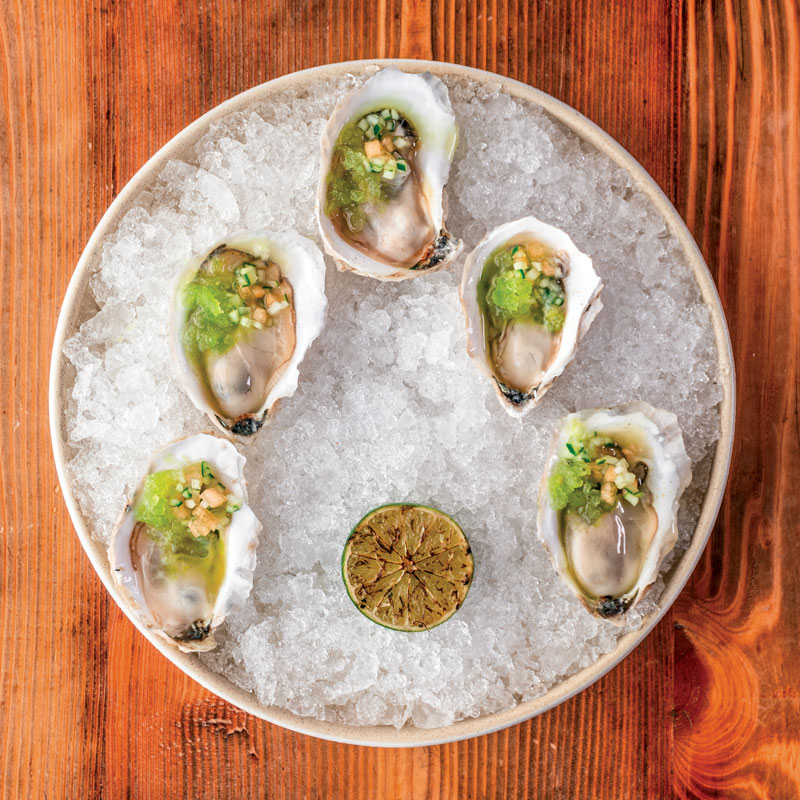 Oysters with cucumber-melon mignonette
One possible bright side to the setting: You can make a day out of a visit to Factoria. Begin with games downstairs and then head up for a date-night-worthy dinner. During my visits, I made a mental note to return with my two school-aged sons — daytime fun for them, evening reward for me.
The warm staff definitely made me want to return. Eager to please, our servers offered helpful recommendations and ensured our meals were well-paced. Their friendly, down-to-earth nature compensated somewhat for the lackluster surroundings, but it's Chef Anastacio's superlative cooking that makes Fin & Brew shine.

5 John Walsh Blvd, Peekskill​
914.788.4555
Cos Cob-based Dina Cheney is the author of six cookbooks and writes about food, health, and well- ness for numerous publications.
For more restaurant reviews, click here.