Anyone see Robert De Niro in The Intern? Hilarious, right? But what is it really like to work as an intern when you aren't, shall we say, the youngest person in the room? "Not nearly as uncomfortable as I thought it would be," says Pelham Manor resident and attorney Kathleen Veteri, who recently completed an internship on her way back to a full-time job after a 10-year career break. The experience served perfectly as a "dry run for the real thing," she explains, and practicing law came to her back "like riding a bike." An added plus, potential employers "get a good look at you" through the internship, she points out, "more than just a 30-minute job interview." No doubt with that in mind, Rye resident and lawyer Cynthia Wells, who interned after 20 years off, took her bottom-of-the-totem-pole position so seriously, her coworkers followed suit and accepted her without hesitation. At first intimidated by the thought of new technology, she quickly adapted, finding that "all the computers simply made the office seem much quieter than I remember."
Welcome to the age of the "Returnship"—the respectable, post-career-break internship. Many highly educated and experienced individuals who'd left the workforce are being lured back to restart careers in programs specifically designed by companies to bring them up to speed.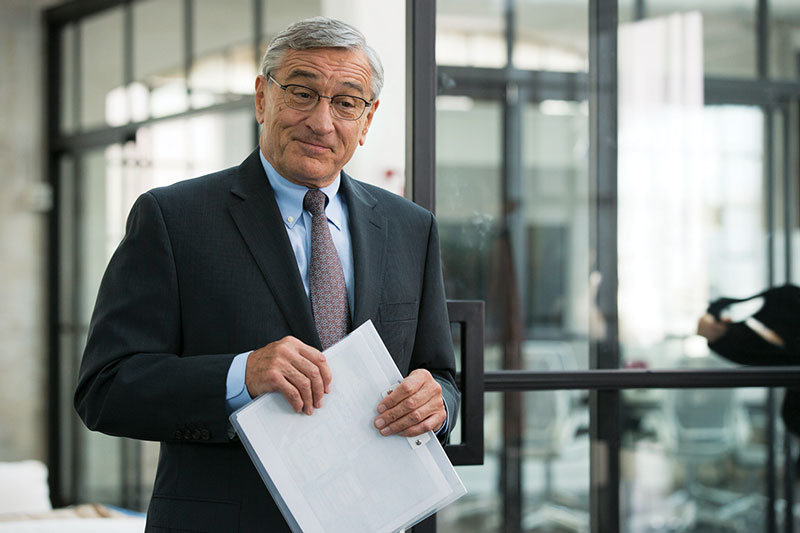 Robert De Niro in The Intern
"These programs are a great way to get people back into the talent pipeline," says Michelle Friedman, founder of Advancing Women's Careers, a career-coaching and organizational consultancy in Scarsdale. Employers want to "recapture qualified people who are already trained and experienced," she explains.
Like Wells, some "career breakers" might need a moment to catch up with changes in technology, but most of them quickly embrace new workplace research and communications methods. Carrie Hart, also of Rye, who'd completed a Credit Suisse Real Returns internship after an eight-year haitus, said appreciated the "refresh activities," which included honing presentation skills, business writing, and Microsoft Office Suite. She now works with Credit Suisse.
So, who's getting involved? Area financial institutions such as Goldman Sachs (which recently trademarked the term Returnship), JPMorgan Chase, Credit Suisse, and Morgan Stanley have such programs. In White Plains, Pace Law School's New Directions for Attorneys program includes classwork and a 10-week externship at one of more than 100 employers linked to the program. (Both Wells and Veteri are New Directions "grads.") Meanwhile, iRelaunch—a career-relaunch organization cofounded by CEO Carol Fishman Cohen—recently joined forces with the Society of Women Engineers to form the STEM Re-entry Task Force, which establishes internships for women with science- and technology-related degrees. Companies involved include IBM, Caterpillar, GM, and Intel.
Internships are certainly not the only route back, but many participants consider their combination of tech support, career counseling, and networking potential to be a great launch pad for success.
Internship Intel
Tips for success
•To find an internship program, the iRelaunch website is a great place to start: www.irelaunch.com/CareerReentry
•Don't fight the dreaded "reverse mentorship." Those who have stepped away from the office for more than a decade might need a little coaching from someone younger.
•Do teach yourself when possible: YouTube tutorials are a great way learn basic tasks such as importing graphics into a PowerPoint presentation.
•Internship programs fill up fast, but there's "no reason not to try a do-it-yourself one," says Scarsdale career coach Michelle Friedman. Simply offer your services to a prospective employer on a project basis.
•Keep a sense of humor, and don't let ego get in the way. If you're open and friendly, coworkers will soon be turning to you for advice.
Hey, it worked for Robert De Niro!