By Nancy L. Claus
Picture-perfect farms with horses grazing lazily among verdant pastures reflect the county's long love affair with all things equine: pony parties, dressage lessons, leisurely trail rides, fox hunts, and show competitions. In the following pages, we take you on a photographic tour of Westchester's horse country.
Photo of Laura Evans and Bella By Geoff Tischman
The Fall Bedford Pace and Luncheon, a biannual horse competition/fundraiser run by the Bedford Riding Lanes Association (BRLA), was held at John Jay Homestead in Katonah in September.
Above: A color-coordinated horse and rider are all set for the Pace
The Bedford Pace Photos By Michael Polito
An array of prize ribbons awaits the winners in hunt, junior, pleasure, and Western riding
John Barry of Cheshire, Connecticut, removes stones and dirt from the hooves of his horse, Guinness, before the ride.
There are more than 50 jumps in the 10-mile course, which also incudes streams, bridges, meadows, and woodland trails.
Georgina Bloomberg's gorgeous white mini-horse, Lola, whom she rescued and who now lives at Gotham North farm in North Salem
Photograph By Geoff Tischman
Olympic Gold Medalist McLain Ward of Brewster riding HH Azur, the winners of last year's $50,000 Old Salem Farm Grand Prix.
Photograph By Jump Media
A pretty horse in a pensive pose
Photograph By Geoff Tischman
Heritage Farm, a beautiful facility located in a bucolic setting in Katonah, trains riders and horses at the nation's top level of competition. Brothers Michael and Andre Dignelli, one of the best trainers in the business, bought the 40-acre farm with 54 stalls in 1994; since then, it has grown to more than 100 stalls. Clockwise from above: Sean Leckie, Oakley Clark, and horses; Leckie admiring a beautiful creature; a cute horse angling for a treat; Oakley Clark and two friends.
Photographs By Geoff Tischman
Clockwise from the left: A very relaxed horse allows its groomer to do his job; barn manager Angela Okrent clipping a horse; Sean Leckie applying a hoof dressing to Redafin; "Don't hate me because I'm beautiful."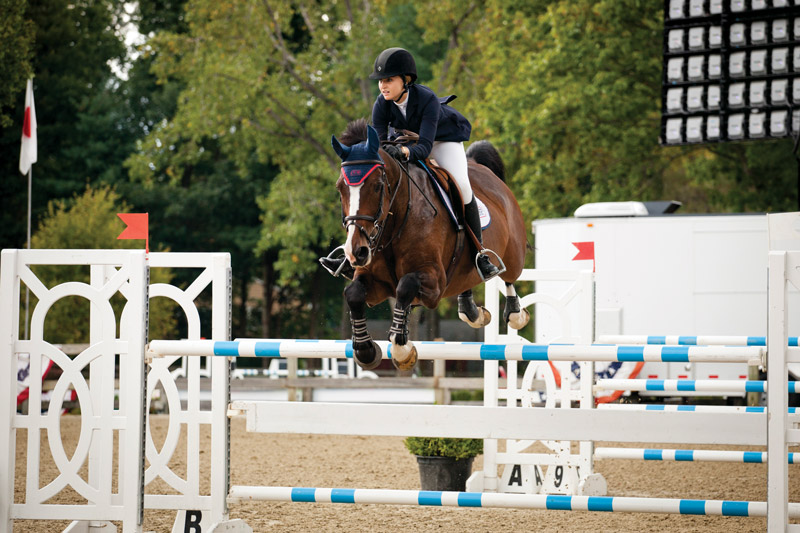 The 2015 American Gold Cup, the prestigious show-jumping classic, returned to scenic Old Salem Farm in North Salem for the fourth time last September.
The American Gold Cup Photographs By Michael Polito
Old Salem's beautifully manicured grounds, list of elite horses and riders, and fabulous social gatherings draw spectators from Westchester County and beyond. Many world-class competitors, representing 14 nations from around the globe, participated in the 45th American Gold Cup event.
The Bedford Riding Lanes Association (BRLA), which dates back to the 1920s, created and maintains the historic network of 160 miles of trails and dirt roads in the Bedford and Pound Ridge areas.
Pictured: Buxton Pond Farm in Bedford Hills
Bedford Riding Lanes Photographs By Geoff Tischman
Laura Evans, longtime BRLA member and volunteer, readies her mount, Bella, for a ride on the trails.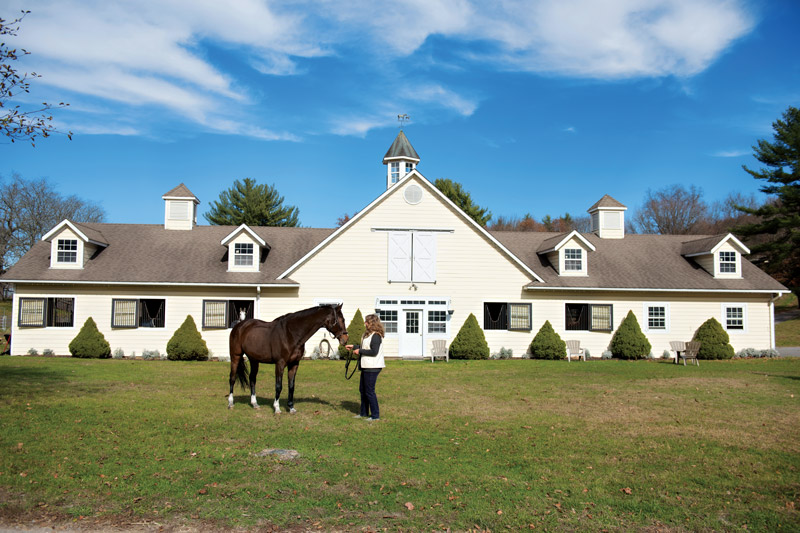 Sunnyfield Farm is one of the most beautiful horse farms in the county, a spectacular 230-acre spread along Guard Hill Road in Bedford.
Sunnyfield Farm Photographs By Geoff Tischman
Clockwise from left: Sunnyfield's resident horses enjoy the view; Heather Ward opened HW Dressage at Sunnyfield Farm in 2009, teaching the basics of dressage and jumping to riders of all levels; a Sunnyfield foal.