Burger Bistro & Bar has closed, and in its place is Skratch (625 Columbus Ave, Thornwood; 914.769.2874), a restaurant offering American comfort fare and craft beer. The chef/co-owner is Eric Vathke, who previously worked at Tarrytown's The Tapp. Starters include spinach-artichoke dip, bacon mac 'n' cheese, and house-made chicken nuggets. Along with wraps, burgers, and sandwiches, there are plated entrées, including braised short rib, chicken schnitzel, grilled flat-iron steak, pappardelle Bolognese, and pan-seared cod. The most expensive main is $20.
The hospitality group behind Med-Mex PopoJito in Scarsdale has opened 65-seat DonJito (122 Mamaroneck Ave, Mamaroneck; 914.902.5486), serving Nuevo Latino fare (a mix of Mexican, South American, and Spanish influences). Chef J. Carlos Rodriguez's menu has such offerings as octopus a la plancha, red snapper with grilled chayote; beets three ways, seafood and chorizo paella, duck confit enchiladas, and housemade sangrias.
Additional recent restaurant openings include fast-casual seafood eatery Crabcake (2081 Albany Post Rd, Montrose; 914.219.8822) and, in the space that housed Lum Yen, Sofia's Italian Bistro (100 W Boston Post Rd, Mamaroneck; 914.630.4501), serving Southern Italian fare (e.g., wood-fired pizzas, housemade pasta and desserts).
Regional chain Noches de Colombia (30 Waterfront Pl, Port Chester), with locations in Rockland County and North Jersey, is scheduled to open sometime this fall at The Waterfront shopping center.

Photo by John Bruno Turiano
Say 'Grazie!' when you get your order at La Fenice Gelateria in Rye
Summer is just behind us but that doesn't mean a cool dessert can't be in the offing. La Fenice Gelateria (3 Purdy Ave, Rye; 914.305.2487), opened in late July by husband-and-wife and native Italians Simona and Salvadore Silvestri, serves made-in-house gelato in flavors such as gianduja (chocolate-hazelnut), strawberry, stracciatella (chocolate chip), Amarena cherry, sea salt caramel, and pistachio. There is a second location in Greenwich.
Also for those looking for a cold sweet, the new Mikey Dubb's Frozen Custard (1282 North Ave, New Rochelle; 914.999.4488) offers the Midwestern frozen treat that has less air than regular ice cream, and is enriched with egg yolks, making it dense and sumptuous. Vanilla and chocolate are offered daily, plus one flavor of the day from approximately 20 options.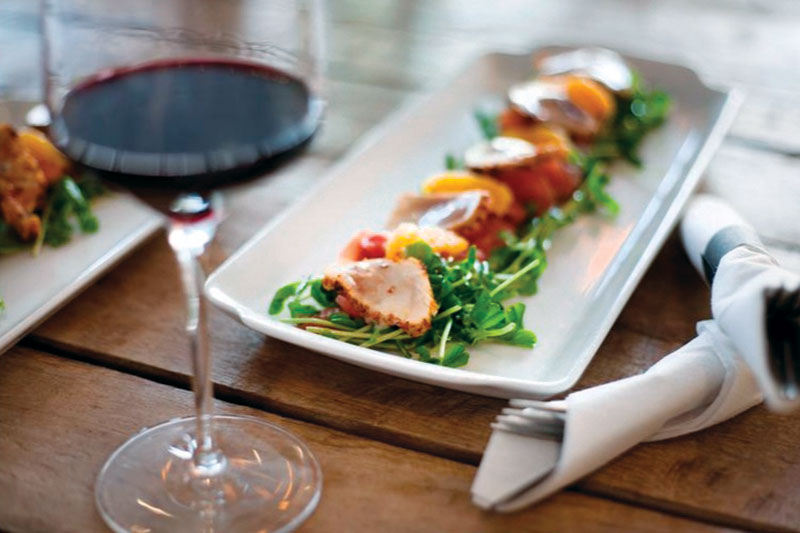 Photo courtesy of Skratch
American comfort fare is on the menu at Skratch.
The 1st annual Dine Out For Blythedale Children's Hospital fundraiser happens Oct 23; 130-plus restaurants including more than 85 from Westchester (e.g., Crabtree's Kittle House, Flames Steakhouse, Modern on the Rails, Saint George Bistro, The Whitlock) will contribute a portion of the evening's proceeds to support the treatment of children in the hospital's Infant and Toddler Unit. Waldy Malouf, senior director of food and beverage at the CIA, is event chair.
Throughout the month, Westchester Community College is hosting a Great Chefs demo/dinner/wine tasting series ($150 each) in the Valhalla campus culinary dining room. The lineup includes Chefs Heather and Scott Fratangelo of L'inizio (Oct 1), Chef Albert DeAngelis of Mediterraneo (Oct 15), Chef Christian Petroni of Fortina (Oct 22), and Chef Jan Michael Anastacio of Fin & Brew (Oct 29). All proceeds benefit scholarships and the on-campus food pantry.