March 2
Hungary Ones
Experience an oft-overlooked selection of classical fare during this rare performance of some of Hungary's greatest composers. The Chamber Music Society of Lincoln Center will perform a rousing selecting of works by Brahms, Bartók, Ligeti, Kodály, and Dohnányi with a group of six talented musicians at Purchase's Performing Arts Center this month.
March 7
Om Work
Watch as one person goes on a quest for inner peace in this German film about a Swiss woman who finds herself at a Zen monastery. Directed by celebrated filmmaker Wener Penzel, Zen For Nothing follows Sabine, who travels to the Antaiji monastery on the west coast of Japan where she is swept up in the community's daily activities, religious studies, and celebrations. With its Northeast premiere this month at Pleasantville's Jacob Burns Film Center, now is the perfect time to meditate on a great film.

photo by jacob blickenstaff
March 16
Double the Fun
This month, catch two long-running names in alternative rock during a single evening when Natalie Merchant is joined onstage by special guests Lúnasa. The two have collaborated since 2010, when they performed together on Merchant's Leave Your Sleep. Since, the rockers have formed an impressive musical partnership that will no doubt be on show when they take the stage together at The Tarrytown Music Hall.
Through March 16
Spring On
This month is your last chance to spy some truly eye-popping floral art at Concordia College's OSilas Gallery. The gallery's uplifting group show, Petal Power: Hope Springs Eternal, is aimed at capturing the drama of springtime through more than 45 paintings, sculptures, and photographs on show through March 16. Featuring such acclaimed artists as Jasmina Danowski, Walter Rane, and Katie DeGroot, the works happen to be on sale for those hoping to bring a bit of springtime home.
March 9 – 17
Bet Your Bottom Dollar
Catch the heartwarming story of a plucky orphan searching for her true family in this lighthearted production at the Irvington Town Hall Theatre. Performed by The Clocktower Players Adult Troupe, the Tony Award-winning Annie follows the eponymous orphan taken in by a generous benefactor named Daddy Warbucks, who must contend with the jealous Miss Hannigan. The family-friendly production features such celebrated songs as "Tomorrow" and "It's a Hard-Knock Life."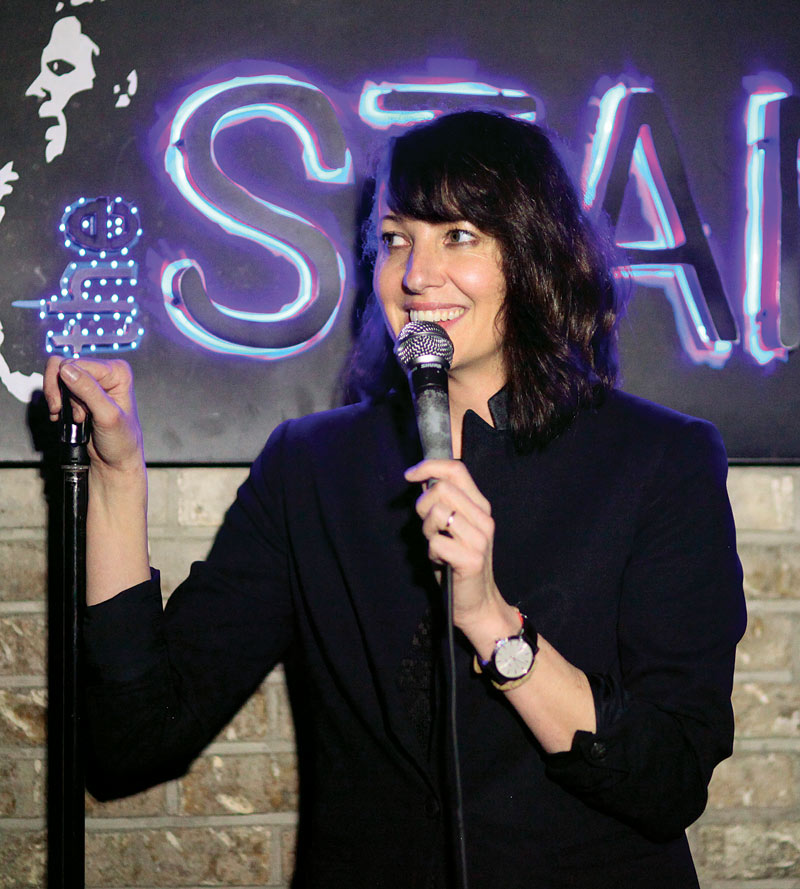 photo by lisa gansky
March 21
Comedic Royalty
This month, local laugh lovers have the opportunity to see some of the funniest comedians from late-night TV in Westchester. Comedians from the Late Show With Stephen Colbert features three veterans from Colbert's celebrated program, including Emmy-winning funnyman Paul Mecurio, NY comedy-club icon Nick Griffin, and bestselling author and national standup headliner Bonnie McFarlane, all onstage at Mamaroneck's Emelin Theatre.
March 23
Radio Star
Those with a soft spot for the monumental British rock band Radiohead will want to stop by the Performing Arts Center at Purchase this month. Portland Cello Project: Homage to Radiohead brings some of the band's most beloved songs to the stage, followed by a set reimagining the whole of the album OK Computer, all through the lens of classical song.
March 30
Girl Power
Two decades of breakneck touring under their belts, yet the Indigo Girls show no sign of slowing down. With more than 14 million albums sold and a Grammy for Best Contemporary Folk Recording, the duo from Georgia have become one of the standard-bearers of modern folk. This month, catch the Girls at The Capitol Theatre in Port Chester, where they will demonstrate why their music continues to endure.