April 6 – June 1
Art for Animals
Find a locally made, one-of-a-kind bowl for your furry friend during this unique exhibition at Port Chester's Clay Art Center. Pots for Pets is a nationwide invitational of handmade pottery by more than 50 ceramic artists, all tailored specifically to the needs of cats, dogs, birds, and other cuddly creatures. Clay has even partnered with Adopt-a-Dog, an oranization that saves unwanted or abandoned dogs, by giving 10 percent of each purchase to the cause.

Photo by Margaret Molloy
April 6
Poet Warriors
Poetry isn't the most popular art form, but during this annual event the underappreciated medium takes center stage. The Westchester Poetry Festival, cohosted by the Hudson Valley Writers Center and The Masters School, takes place this month in Estherwood Mansion at The Masters School in Dobbs Ferry. Attendees of all ages are invited to experience the free event and listen to the works of some new and familiar writers, including keynote reader Victoria Chang, Jennifer Franklin, Meghan Plunkett, and Jenny Xie.

Courtesy of the Emelin Theatre
April 6
Pop the Grid
Those seeking a diverse dance showcase this month would be hard-pressed to do better than the Emelin Theatre's Dance Off the Grid Showcase. This performance takes a turn on your average dance recital and instead features an array of performances demonstrating a variety of different styles and influences from across the dance world. Plus, celebrated dancers and choreographers Caleb Teicher, Abigail Zbikowski, and Malini Srinivasan will participate in a Q&A session regarding their work, following the performances.

Photo By Dan Dion, Courtesty of the RidgeField Playhouse
April 6
The Best Medicine
Laugh lovers won't want to miss this area stop by standup icon, writer, and inspirational speaker Lisa Lampanelli. Taking the stage this month at The Ridgefield Playhouse, the Grammy-nominated comedian and creator of the hit play Stuffed will wax wise on a range of issues during this evening of conversation and stories, which will no doubt come served with a heaping helping of chuckles.
April 7
Awesome Blossom
Simultaneously celebrate the coming of spring while absorbing some Far Eastern culture at the Pelham Art Center's annual Japanese Cherry Blossom Festival. Family members of all ages are invited to enjoy an electrifying Taiko drum performance paired with traditional Japanese dances, or grab a seat at one of the free workshops and learn how to make bright and colorful flower arrangements, as well as origami creations. The center advises adults to consider sensory-sensitive children, as the Taiko drums are loud.

Photo by Harald Krichel
April 11
Wit to Print
Join #1 New York Times bestselling author David Sedaris for a night of stories and brand-new live readings at The Palace Theatre. Known for his beloved and humorous storytelling, both new and longtime fans will likely get a kick out of the author's darkly humorous stories. Members of the audience will have the chance to interact with the celebrated writer during a Q&A session, as well as a book signing of his newest collection of essays, Calypso.

Photo by Larry Philpot
April 15
Need for Speedwagon
Go back in time and enjoy a night chock full of '80s hits during this performance by the fan-favorite rock band REO Speedwagon. Stop by The Ridgefield Playhouse later this month to spy the world-renowned group known for their 1980 album Hi-Infideility, which sold an incredible 10 million records, perform classics such as "Can't Fight This Feeling" and "Take It on the Run."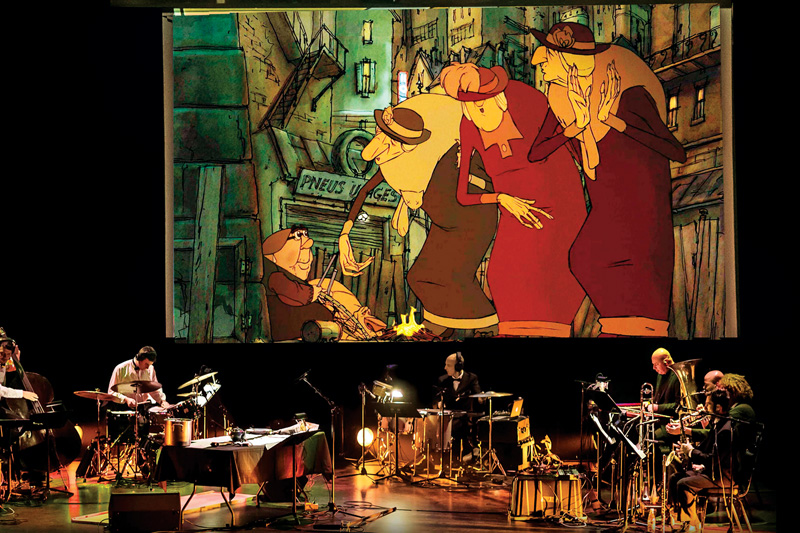 photo courtesy of the purchase college performing arts center
April 20
Triple Time
Cartoons meet classical music during this rare area event. Pay a visit to Purchase College's Performing Arts Center to enjoy a showing of The Triplets of Belleville, a film in which the Tour de France meets the French Mafia with a musical twist. The special production also features a live performance by the eight-piece Orchestra Terrible de Belleville, making for one wholly unique viewing experience.