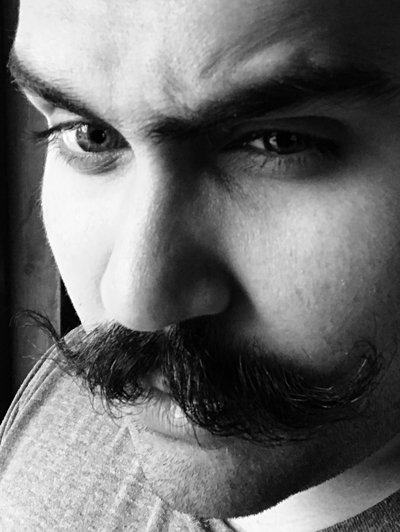 Rishi Gandhi
The 5th annual Yonkers Film Festival — fondly referred to as YoFiFest — hits screens throughout Yonkers from November 3 to 11. Dobbs Ferry-based director Rishi Gandhi, whose short film Mr. Muay Thai Nation will be premiering at the fest, has worked in broadcast news, produced documentary work and horror films, and serves as producer on the Web series Beyond the Longbox. We asked Gandhi to discuss his new film, which follows a young man named Greg Melia who has dedicated his life to mixed martial arts.
How did you first become involved in filmmaking?
I've always been tremendously into cinema since childhood. I grew up in a British-Indian household in the Cote d'Ivoire in West Africa before immigrating to the United States, so I was exposed to all forms of cinema from a fairly young age. I did not properly start trying to shoot and edit my own films until I attended college at Fordham University.
What attracted you to Muay Thai in particular as a subject?
I've been in the world of martial arts and combative sports since I was in elementary school, so shooting a documentary about a fighter came naturally to me. As a subject, the amateur fight world is filled to the brim with people from various walks of life. I wanted to capture one person's desire to compete in what is a dangerous sport with little external reward.
What is it like to work in Westchester and how do you feel the county inspires your films?
Working in Westchester is a lot of fun. I know a lot of people here, so support is generally easy to come by, whether it's during production or just in sheer enthusiasm to see the finished product. The hardest thing I've experienced in making art is losing steam, so having my home base encourage me has really kept me going. Plus, YoFi [Fest] is right in my backyard, and I look forward to seeing everyone I know — and everyone who knows Greg — flood the gates.
What do you feel defines your drive and output as a filmmaker?
A desire to explore truth is what defines my storytelling. In the case of Mr. Muay Thai Nation, the inner truth of what drives a person to compete in the, frankly, dangerous world of amateur fighting. There is no pay; there is very little glory; and the training is grueling. Doing a documentary about Greg gave me an inside look into how our world shapes us to become what we are.