When was the last time you cleaned, edited, and organized your closet? Evaluating your closet allows you to purge items you no longer need and continuously make your space as efficient as possible. California Closets, New York gives you expert tips on how to optimize your storage space.

Tip #1 Declutter
The key to any home closet organization is to declutter first. Take everything out of your closet to start with a fresh plate. Ask yourself questions like Do I love it? Do I wear it? Does it project the image I want? Be a brutal critic. Closet space is limited, so don't waste your prime real estate on something you're not crazy about. Now that you've decluttered, consider different ways to get rid of the undesired items. Donating clothes will make you feel good and help those who need it. Selling clothes you don't wear will help pay for the clothes you do want to wear. After you've removed the extraneous items, take a look at what remains. At California Closets, our design specialists will help you take inventory of your remaining wardrobe to plan for an appropriate amount of storage needed for different types of clothes. They will keep these average requirements in mind when designing your closet.
Tip #2 Utilize Space in Your Home
Take a look at all the available closet space in your home to assess storage potential. No matter the size of shape of a space, California Closets can easily convert it into an effective and organized space. The key is to make every inch count – every wall, the floors, and doors.
Tip #3 Create a System
They say for something to work efficiently, it needs to have a system. This goes for your home, too. It is important to keep your clothing neat, accessible, and visible. Having a custom-designed solution for your space gives you the foundational tool that's going to help you have a place for everything. Instituting a double hanging rod opens twice the amount of closet space in seconds. Integrating shelving and drawers into your closet will make all the difference. Leave it to the experts at California Closets to ensure all needs are met based on inventory, style, and budget.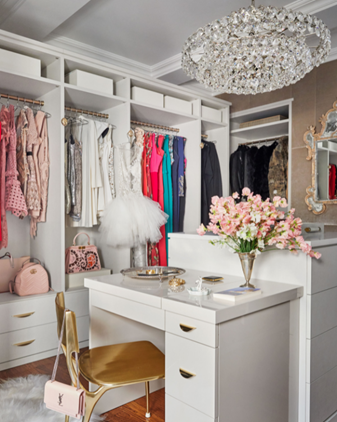 Tip #4 Invest in Closet Organization Tools
Incorporate small closet accessories such as hooks to hang purses, belt racks to easily retrieve yet hide away when not using, and storage boxes to store away chunky sweaters. Drawer & shelf dividers allow for superior organization, ensuring the space doesn't get too cluttered or crowded. This would be worth having for bathing suit storage, socks, undergarments and more. Going a step further with glass-front drawers give instant visibility. These simple additions will make your storage that much smarter!

California Closets, New York
T: 914.592.1001
www.californiaclosets.com
You can connect with us on social media at @caliclosetsnyc.

What's this?
This content is made possible by our partner. It is not written by and does not necessarily reflect the attitude, views, or opinions of the 
Westchester Magazine/Hudson Valley Magazine
 editorial staff.