11 tried and true local places to meet other singles and go from "me" to "we" for Westchester residents of every age and interest.
For the 20-somethings
bartaco 
1 Willett Ave, Port Chester
914.937.8226; bartaco.com 
Best time: Thursday, Friday, Saturday nights
Okay, so we can't promise you the crowd will be full of models or anything, but, after a few fruit-infused cocktails, you won't care. That's because at this The Endless Summer-meets-Abercrombie & Fitch Mexican eatery, it always feels like a never-ending party. Join the crowd—which skews younger—gathered around the bar on the outside deck (which is kept warm with a few fire lamps). And the fact that it's right on the water sets it apart from the usual, landlocked bars you'll find around the County. Its beachy-chic atmosphere will make you feel like you're on vacation; everything feels a bit more relaxed, making everyone that much more receptive to mingling. Thursday is your best bet, as the deck starts to get crowded a bit earlier (around 5:30 or so). So get there early, grab a drink—we recommend a Mojito—park out on the deck, and get ready to dance the night away with a few new friends.
For the 40-somethings
Vintage 1891
2098 Boston Post Rd, Larchmont
914.834.9463; vintage1891.com
Best time: Weekend nights
If you're reading this while sipping a glass of Chardonnay in your living room, put the glass down (but do bring the magazine with you) and head to Vintage 1891. This little jewel, nestled right in the heart of Larchmont, has a comfy, cozy bar perfect for sipping its signature cocktails or for wine-tastings. A serious wine aficionado? Join the Vintage 1891 Private Member Club ($960 for an annual membership) and enjoy access to your own wine locker and monthly wine-tastings, among other perks. The crowd tends to be a bit older, and therefore a bit more serene, making it the perfect place to pull up a seat on one of the plush white couches and strike up a candlelit conversation with a new friend.
For the Animal Lovers
Best Friends Animal Society-New
York City
Locations vary; bestfriends.org
If you can't find someone to talk to while holding a puppy, then just pack it in. Other than helping make you instantly cuter (and thus more approachable), this chapter of the Best Friends Animal Society actually does a great deal of work, all in the name of its mission of "no more homeless pets." The biggest annual event is the Pet Super Adoption in the spring, during which the Westchester County Center is transformed into the largest temporary kennel you've ever seen. But volunteers are also needed for smaller weekly adoptions in the area, or, frequently, to transport dogs from kennels to adoption events. Just be sure to let Fido meet and greet; you never know who will be on the other end of that leash.
For the Beer Lovers
Captain Lawrence Brewing Company
444 Saw Mill River Rd, Elmsford
914.741.2337; captainlawrencebrewing.com 
Best time: Wednesday through Sunday
Women have more of a connection to beer than being scantily clad in Miller Lite commercials. They, too, enjoy throwing back a brew or two. That's why the Tasting Room at Captain Lawrence is the place to be for beer lovers. It's a great alternative to some dull-lit bar with a few mundane beer offerings. Boasting two 12-tap towers and specialty beer offerings created in the on-premises brew house, the Tasting Room attracts a mixed crowd of all ages. The atmosphere is congenial, so it's easy to pull up a stool and meet a fellow beer aficionado. Aside from the locally brewed craft beers, there's also trivia night Thursdays, when the crowd becomes a bit more homogenous and frat-like (think baseball caps and head-butts), so be warned if that's not your scene. If it is, sharpen your skills and put your thinking cap on—you're sure to meet some new pals while kicking the competition to the curb.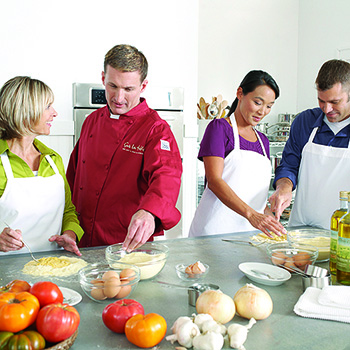 For the Food Lovers
Cooking Classes at Sur La Table, The Westchester 
125 Westchester Ave, White Plains
914.220.9816; surlatable.com 
Best time: Weeknights
Men, take note: You'll be instantly more attractive if you can throw together a delicious meal. So hone those kitchen skills and expand your repertoire at Sur La Table, which offers classes ranging from basic grilling to making serious soufflés, and everything in between. The earlier portion of the week tends to fill up with "people cooking for their families," notes Resident Chef Ali Banks, while Thursday nights bring out a younger crowd. All in all, the classes attract a nice mix of people, which makes them the ideal setting to meet someone, while never feeling like you're setting out just to attract attention.
For the Music Lovers
Café Mozart
308 Mamaroneck Ave, Mamaroneck
914.698.4166
Best time: Thursday, Friday, Saturday nights
Concerts are increasingly (and ridiculously) expensive these days. And, unless the unlikely happens and your tickets give you a seat next to Mr. (or Ms.) Wonderful, you're not meeting anyone at a concert. That's why Café Mozart is where it's at for music lovers. On Thursday, Friday, and Saturday nights, this casual eatery offers live music—a different selection each night, ranging from jazz to rock. And, face it: Little is better than drinking a nightcap while talking to a new friend, accompanied by a jazz soundtrack. During the evenings, the crowd is mostly 40s and older. So we suggest you unwind with a small group of friends and a bottle of wine, and you'll be singing along to the music in no time—all while making new friends, of course.
For the LGBT Crowd
Elements Food & Spirits
161 Mamaroneck Ave, White Plains
914.358.4930; elementswhiteplains.com
Best time: Wednesday and Sunday nights
We won't lie—we know Manhattan, with its plethora of gay bars and clubs, is usually the go-to place for the LGBT crowd. But Westchester has its own go-to place in Elements. While it may not be a full-time gay bar, on Wednesday and Sunday nights, you would never know. Its recipe for fun is equal parts music, drinks, and dancing, and a diverse crowd works the room like it's Saturday night. You can expect to encounter mostly gay men, along with a few lesbians (and a sprinkling of straight women), all generally on the younger side. Setting Elements' gay nights apart from other gay night offerings are the themes, like "Shark Week," held in celebration of the Discovery Channel marathon. The result? A setting in which everyone's enjoyment is truly palpable—or maybe that's just the music. Either way, it would be a shame not to decide for yourself.
For the Social Activists
Midnight Run
97 Main St, Dobbs Ferry
914.693.7817; midnightrun.org 
For the uninitiated, Midnight Run is not a run through the streets à la Will Ferrell in Old School. It's an organization that creates a relationship with the homeless of New York City by providing them with some of the essentials of daily life they may be missing (be it food, clothing, or toiletries). By getting involved, you'll be working with a volunteer network that counts 1,000 yearly missions. (In other words, you'll have plenty of opportunities to meet other socially conscience folks.) Best of all, many of the pre-run meet-ups take place at locations in and around the County, increasing the likelihood that a like-minded socially conscience person will be close to home.
For the Runners
Westchester Track Club
Irvington
845.687.6256; westchestertrack.org 
Runners love other runners—it's a fact. Other than a quick smile and a nod to that cute guy (or girl) running past you in the morning, it's sort of hard to meet other running enthusiasts. But don't fret. Westchester Track Club will increase those odds tremendously. Whether you're a serious runner or just getting your feet wet, you'll find a place in this group, as organized weekly workouts are held for both recreational runners and the elite, more race-focused ones. The club presents an excellent opportunity to pound the pavement and trails throughout Westchester, all while meeting like-minded people along the way. And if you hit it off with someone, you can branch out on your own and run off into the sunset together.
For the Photogs
Westchester Photographic Society
Westchester Community College, Valhalla 
wpsphoto.org
Everyone considers themselves a photographer nowadays, what with Instagram and all that jazz. But for the true photog (we're talking those with an actual camera, not an iPhone), there's no better way to meet new people than with a group that calls itself "the largest and the friendliest" photography club. The Westchester Photographic Society hosts meetings every Friday, sponsors exhibitions of members' work, leads tutorials, and organizes local field trips to photographic destinations like the Cloisters, the Hudson River Museum, and the Sleepy Hollow Cemetery. Not only  will you come away with breathtaking photos, but perhaps with someone who can take your breath away (while talking about aperture settings and shutter speeds and all that fun stuff, of course).
For the Workout Enthusiasts
CrossFit Westchester
300 Hamilton Ave, White Plains
914.497.6229; crossfitwestchester.com 
Okay, sweating and having burning thighs (and shoulders, and arms, and back) may not be your picture-perfect scenario in which to meet someone. But the community aspect of CrossFit makes it ideal for not only meeting people, but actually forming a lasting bond with other fitness enthusiasts. The group workouts facilitate interaction—at least, a lot more so than pounding the treadmill while staring off into space. And, after a few weeks, your body will look like Michelangelo sculpted it. You're welcome for that, too.
Katrina Brewer is a freelance writer from Westchester. In between researching articles, she can be found sweating it out at SoulCycle in her hometown of Scarsdale. At the conclusion of this story, she is no longer single.