Explore the courses, review the details, and find out which course you should play next.
Minutes from White Plains, this critically acclaimed golf course is considered one of the most difficult nine-hole courses in the county. Facilities include a recently renovated driving range, practice bunker, and professional putting green.
975 Anderson Hill Road, Rye Brook
844.211.0512
Public
Characterized by a course that takes advantage of the natural topography, Dunwoodie has a mix of landscapes to challenge your golf game. They also offer a lighted driving range and practice greens.
1 Wasylenko Lane, Yonkers
914.231.3490
Public
Known as one of the most difficult courses in the county, Trump National is also one of the most picturesque. It's particularly known for a spectacular man-made waterfall.
100 Shadow Tree Lane, Briarcliff Manor
914.944.0900
Private
Golfers are treated to a beautiful view of much of the 7,000-yard course on the first tee, and can choose four sets of tees to match their unique skill level and playing style.
400 Croton Dam Road, Ossining
914.864.3000
Public
Originally a family farm, Maple Moor was expanded into an 18-hole golf course in 1925 by the Westchester County Parks Commission. The course is open year-round and also offers a practice green and a catering facility.
1128 North Street, White Plains
914.995.9200
Public
Regarded as one of the county's more challenging courses, Mohansic is a test to even the most experienced golfers. All 18 tees and many bunkers have recently been renovated and upgraded.
1500 Baldwin Road, Yorktown Heights
914.862.5283
Public
Designed by county golf architect Tom Winton and opened in 1931, this course offers a rolling, wooded landscape along with a practice green, driving range, and pro shop.
315 Mamaroneck Road, Scarsdale
914.231.3461
Public
Also designed by Tom Winton, Sprain Lake is unique for its rolling and narrow layout with an abundance of water hazards. Driving range and practice green are available.
290 East Grassy Sprain Road, Yonkers
914.231.3481
Public
Host of five U.S. Opens and a PGA Championship as well as numerous other national tournaments, Winged Foot features two of A.W. Tillinghast's greatest courses.
Fenimore Road, Mamaroneck
914.698.8400
Private
Historic Pelham Country Club hosted the PGA Championship in 1923 and has a collection of eighteen very diverse holes as well as an expansive short game practice area, range, and putting green.
940 Winnewood Road, Pelham Manor
914.738.2730
Private

Photos courtesy of Pelham Country Club
With supreme river views from the second-highest elevation in the county, Hudson National was the first club ever to host three Metropolitan Golf Association events in its first eight years. Here are some more photos.
40 Arrowcrest Drive, Croton-on-Hudson
914.271.7600
Private
Set alongside a nature reserve, Hollow Brook challenges golfers with length, elevation changes, and multiple large water hazards.
1060 Oregon Road, Cortlandt Manor
914.734.1500
Private
With golf events, private and group instruction, and a challenging course marked by a two-tiered pond and waterfall, Hampshire Country Club has something for every golfer.
1025 Cove Road, Mamaroneck
914.698.4610
Private
With unspoiled wetlands, natural elevation changes, and abundant wildlife, it's no surprise that course designer Gary Player calls GlenArbor his masterpiece. Here are some more photos.
234 Bedford Center Road, Bedford Hills
914.241.0700
Private
America's oldest golf club maintains a balance between turn-of-the-century tradition and modern golf on a course designed by Jack Nicklaus. A state-of-the-art year 'round practice facility opened in 2015.
10 Old Jackson Avenue, Hastings-on-Hudson
914.478.3500
Private

Photo by Anthony22 | Wikimedia Commons
Westchester Country Club hosted annual PGA Tour events for nearly 50 years and in 2015 was the site of a PGA of America major, the first KPMG Women's Championship. The club has two 18-hole courses designed by Walter Travis as well as a par—three course and extensive practice facilities.
99 Biiltmore Avenue, Rye
914.967.6000
Private
Architect Robert Trent Jones Sr.'s last design, Anglebrook features inviting fairways and huge greens but demands strategic play and deft putting to score. Here are some more photos.
100 Route 202, Lincolndale
914.245.5588
Private

Photos courtesy of Sleepy Hollow Country Club
Built by a "who's-who" of businessmen headed by William Rockefeller, Sleepy Hollow has some of the most spectacular Hudson River views in the county along with a 140-room mansion, once the home of members of the Vanderbilt family.
777 Albany Post Road, Briarcliff Manor
914.941.8070
Private
Willow Ridge recently completed major course and clubhouse renovations to enhance it's already-stellar reputation. The course plays long and tough but includes some of the most picturesque holes in the county. Here are some more photos.
123 North Street, Harrison
914.967.6161
Private

Bonnie Briar's 14th hole
This course begins with "473 yards of intimidation," a long par four that sets the tone for play on this Westchester classic designed by Devereux Emmet and A.W. Tillinghast.
808 Weaver Street, Larchmont
914.834.0992
Private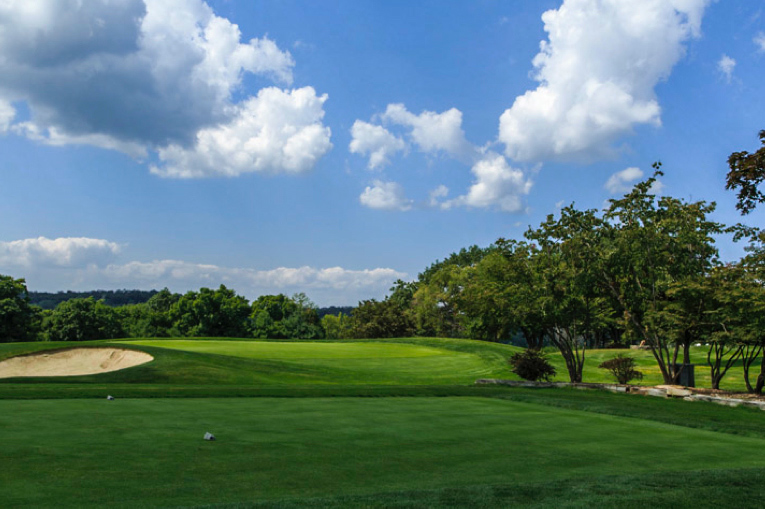 Photo by John Fortunato
Relatively new owners have transformed this course into one of the most challenging in the county. It is characterized by long sloping fairways and large, contoured greens maintained in perfect condition.
568 Bedford Road, Armonk
914.273.9300
Private
This classic A.W. Tillinghast course has some of the most pronounced elevation changes in Westchester golf. Nearly every hole plays up, down, or over a hill to make it one of the most interesting courses in the county.
Club Way, Hartsdale
914.723.2840
Private

Salem's 10th hole (above) and 6th hole (below).
With a completely renovated clubhouse; new locker rooms and dining rooms, and an 18-hole course overlooking the rolling hills of North Salem, this club grows in popularity every year. Here are some more photos.
18 Bloomer Road, North Salem
914.669.5485
Private
Fenway is one of the toughest "short" courses in Westchester. The A.W. Tillinghast design hosts the Mittelmark Invitational, a top tournament for select young golfers.
7 Old Mamaroneck Road, Scarsdale
914.723.6000
Private

Photo by John Fortunato
Extensive course revisions in recent years have made this perennial Westchester favorite even more attractive and a greater challenge to golfers of all skill levels.
289 Dobbs Ferry Road, White Plains
914.949.4840
Private
This Jack Nicklaus signature design features undulating greens and several tree-lined dogleg fairways. Water hazards and bunkers come into play on nearly every hole.
10 Country Club Drive, Purchase
914.328.5047
Private

Pound Ridge's 6th hole
The only course in Westchester designed by legendary Pete Dye, Pound Ridge features a distinctive layout lined with rock walls, nature preserves, and glorious vistas.
18 High Ridge Road, Pound Ridge
914.764.5771
Public