Westchester Chronicles
Mommy, Why Is There a Fireman's
Pole in Your Bedroom?
A trendy workout promises to free your inner sex kitten. Can this suburban
mom leave her hang-ups in the minivan?
By Catherine Censor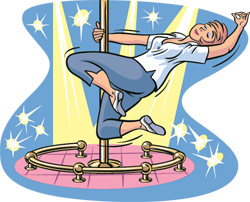 As I waited for my introductory S Factor class (a two-hour-long workout combining elements of ballet, yoga, striptease, and pole dancing) at The Studio in Bedford Hills to begin, I contemplated these words from the S Factor's website: "Level 2 students are introduced to the hunt for their Erotic Creature…Who is she? What music does she like? How does she move?" Although just a striptease newbie, I was sure I was ready for Level 2 (S Factor has seven different skill levels), because I already knew the answers to these questions. My erotic creature is a very nervous squirrel. I may not know what music my inner squirrel likes, but I know how she moves. When contemplating a public display of bumping and/or grinding, she furtively darts for cover. As an imperfect, suburban mom with a complete lack of rhythm and an abundance of shame, I'm just not a shake-it-if-you-got-it kind of chick.
      As if my inner squirrel weren't anxious enough, Jill Mulholland, studio manager of S Factor, explained that this was no mere stripping class—it was a consciousness-raising, self-esteem-boosting, female-bonding, life-changing experience. "This is all about empowering women," she insisted. Great. Not only did I have to get down with my inner squirrel, but I'd have to do it in the company of empowerment-spouting California types. (S Factor originated in L.A., but you probably already guessed that.)
      Apparently, my squeamishness is something of a rarity. Pole dancing is now nearly as much a fixture in the suburban landscape as spinning class. The Loft, a dance studio in Yonkers, has been offering a striptease class since January 2006. In February, the New York Times reported that mini-poles have been spotted as dance props at bat mitzvah parties. There are nine S Factor studios nationwide. More studios are opening all the time—especially in suburbia. Regular classes in Bedford Hills started in May.
      My introductory class consisted of about a dozen average-looking women in their 30s and 40s, some of whom I recognized as neighbors. While we waited to go into class, I ventured a few questions with one of them, a 41-year-old who didn't want to see her name or town of residence in print. Another stay-at-home mother of two, "Julie," said her girlfriends had seen notices of the class pinned up around town and thought it'd be fun to try. "Naturally, I'm the only one here," she said. And why was she here? "I'm just looking for a different kind of workout." Still, she hadn't told her husband where she was going. At the other end of the attitude spectrum was a Pound Ridge resident who showed up wearing over-the-knee, high-heeled boots and happily volunteered that she was here to "celebrate the feminine spirit."
Despite my pessimism, I was pleasantly surprised from the second I stepped into the studio. Apparently like all S Factor studios, it was dimly lit and all the mirrors were covered (the better to discourage distracting, fat-thigh-obsessive thoughts). And the teacher herself, 40-something Rosemarie Mitchell of Ossining, was living proof that I hadn't stumbled on a suburban replica of Scores. A former Curves instructor and certified personal trainer, "Ro," as she likes to be called, was hardly the silicone-enhanced, moonlighting (daylighting?) stripper I'd expected as an instructor. In fact, she and her full-figured co-teacher, Ellen Cruz of Yorktown Heights, 26, genuinely seemed to want us to feel at ease in our bodies and comfortable with each other.
      "I fell in love with the S Factor because it's for women of all ages and shapes," Ro said. "It's not like at the gym. Here, women cheer for each other." As we began our slow-motion, sensuous stretches; hip circles; back bridges; and other not-too-weird floor moves, I felt almost okay. The only stripper-esque touches were Rosemarie's encouragement to "explore our gorgeous curves," running our hands over breasts, hips, and thighs to enhance the sensuality of the moves. I stole a peek at my classmates to see if anyone actually was doing this and they were, so I followed suit.
Later I managed a wobbly version of the "stripper walk," a kind of boozy stagger. Although the shame thing was still with me, I was encouraged by the sight of my classmates doing it. Everyone looked graceful and natural. By the time I executed my first decent "firefly" spin around the pole with classmates hooting encouragement, I was actually feeling triumphant. And although I wasn't sweaty—this wasn't a cardio class—I did feel a kind of glow. I'd worked out my abs and more than a few neuroses.
Empowering? Well, maybe not in the way that a feminist-studies class would recognize, but as personal victories go, hell, yes!
Practical details: S Factor classes cost $360 for a six-week session consisting of one two-hour class per week. Visit www.sfactor.com for more information or to register. Striptease classes are already in session at The Loft in Yonkers. Classes cost $17 each and meet every Thursday night from 8 to 9:15. For more information, call (914) 751-6240.
Ka-Boom!
Legend has it that fireworks were discovered in China some 2,000 years ago when a cook placed a mixture of charcoal, sulfur, and saltpeter (potassium nitrate) into a bamboo tube and it went POW!  Soon, fireworks were a part of most every major celebration–to dispel (what else?) evil and bring about (what else?) happiness and prosperity. We and our Western brethren, the Europeans, certainly know a good thing when we see it—and filched the whole fireworks-at-a-party thing. Today, 20 centuries and countless millions of fireworks shows later, the mixture continues to wow. For happiness and prosperity on this 4th of July (and throughout the summer), consult our list below for dazzling displays of light, sound, and fire.
On July 4th
Mamaroneck Harbor
(914) 777-7784
Five Islands Park, New Rochelle
(914) 654-2086
Yonkers Recreational Pier (914) 377-6000
Pierson Park, Tarrytown (914) 631-8347
Waterfront Park, Dobbs Ferry
(914) 693-2203
Beaver Brook Swamp, Harrison
(914) 835-2000
Scarsdale Pool
(914) 722-1100
Throughout the Summer
Playland, Rye
(914) 813-7000
Every Wednesday and Friday night through
Labor Day
White Plains High School (914) 422-1200  July 2
Kensico Dam Plaza, Valhalla (914) 684-7322
July 3 (after an open-air concert by the Westchester Philharmonic)
Louis Engel Waterfront Park, Ossining
(914) 941-3554  July 3
Parkway Oval Field, Tuckahoe 
(914) 961-3100  July 28
Riverfront Green, Peekskill
(914) 737-2780  August 4
2006 Time Capsule
Let's see—things to do in 2007: pay taxes, check; practice voting-machine technique for '08 presidential election, check; create time capsule of memories from 2006, uh-oh. So, without any further adieu, here's a list of what's going into my slightly belated salute to the year that was:
 Thirty-four cents, so I can remember how much money I spent over $3 for each gallon of gas I purchased in August, when the gas prices spiked high.
 An Orleans album, so I can jam along with former Orleans front-man John Hall, who narrowly defeated six-term Congresswoman Sue Kelly to win a seat in the 19th Congressional District, which covers Northern Westchester.
 Massage oil, to bring back memories of the massage parlors "plus" that were shut down by police in Greenburgh. (Not personal memories of course!)
 A tape recorder, so I won't forget the wacky antics of former county DA Jeanine Pirro, who was accused of wire-tapping her hubby, Al.
 A golf club, to celebrate the arrival of the U.S. Open to Winged Foot Golf Club.
 A microphone, to inspire me to sing like 2006 American Idol finalist Becky O'Donohue, of Dobbs Ferry.
 A view of the sky, which I'll no longer be able to see in White Plains or New Rochelle thanks to all the new construction.
            —W. Dyer Halpern
NO GURGITATION, NO GLORY
A Q&A WITH RICHARD SHEA, THE LOCAL BRAIN BEHIND THE WORLD'S MOST GLUTTONOUS SPORT
This Fourth of July, 20 determined athletes will take the stage in front of 30,000 fans and more than a million home viewers to compete in a time-honored sport: a hot dog-eating contest. Nathan's Famous Hot Dog Eating Contest to be exact. This year, defending the Mustard Yellow International Belt is 160-pound Takeru Kobayashi, who last year scored his sixth consecutive win by eating 53.75 hot dogs and buns in 12 minutes. He'll go head-to-head with Joey Chestnut who last month broke Kobayashi's record by 5 1/4 dogs. (Try not to wretch while thinking about it.) One of the organizers behind the event is six-year Chappaqua resident Richard Shea, 38, who co-founded the International Federation of Competitive Eating, the league that regulates eating contests throughout the world and ranks the top 50 players. We had a few questions for him.
Q: How did the International Federation of Competitive Eating (IFOCE) come about?
A: My brother and I have a PR firm, and we started working with Nathan's. They'd been doing the Hot Dog Eating Contest for many years. At first, it was just a one-day media stunt. We urged Nathan's to make the contest national and it became increasingly popular, to the point where ESPN started broadcasting it. We were getting more calls and major requests for more events, and we founded the IFOCE, to properly and safely expand the sport. Nathan's is still the most venerated eating contest, like the Masters of competitive eating. I'd say Nathan's Famous 4th of July Hot Dog Eating Contest is as much a part of the Fourth of July as Macy's parade is a part of Thanksgiving.
Q: What do you think makes an elite competitive eater?
A: Like anything else, there has to be an innate physical ability. At the same time, the best eaters are extremely dedicated. They each compete in a dozen eating events a year. They watch tapes of themselves eating, talk to each other, blog about eating. It's all about your mindset and the way you approach the food.
Q: Do you think competitive eating could ever be in the Olympics?
A: We made appeals. We were snubbed. It's a shame because I think that eating is a sport that's the most inherent to humans, right up there with running and jumping.
Q: So where do you see it going in the future?
A: I see it going in the same direction as the Ultimate Fighting Championships or televised bass fishing. Those were both thought to be just curiosities at first, but now they're huge.
Q: What's the prize money for Nathan's Famous Fourth of July Hot Dog Eating Contest?
A: We say the prize is worldwide acclaim and adoration, and the Mustard Yellow Belt. The event with the most prize money is the Krystal hamburger-eating contest. The purse for that is $30,000.
Think you can hang with Takeru Kobayashi? For more information on future contests and the highest-ranked eaters, visit www.majorleagueeating.com.
—Marisa LaScala
OUR FIRST EVER MINI-GOLF GUIDE
Time to brush up on your short game
It took us a half decade, but we're proud to finally present Westchester Magazine's  first  mini-golf guide We've narrowed it down to the five best courses in the county.  Enjoy.
#1 – Fairview Golf Center 
300 Waterside Dr, Elmsford
(914) 592-1666 
Fairview offers two mini-golf courses complete with flowing water and gushing fountains. The course is right behind Fairview's covered driving range so you can practice your long game after putting through the course.
Free Game for a hole in one on 18:  No, but you can earn a free game by playing a special golf ball drop game after you're done on the links.
#2 – Playland Park
Playland Pkwy, Rye (914) 813-7010
 If your idea of nirvana is cool ocean breezes blowing through your hair as you line up an oh-so-important final putt into a clown's nose, this is the course for you.
Free Game for a hole in one on 18:  Yes (on hole 19 to be exact)
#3 – Saxon Woods Pool and Park
1800 Mamaroneck Ave, White Plains
(914) 995-4480
For those who want to take a dip after a grueling day on the mini-golf course, head here. The greens are right next to a public pool so you can cool down after sweating over the challenging loop de loop hole that graces the course's back nine.
Free Game for a hole in one on 18:  No, but if you sink a hole-in-one on hole 19, you get a $5 gift card to Lou's Texas Chili in White Plains.
#4 – The Putting Edge
33 LeCount Pl, New Rochelle
(914) 632-3346
A night at The Putting Edge is like a trip to the 60s as black-lit obstacles and neon-glowing golf balls abound at New Roc City's indoor mini-golf experience.
Free Game for a hole in one on 18:  Yes
                        —W. Dyer Halpern
Forgotten Westchester
Reusen's Farms, Oscawana
by Rob Yasinsac
Numerous abandoned estates dot the shores of the Hudson River, but Guillaume Reusen's 100-acre country retreat might be the only one with its own private racetrack. Reusen bred racehorses at his estate, which he developed after acquiring several parcels and existing houses in the 1880s and 1890s. Reusen's mansion, known as Long View Villa, no longer survives, but its site is marked by a massive stone foundation surrounded by ornamental trees. After Reusen's death in 1915, the property passed to his nephew, Stanislaus DeRidder, and may have been abandoned after DeRidder's widow died in 1948. Today, the property is part of Oscawana County Park in the town of Cortlandt, which is accessible to the public.