Say Goodbye to A&P
Westchester A&P shoppers learned last week that their local grocery store will shortly close or be under new management, as the company announced plans to sell its 296 stores as part of its Chapter 11 bankruptcy agreement. The struggling chain, which has 25 stores in Westchester and four locations in nearby Fairfield County, also executed purchase agreements tallying roughly $600 million for 120 of its locations.
Grocery chains Stop & Shop, Acme Markets and Key Food have committed to purchasing many of the area A&P stores, including locations in Thornwood, Yonkers, Briarcliff Manor, Eastchester, and Harrison, among others. A&P filed for Chapter 11 protection in U.S. Bankruptcy Court in White Plains earlier this month, so the announcements did not come as a surprise.
Ginsburg Rises Again in Greystone
The Ginsburg Development Companies (GDC) recently unveiled a plan for a 55-unit luxury apartment building in the Greystone neighborhood of Yonkers as the latest project in its GDC Rentals brand. The three-story building at 1175-1183 Warburton Avenue would be built one block north of River Tides at Greystone, GDC's much larger, 330-unit complex that is under construction. Apartments in the new building would boast 10-foot ceiling heights, oversized windows, wood laminate flooring, contemporary kitchen and bath designs, and indoor garage parking. A deck over the parking would become a landscaped courtyard.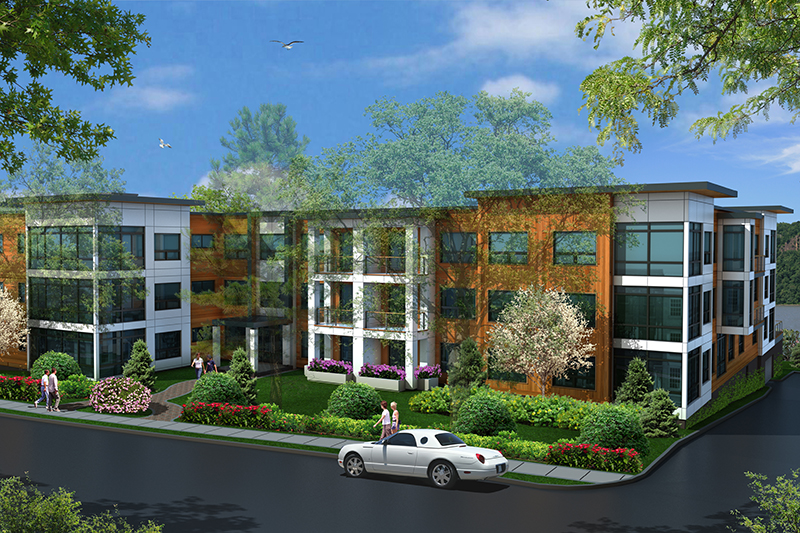 Residents would have their own gym and club room in the building, and would also be able to use the full amenities of River Tides, including the fitness center, spa, pool, and sundeck – as well as a private path to the Greystone Metro-North Train Station. The four-parcel site was the location of a planned residential development by a previous owner that failed during the real estate crash of 2008. GDC expects to break ground in spring 2016 with construction on the building expected to take approximately one year.
New Park Completes Cappelli's Redevelopment of Downtown White Plains
The opening of a public park at the intersection of Mamaroneck Avenue and Main Street in Downtown White Plains marks the "feather in the cap" of developer Louis Cappelli's work in redeveloping the city's downtown. "This is the last piece of the puzzle in our redevelopment of downtown White Plains which began with City Center and concluded with Renaissance Square," said Cappelli, president of the Cappelli Organization, and developer of the Renaissance Square mixed-use complex. "The final piece was to beautify the area and to create a dynamic park in the heart of the city that is accessible to the public."
The park is the first privately owned facility of its kind open to the public in Westchester. The 11,000-square-foot area includes lawns, plantings, and specimen trees highlighted by elegant stone pavers and benches and a waterfall that is illuminated at night. Other contributors to the development of this facility include Mayor Thomas Roach, members of the Common Council and the Rev. Richard A. Kunz of Grace Church. Kunz commented that he and the community of Grace Church "think the plaza adds to the sense of openness and welcome here in the heart of White Plains."
Sustainable Westchester Assists Communities in Receiving Microgrid
Sustainable Westchester, a nonprofit consortium of Westchester County governments working to promote sustainability, submitted 10 of its member municipalities for the NY Prize Community Grid awards, which are part of a statewide endeavor to modernize New York State's electric grid. Governor Andrew Cuomo announced on July 9 that all 10 of Sustainable Westchester's member municipalities were among the statewide recipients and received an amount around $100,000 respectively. The awarded money will go towards a community microgrid that serves as an energy network that is able to separate from the larger electrical grid during extreme weather events or emergencies. This allows individual consumers and public entities such as hospitals, first responders, and water treatment facilities to maintain power when there is a need for it. Westchester municipalities assisted by Sustainable Westchester that won the NY Prize award include: Town of Cortlandt, Village of Croton-on-Hudson, Village of Irvington, Town of Mamaroneck, Village of Mount Kisco, City of New Rochelle, Village of Ossining, Town of Somers, City of White Plains, and City of Yonkers.
Women-Owned Business Relocates to Westchester County
Arch Street Communications (ASC), a women-owned strategic communications firm, has made the move from Pawling in southern Dutchess County, to downtown White Plains where the new headquarters is at 31 Mamaroneck Avenue. The relocation has spurred five new positions: Creative Director Adrienne Riso; Senior Digital and Editorial Designer Alvin Martinez; Senior Graphic Designer Sean Campbell; Public Relations Associate Patrick Higgins; and summer intern Alec Iacovelli. ASC decided to move from their 22-year-old Pawling location due to Westchester County's small and women-owned business-friendly climate, its expanding client base, and attracting talented staff.
Rivertowns Square Construction Delayed
The construction of Rivertowns Square in Dobbs Ferry commenced in May of 2015 but came to a halt this summer as the hotel developer decided to pull out of the project. Prior to the termination of the contract, XSS Hotels was assisting in bringing in an 83,000-square-foot Hilton Garden Inn with 138 rooms. Martin Berger, a Westchester developer of Saber Real Estate Advisors said, "Construction on the site will be delayed while the search for a new hotel operator commences." Berger explained they are looking for a hotel tenant that matches the luxury of Rivertowns Square and its residential, retail, and dining offerings.
Most of Rivertowns Square's potential tenants are pre-leased; tenants include Mrs. Green's Natural Market, Ulta Beauty, Chipotle, Buddha Asian Bistro, M Gym, The Learning Experience, New York Sports Club, Starbucks, and GNC.
Volunteer New York! Releases 2015 Leadership Westchester Graduating Class
Looking for the next crop of Westchester leaders? You're likely to find them among the graduating class of Volunteer New York's! 2015 Leadership Westchester program. Sponsored by The Westchester Community Foundation, the program is dedicated to instructing executive-level leadership and community building within the county. Last month, Leadership Westchester's 18th graduating class commenced, contributing 18 new alumni to the program's current 325. These alumni represent both fields of private and nonprofit of Westchester and promote over 160 nonprofit connections. "This is not your usual executive training program. It is an opportunity to become an effective leader by identifying one's core values and developing authentic presence. It is truly transformative," said Westchester Community Foundation's Executive Director, Laura Rossi. Rossi was a Leadership Westchester graduate of this year.
The full list of members of the 2015 graduating class include: Noam Bramson, City of New Rochelle; Hamra Ahmad, Hudson Valley Justice Center; Judy Eisele, YWCA of White Plains and Central Westchester; Tracey Zimmerman, The Westchester Bank; Tessa Garcia, The Journal News Media Group; Lindsay McAllister, Reader's Digest Association; Alicia Brockway, M&T Bank; Karen Daugherty, Bunge; Rosario Samudio, Volunteer New York!; Laura Rossi, Westchester Community Foundation; Donna Banks, Communications Professional; Ian Ceppos, Colliers International; Jackie Vanover, Network System Solutions; Lauren Candela-Katz, LCK Consulting; Paula Saraiva, People's United Bank; Lini Jacob, United Way of Westchester and Putnam; Diane Tukman, My Sisters' Place; Lindsey Jones, Axiom Legal; Kathleen Reckling, ArtsWestchester; and Sabine Werner, Leviticus Alternative Fund.
SmartAsset Names Regeneron Best Performing Stock in New York
In addition to a slew of other accolades, Tarrytown-based Regeneron Pharmaceuticals, Inc., was recently declared by financial technology company SmartAsset to have the best-performing stock of all New York-based companies. SmartAsset analyzed stock performance between January 2010 and March 2015, considering three factors: stock price, dividends paid, and volatility, and found the risk-adjusted return of the stocks. The companies were ranked and spot #1 went to Regeneron with an average annual return of 79.76%, 41.03% volatility, and a stock performance index of 82.60. The White Plains company, Handy & Harman Ltd., came in at number 4 out of the 10 companies ranked with an average annual return of 81.17%, 53.57% volatility, and a stock performance index of 69.85.