February 21, 2015
BY Samantha Garbarini
Juliana and Adam met when they were both working late nights for a nonprofit in New York City. After several months of dating, Juliana was preparing to leave for rabbinical school in Israel and decided to spend five months traveling. "When she left for the first trip, I was like, 'We'll be alright,'" says Adam. "When she left for the second one, I was crushed. When we said goodbye, I knew this was it."
Though Adam made plans to propose when she got home from Israel, he ultimately decided not to wait and popped the question with his grandmother's ring during a Christmas-week trip to Paris.
Juliana wore a Reem Acra dress and a white mink stole that she inherited from her grandmother. While she wore Manolo Blahnik flats for most of the wedding, these funky, silver high tops were perfect for taking photographs in the snow.
"The colors of the wedding were jewel tones," says Juliana. "We had these beautiful bouquets that were not large at all, and a lot of candles. We went with this sort of jazzed-up tablecloth, which looked like it had snowflakes all over it. The room felt totally colorful even though we didn't come close to breaking the bank on the flowers."
The couple expected they would have a huge wedding and even booked a venue for a June event with 550 guests. "Every time we tried to talk about the wedding, we were so overwhelmed that we just delayed it," recalls Juliana. "We couldn't figure out how to maneuver this many guests." With help from her parents, Juliana and Adam decided to scrap their initial plans in favor of a more intimate winter celebration.
The couple shared love letters during the ceremony, which was presided over by two rabbis. "It's unique to have any rabbi you have such a strong connection with," says Adam. "I think everyone acknowledged that the service was long but said it was engaging because they really knew us." Adam, who's a musician, took charge of booking the bands. He chose a jazz trio to play at the ceremony, where Juliana walked down the aisle to a ballad he'd written, and the couple exited to a cover of Michael Jackson's "The Way You Make Me Feel." For the reception, they had a band out of Boston that had played at Juliana's brother's wedding in August. "I didn't want any typical wedding music," says Adam. "I wanted Motown. I wanted '90s R&B… and they delivered."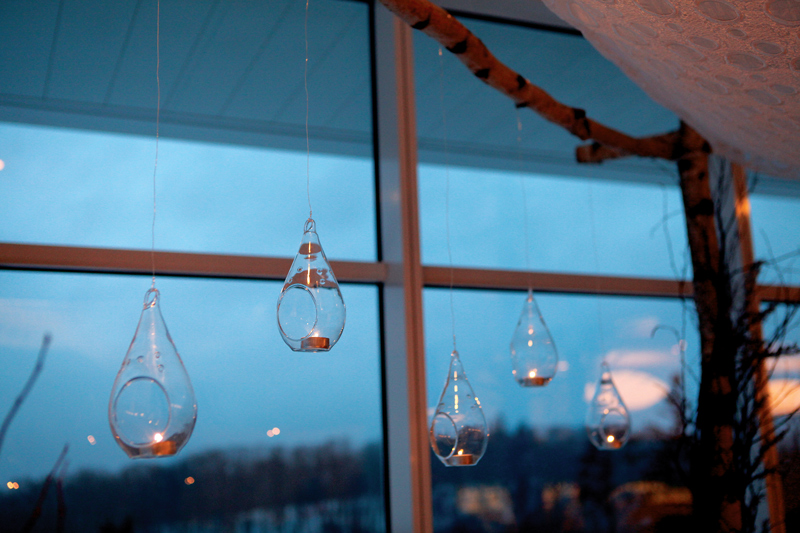 The couple displayed photos of their parents' and grandparents' weddings. "We didn't expect to use them in the wedding," says Juliana, "but our amazing florist set them up on this farm table that wouldn't have been doing anything."
No matter when the wedding is, all couples worry what the weather will be on their special day. Fortunately, Juliana and Adam couldn't have asked for better conditions. "We had good travel days for folks coming in from out of town," recalls Juliana. "The day of the wedding was one of the worst snowstorms of the winter, but it was gorgeous. I think I turned out to definitely be a winter bride." As for Adam, "I don't think grooms are seasonal," he says. "I think grooms just roll with it."
The Details:
Photographer: Belathée Photography (917) 783-3207; www.belathee.com.
Venue & Catering: The Garrison, Garrison (845) 424-3604; www.thegarrison.com.
Flowers: Judy Billoti of Designs by Wildthings (201) 214-6721.
Cake: The Pastry Garden, Poughkeepsie (845) 473-5220; www.thepastrygarden.com.
Jazz Trio: Isaac Kaplan, Olli Hirvonen, and Alex Sprading of the Jamtones (562) 706-1710.
Band: Steve Memmolo of The Classic Yellow, Boston, MA (617) 909-0824.
Dress: Reem Acra, New York, NY (212) 421-3200; www.reemacra.com.
Bridal Shoes: (flats) Manolo Blahnik, purchased at Barneys New York, New York, NY (888) 222-7639; www.barneys.com; (sneakers) Geox;
www.geox.com.
Bridal Hair: La Voila Beauty (212) 518-7197; www.lavoilabeauty.com.
Bridal Makeup: La Voila Beauty (212) 518-7197; www.lavoilabeauty.com.
Groom's Attire: Theory purchased at Bloomingdale's, multiple locations; www.bloomingdales.com.