Oh, how quickly newly wedded bliss can turn into post-wedding stress. The much-planned event went off with just a few it'll-be-funny-years-from-now hitches, but at the moment a) you've run through your savings, b) he can't get any more vacation days this year, c) another volcano erupted in Iceland, d) gas is $7 a gallon, e) you've spent so much time planning the big event that you're loath to spend another second doing Internet research, making phone calls, coordinating schedules, or anything that would require decision-making, f) all of the above.
What's a newly entwined couple to do? Go local, avoid airplanes, plan for few days swathed in luxury, breathe. In other words, take a minimoon. Yes, "minimoon"—a trend first identified several years ago by the American Bed and Breakfast Association—and it means exactly what it sounds like: honeymoons that are quick, close, and easy on the brain and bank account. Who needs far-flung resorts when these Westchester and Hudson Valley lodgings are perfect, less costly retreats?
Glenmere Chester
(845) 469-1900; glenmeremansion.com
From $650 per night for package
Have you somehow managed to get to Tuscany without knowing it? You might make that assumption as you approach this exquisite Relais & Châteaux Gilded Age Italianate mansion.
Splurge Package for Two: Afternoon snacks and refreshments in the second-floor sitting area and cooked-to-order breakfast in the stunning Supper Room are complimentary with each room. For $115, add on a romantic turn-down with music softly playing in the room or suite, mood lighting, rose petals on the bed, fire in the fireplace, bath drawn, and a split of Champagne and house-made, chocolate-covered strawberries awaiting. An additional $880 sends the two of you to Nirvana with a two-and-a-half-hour signature spa treatment, one of Glenmere Spa's Hammam Rituals. The "Journey to Shambhala" begins with a traditional Turkish/Moroccan bellystone exfoliation to prepare the skin for essential oils placed on the meridian points before the body is detoxified in the dry-heat sauna. Afterwards, fragrant raspberry honey is applied to replenish the skin, and the body is cleansed and ready for a 60-minute massage.
Emerge from Your Room: To go bargain-hunting. Woodbury Commons, the world-famous, high-end outlet complex, beloved by deal-searchers across the globe, is just 10 miles down the road (premiumoutlets.com/woodburycommons).
2. Bedford Post Inn Bedford

(914) 234-7800; bedfordpostinn.com
$800 per night for package
Just because it's co-owned by Richard Gere doesn't mean you'll see him, but there are plenty of other reasons to spend your first few nights of married life in this woodsy outpost.
Splurge Package for Two: Includes an afternoon wine and appetizer hour, a chef's tasting menu in the award-winning Farmhouse restaurant, a Cali-king room with a terrace, a "wake-up call" continental breakfast brought to your door, and an hour-long yoga class.
Emerge from Your Room: To get limber together in the morning, with resident yoga teachers in the on-site studio.
3. Hotel Mountain Brook Tannersville
(518) 589-6740; hotelmountainbrook.com
$300 (midweek) – $375 (weekend) per night for a cottage
A bit of the Adirondacks in the Catskills, this lodge coddles newlyweds in woodsy coziness.
Splurge for Two: Spring for your own cottage with a private king bed and a fireplace for ultimate alone time. The package includes a complimentary bottle of Champagne, a cooked-to-order breakfast for two, and free snacks and beverages in the Fireside Lounge. Book online and owners will upgrade you to a nicer room if available at no additional charge.
Emerge from Your Room: To hike through creeks to waterfalls. Or lift your pinkies in unison at a classic three-course Afternoon Tea at the Washington Irving Inn in nearby Hunter, New York (washington
irving.com).
4. Buttermilk Falls Inn & Spa Milton
(845) 795-1310; buttermilkfallsinn.com
$1,500 – $2,500 for a two-night package in a private cottage
Featured on the National Geographic "Stay List," the Buttermilk Falls Inn, which juxtaposes renovated 1700s cottages with abstract contemporary buildings on 75 Hudson River acres, is the place for the foodie bride and groom.
Splurge for Two: A stay at the Inn includes your own gorgeously appointed house/cottage with daily maid service; a kitchen (stocked with your favorite foods including just-laid eggs from resident heritage chickens); a fireplace; and a private outdoor space with sweeping views of the grounds or Hudson River. You also get use of the sauna and steam room in the spa building—which has a large, glass-enclosed indoor pool perched over the Hudson—two spa treatments, and dinner for two complete with cocktails and wine at the on-site farm-to-table restaurant, Henry's Farm to Table.
Emerge from Your Cottage: To lounge by the indoor pool for spectacular river views, or cross said river on the nearby Walkway Over the Hudson (walkway.org), a pedestrian-only bridge that allows you to soak up those billion-dollar vistas while taking your own sweet time.

5. Whistlewood Farm Rhinebeck
(845) 876-6838; whistlewood.com
$150 – $310 per night
Horses strike pastoral poses on the property of
this serene Ralph Lauren-like farmhouse inn. If you fancy a roll in the hay (or near the hay, as the case may be) with fresh-baked goods and luxury bedding, this is the perfect minimoon spot.
Splurge for Two: Lovely and swathed in Pendleton wools, rooms come with a full country breakfast set out on a 1904 stove and an afternoon smorgasbord of fresh-baked cakes and pies.
Emerge from Your Room: To stroll around the pastures to commune with horses, llamas, alpacas, and sheep.
6. Beekman Arms and Delamater Inn
Rhinebeck
(845) 876-7077; beekmandelamaterinn.com
From $625 for three nights, November to April
Stay in America's oldest continuously operating hotel—listed on Historic Hotels of America.
Splurge for Two: The Suite Temptations Package includes a suite with gas fireplace, daily continental breakfasts, a nip of sherry each afternoon, free Wi-Fi, free parking, and a welcome basket; good November to April only.
Emerge from your room: For a meal at the iconic Culinary Institute of America (ciachef.edu)—15 miles upriver. You must call a month ahead for weekend reservations.

7. Pig Hill Inn Cold Spring
(845) 265-9247; pighillinn.com
$170 – $250 per night, including breakfast
Situated in a three-story brick building in a tiny town chock full of antique shops, the unassuming Pig Hill Inn stands out as a laid-back yet sophisticated boutique hotel.
Splurge for Two: Make goo-goo eyes over the house signature apple-crumb cake, which is delivered right to your bed on request, or choose to have your blueberry pancakes or apple-Danish French toast en suite or in the sunny glass conservatory downstairs.
Emerge from Your Room: To shop on Main Street, or take the weekend-only town trolley (coldspringareachamber.org) for a dime.
Photo by Jim Smith Photography
8. Mohonk Mountain House New Paltz
(845) 255-1000; mohonk.com
$1,350 for two nights, all meals included
The ultimate splurge, it's as close to Europe as
you'll get on just a fraction of a tank of gas. This multi-award-winning, rustic-luxe, lakeside, all-inclusive, Victorian castle resort loves to indulge sweethearts.
Splurge Package for Two: Includes a welcome gift of fresh flowers from the greenhouse, nightly turndown service with chocolate, in-room breakfast, charming accommodations, three meals daily, afternoon tea and cookies, and a variety of complimentary activities. Add a 65-minute Warm Stone Duo Massage for $295.
Emerge from Your Room: To swim in the indoor heated pool with underwater sound system. Or test your mettle on the eight-mile Lemon Squeeze rock-scramble, a narrow-creviced part of the Appalachian Trail that is a coming-of-age favorite for future (and present) rock climbers.
9. The Post Cottage Catskill
(518) 719-0747; thepostcottage.com
$180-$265 per night for package
Walk to the Hudson River from the recently opened Post Cottage, a 1917 former home of the same name, situated just 20 minutes from the Catskills. Or not. Owners make this elegant B&B the perfect retreat for minimooners.
Splurge Package For Two: The package includes Champagne, flowers, gourmet breakfasts, afternoon snacks, and evening port, plus overnight accommodations in the lovely South Suite with a Jacuzzi, fireplace, king bed, and sitting alcove.
Emerge from Your Room: To kiss your honey in the spray of the 260-foot, dual-cascade Kaaterskill Falls, just 12 miles away.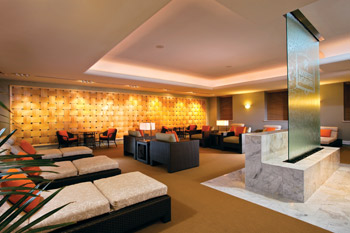 10. Gideon Putnam Hotel Saratoga Springs
(866) 890-1171; gideonputnam.com
Package Starts at $620 per night
$299/night for room only
Spend your first days as a married couple in America's first spa town, just outside of the Hudson Valley, and stay right in the midst of the beautiful Saratoga Spa State Park.
Splurge Package for Two: The Share the Romance Package includes one night accommodations in a Porch Suite, dinner for two on the night of arrival, breakfast for two the following morning, a bottle of wine, Gideon Putnam Resort wine glasses, chocolate covered strawberries, and a couples' massage.
Emerge from your Room: To bet on the horses at the Saratoga Race Course (nyra.com/index_saratoga)—get there early and you can take part in the tradition of eating breakfast at the track while watching the horses work out. Or, plunk down $25 (each) on a sure thing at the Roosevelt Baths and Spa—a 40-minute soak in the effervescent0 mineral water that gave Saratoga Spa State Park its name.
Photo by Peter Aaron
11. The Inn At Hudson Hudson
(518) 822-9322; theinnathudson.com
$375 for two nights
Chestnut-paneled walls, Mission-Era leaded-glass windows attributed to William Lighthouse Price—this incomparable four-room Arts and Crafts-style B&B is owned by a jovial couple who offers an opulent experience at a frugal price.
Splurge Package for Two: Rooms are enormous, with sleigh beds, gas fireplaces, and foot-thick walls that render this home museum-quiet. Sensational, fresh-from-the-hen gourmet breakfasts are served in a spectacular oval dining room, or, for just $20 more, they will be brought up to your chambers on an ornate silver tray.
Emerge from Your Room: To check out the eclectic library or solarium; perfect for afternoon lazing. Or walk a block and daydream of feathering your nest with items from the slew of antique shops and designer showrooms that line Warren Street.
*Prices per getaway package do not include tax and gratuities.