Surrounded by undeveloped wilderness, Naples' appreciation for nature comes instinctively. The eco-friendly heart of Florida's Paradise Coast, Naples consists of equal parts history (visit Tin City with antique and novelty shops or Old Naples on historic Third Street South); sophisticated glitz and glamour (explore 5th Avenue South for high-end shopping and distinctive dining); and sun (choose from white-sand beaches, water sports, fishing, and a host of outdoor adventures).

The Naples Botanical Garden spans 170 acres.
Photo courtesy of Naples Botanical Gardens
Stay at Edgewater Beach Hotel (from $299/night; www.edgewaternaples.com), an all-suites family-friendly waterfront resort that delivers a near-perfect balance of environmental consciousness, luxury, and practical amenities, including two pools, and an on-site beach with kid-friendly toys, beach bar, and frequent dolphin sightings. The hotel's thoughtful eco-friendly culture is cleverly integrated with farm-to-table food at Coast, its main restaurant; vigilant recycling practices; complimentary electric trolley shuttle service; biodegradable cleaning supplies; minimal use of plastic (paper straws only!); and fastidious protection of the sea turtle eggs buried along its beach, including a lights-out policy on the beach after 9 p.m., May through October, to protect nesting turtles.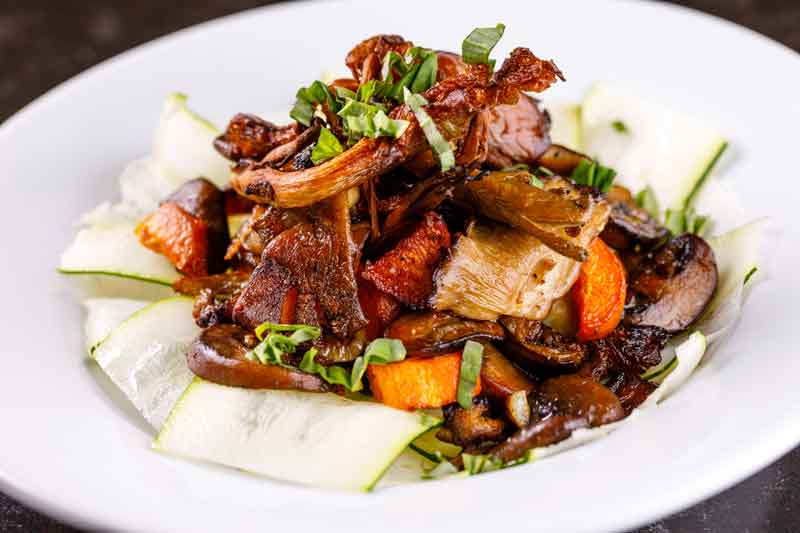 A vegan dish at The Local.
Photo by Carnochi Photography
If you can bear to leave the hotel, take in the beauty of the Botanical Gardens; savor the city's cuisine, like the daily changing, locally sourced dishes at The Local or brunch at Jane's Café, known for its healthy comfort foods; and experience Naples' masterful mix of wellness and social life through its numerous yoga programs (think yoga followed by craft beer or wine — yes, it's a thing in Naples).
Ending your day with a sunset over the Gulf of Mexico from the iconic 19th-century Naples Pier is a must — plan ahead and allow time for parking before sharing this popular experience with fellow sunset worshippers. And, if time permits, invest in a side trip to the Everglades to explore the country's largest-remaining wetland wilderness.