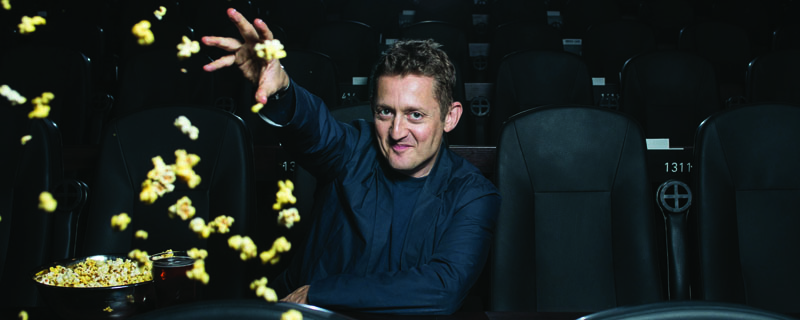 Watching Downloaded—a documentary about Napster and the digital revolution by Pelham writer, director, and actor Alex Winter—taps a dormant reservoir of feelings not unlike those conjured up by The Social Network. Depending upon your age in the late 2000s, you were either thrilled about access to photos of friends and information about love interests in your "network," or deeply puzzled by the decoupling of human interaction from your child, grandchild, or niece's social life. 
Downloaded winds back the clock even further, to when, depending upon your age at the turn of the century, you were either psyched about your burgeoning collection of free mp3s or indignant about the alleged injustice and thievery it perpetrated on your favorite artists. Regardless of your opinion, Napster was a milestone of the digital revolution. The 60-million-member music-swapping service left in its wake the digital world we know today, a frontier still far from any sort of consensus regarding its governance. 
A salute to Internet freedom, Downloaded premiered for free on AOL in September 2013. "I felt like it would be morally and ethically wrong to make the movie unavailable for free on some online format, given its subject," Winter says. The 48-year-old's project was the first long-form movie purchased by AOL, and it's set to air on VH1 Rock Docs in 2014. It's his most prized creation to date.
In person, Winter—whose company, Trouper Productions, is run from his home in Pelham—comes off much like his documentary subjects, which is to say, ahead of the curve. "I got online heavy in the early '90s," he says, "so when Napster happened in '98/'99, it was really evident that it was going to contribute to a complete and irrevocable global change." 
He makes the point that the forces unleashed by Napster continue to play out today, well outside of the music industry. Indeed, you might wax Downloaded outdated until you realize the issues surrounding Napster's demise are, perhaps, more relevant than ever. "It raises a number of issues," he says. "What are the rights of the people in that community? What are the rights of the content being moved around in that community? What are the privacy rights? It covers everything from the Arab Spring, to the NSA/Snowden controversy, to Facebook, Twitter, and SOPA; it touches on every single sociopolitical controversy right now."
Winter arrived at Downloaded after nearly 40 years in the business. He received his calling early in life. At age 10, his family moved from London, England, to St. Louis, Missouri, when his mother—both parents were professional dancers—was offered a position at Washington University. "My first job was a KFC commercial with the Colonel in 112-degree St. Louis heat," he recalls. "The Colonel was fairly senile by then, so it was a circus-like introduction to the entertainment industry."
"I always had kind of an idiosyncratic mix of a very normal American life and a tightened artistic world," he adds. "As a child, I would come home and there'd be an entire dance company in my house." But Winter says that, overall, his home and school lives were fairly normal. If anything, it was his Broadway pursuits, beginning when his family moved to Montclair, New Jersey, when he was in middle school, that set his adolescence apart. The close proximity to Manhattan allowed him to take on full-time, eight-performances-a-week roles in The King and I and Peter Pan.
"I'm really glad that I had the opportunity to start in theater," he says. "Film and TV acting is extraordinary, but, in the digital age where you can do 75 to 80 takes just because you can, coming from theater gives you the confidence to do your performance in one take, and that's a great thing to learn."
Winter followed Broadway with NYU Film School, where he caught the directing bug. But it would be a while before he would land behind the camera. Shortly after graduating and "in debt up to [his] eyeballs," Winter, on the advice of his manager, shipped off to LA for pilot season, hoping to earn some cash. He was cast alongside Keanu Reeves in what turned out to be a career-defining role: Bill S. Preston, Esquire, in Bill & Ted's Excellent Adventure. The comedy not only was commercially successful—the film grossed more than $40 million when it came out in 1989—but went on to develop a cult following and spawned a sequel, Bill & Ted's Bogus Journey. 
After Bill & Ted, Winter parlayed his success into directing and writing roles. He and Tom Stern, a friend from NYU, starred in, wrote, and directed a short-lived TV comedy series for MTV called The Idiot Box, along with a spinoff film, Freaked. Despite the ongoing work, Winter grew tired of LA in '95 and moved to Gardiner, New York. 
"I wanted the East-Coast vibe, which is home," he says. "I like seasons. I love autumn and wintertime." He also loves directing, which had finally taken hold for him career-wise. "That's when I became less publicly known but a lot more prolific. I started directing movies, writing movies, writing for TV, directing commercials. I started doing what I genuinely love doing." 
Winter moved back to LA in 2005. He met his wife, Ramsey Naito, in California while shooting two live-action movies for Cartoon Network; she was running the network's film division. The couple married in 2010 and, in 2012, moved to Pelham, when Naito was offered a producer spot at Blue Sky Animation in Greenwich, Connecticut. And, while Winter runs Trouper Productions from home, he shoots all over the world
and takes on anything from commercials to feature-length documentaries. 
The idea for Downloaded had been percolating for some time. "I've always been interested in emerging technologies," says Winter, and he closely monitored the Napster legal proceedings as they transpired. In 2002, he sold the idea for a narrative-form film about the service to a major studio, but found it was "too soon to tell a story about the digital revolution" and walked away. Later, in 2009, he "felt like there had been so little resolution around Internet rights, transparency, and media content distribution. Issues raised by Napster hadn't been resolved, so I decided to make a documentary." 
Winter believes the legal quagmire that engulfed Napster amounted to an assault on innovation. "When there's a revolutionary technology that occurs before there are laws around that technology, you can't criminalize the consumer for using it," he says.
Though Napster is more or less dead, Winter's life in Westchester is just getting started. "I think what surprised me about [Westchester] is how dynamic the service community has become—the quality of the restaurants, the amount of stuff you can do without leaving at all," he says. He and his family of five (his three boys are 4, 11, and 15) are regulars at Tarry Lodge in Port Chester and Spadaro in New Rochelle—and they're soaking up the County's cultural offerings, not strangers to the Pelham Picture House or the Jacob Burns. In August, Winter screened Downloaded and Bill & Ted at the Alamo Drafthouse in Yonkers, part of the opening festivities for the indie theater chain, the first on the East Coast.
"It's funny because, in Pelham, it's kind of the same" as growing up in Montclair, he notes. "Life at home is down-to-Earth and domestic, but I split my time" between that and the "hectic" entertainment industry. And yet there's nowhere better to strike the balance: "Westchester checked every box we had."