---
Fall/Winter 2004
A Clear Vision of Home
Fashion designer Jhane Barnes' style is evident throughout her 1950s-style contemporary in Pound Ridge: The living-room furniture in warm woods and soft, beige leather is from her Tatami collection, and the Japanese-inspired cherry-wood coffee table is from her Otera collection. Photography by Phillip Ennis
---
Spring 2005
A Work of Art
The kitchen in this Bedford Corners home was beautifully and efficiently designed with lots of space between the counters and the island to accommodate multiple chefs. Photography by Philip Ennis
---
Spring 2005
Wildflower Farm
Inspired by a Siberian textile, the parterre in this Bedford Hills garden was created from about 600 boxwood shrubs and is trimmed four or five times a year to maintain the voluptuous swirls and cones. Photography by Michael Polito
---
Summer 2007
Club Med
Furniture and accessories from around the world give the entryway an eclectic, global look in this Harrison Mediterranean home owned by Louisa Benjamin-Bohm, president of Shleppers Moving and Storage. Photography by Phillip Ennis
---
Fall 2007
Designers' Kitchens
Maria Bilotta Distefano of Bilotta Kitchens wanted a kitchen that would not only accommodate her family's lifestyle, but embrace the best of the products and designs out there. Mel Elion, a top designer in Bilotta's Mamaroneck showroom and architect Terry Lennon of Somers brought her dream kitchen to life. Photography by Philip Ennis
---
Summer 2007
Paradise Harvested
Mark Mariani, owner of Mariani Gardens in Armonk, created his own Eden on four acres in Greenwich, Connecticut. A large dining table in the middle of the orchard is the perfect spot for the family to enjoy the fruits of their labors, which include apples, peaches, plums, nectarines, pears, figs, and berries. Photography by Todd Shapera
---
Spring 2007
A 5-Star Kitchen
Generations of the Botasco family—including acclaimed chef Jim Botasco Jr. of Molyvos and Abboccato in Manhattan—work side by side in this Bilotta kitchen on the Mamaroneck waterfront. Photography by Philip Jensen-Carter
---
Summer 2008
An Octagonal Eco-House
Centered around the massive stone fireplace, the open floor plan of builder (and homeowner) Sylvain Côté's octagonal home in South Salem allows the family to be together while pursuing different activities. On one side of the chimney is the living area; on the other is the kitchen, which, with its mission-style wood cabinets, blends seamlessly with the rest of the room. The Energy Star-qualified appliances are cleverly disguised by wooden panels. Photography by Phillip Ennis
---
Summer 2008
Stones Softened by Blossoms
The Katonah garden of Barbara Israel, a top authority on garden ornaments, creates a delicate balance between beautiful blooms and the antique appointments that best accent them. In this formal garden, spring is dominated by tulips, alliums, hostas, and white clematis enshrouding the entry arbor. Photography by Todd Shapera
---
---
Fall 2009
A Diamond in the Rough
"I like the element of surprise in decorating—you turn a corner and a tableau unfolds," says homeowner, artist, and interior designer Deborah Schmidt-Crary about the restored barn on her Waccabuc property. While the barn looks small from the outside, the inside is surprisingly large: a wide-open, sleek, and minimalist media room accented with dramatic oversized artwork, including one by Australian Jan Riske.
The covered dining terrace has exquisite views from every direction; just off it, an ancient grapevine frames the vineyard. Photography by Thomas Moore
---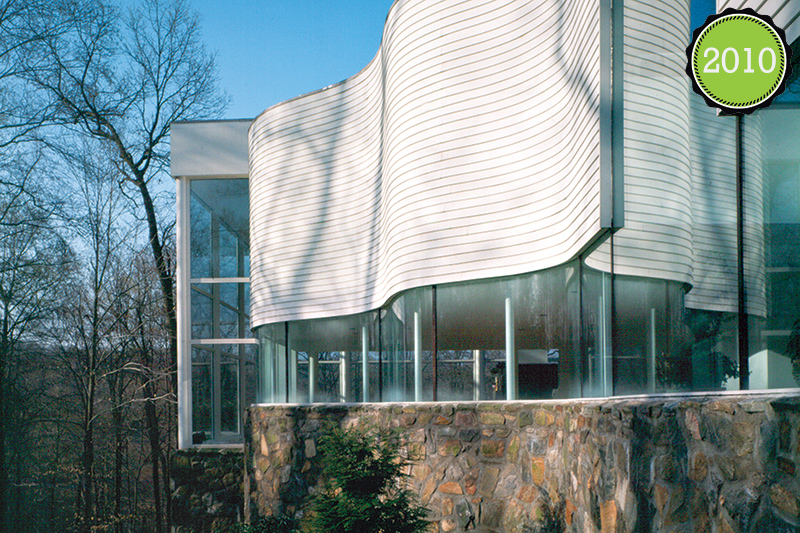 Spring 2010
Big Glass House in the Little Woods
A spectacular treetop aerie blurs the distinction between indoors and out with a two-story glass pavilion overlooking an ever-changing view of the surrounding woods. The home's most unusual feature, designed by architect John Ciardullo, is the exterior curved glass wall. "The curve was created in the builder's head and not specified in the architectural drawings," homeowner Warren Browne of Waccabuc says. So the trusses had to be made to size in place rather than pre-made. Below, the striking two-story fireplace is made from three tons of Brazilian uba tuba granite. The sectional sofas in the living room are from Donghia; the grass-weave carpets are from the Philippines. Photography by Phillip Ennis
---
Summer 2010
American Pastoral
A gentleman's-farm motif is evident throughout this home, a clever contemporary interpretation of an American farmhouse: Oil paintings of farm animals by Joe Andoe adorn the walls, while metal roosters and chickens perch on ledges and mantles along with antique weather vanes. Juxtaposed is an enviable collection of modern art glass by such notables as Sean M. Mercer and William Morris. At every turn, one sees intriguing glass sculptures: an antelope head, nautical knots, a fanciful fish dripping inside and out with tiny fish. An open mezzanine at the top of the stairs is a perfect spot to admire art in the living room below. Mark Stumer, principal of Mojo Stummer Associates designed both the exterior and interior of the house. Photography by Scott Francis
---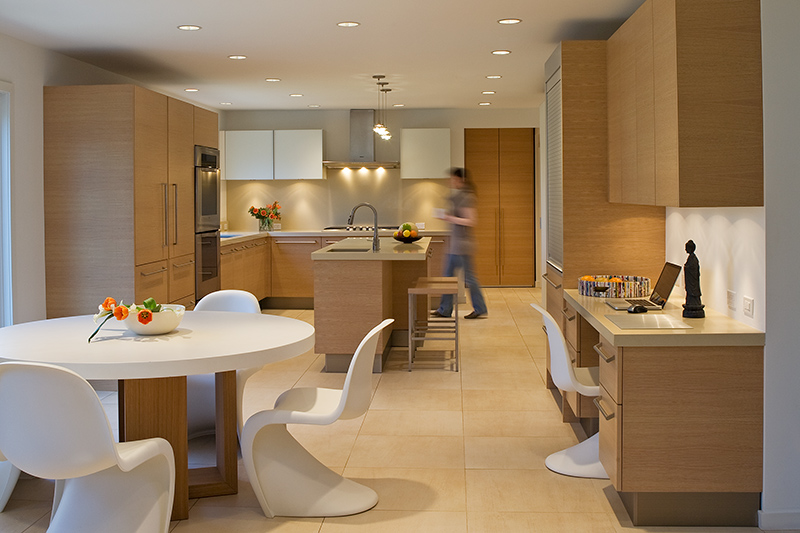 Winter 2010
Best in Show
Designed by Ryan Ko and Lorraine Frye of Today's Kitchens in Hartsdale, this Chappaqua kitchen was described by our judges as "beautifully simple." Judge Phyllis Harbinger of Design Concepts in Cortlandt Manor especially loved the details: "mini pendant lighting with a crystal harness, simple stools that tuck away, the Verner Panton chairs, the solid surface table with wood base. I also like the square geometry of the sink at the island. Clean, sleek, nice!" Photography by Alec Marshall
---
Fall 2010
A Prairie Grows in Bronxville
With grasses swaying, water lilies unfolding, and water dripping down the seemingly natural waterfall beside the back patio, this garden is a peaceful oasis, by Robert Welsch of Westover Lanscape Design, that piques all the senses. Photography by Karen Bussolini
---
Spring 2010
Two Men, an Icon, and a Cause
An award-winning 1950s contemporary escaped the wrecking ball and was restored to its original glory by Todd Goddard, who specializes in high-end iconic contemporary properties, and his partner, Andrew Mandolene, an independent creative director. With a clear vision of paying homage to the structure's original intent—and lots of sweat—Goddard and Mandolene spent two years sourcing the materials required, down to the flecks of iron in the white glazed-brick exterior. Leather aqua-colored slipper chairs and a flokoti rug share space with other iconic—and original—'50s modern furniture in this living room. Photography by Rob Mandolene
---
Winter 2011
Kitchen Confidential
This Scarsdale kitchen designed by Michelle Gerson epitomizes the concept of what a kitchen really should be—it has everything a chef would need to prepare a five-star dinner, but it also has tons of comfortable seating and conversation areas for family and friends to gather.
---
Spring 2012
Great Architects
In this stunning renovation of the 1952, Usonian-style Rakhaus in Bedford, Earl Ferguson restored the original circular stone structure and added a large addition that kept with its organic, natural feel.
---
Spring 2012
Great Architects
Ira Grandberg indulged his love of modern design in this residence on the Long Island Sound. Photography by Paul Warchol
---
Spring 2012
Great Architects
Carol Kurth worked on the original incarnation of the "Link House" in Pound Ridge in 1983; decades later, its new owners asked her to "bring it to the next level" with more space, clear cedar siding, and a new pool area. The award-winning Five Star House (featured on MTV) is "an assemblage of buildings with a historic feel done in a modern way," says Kurth, using an array of finely hewn natural materials to define space and function. Photography by Albert Vecerka/ESTO
---
Winter 2013
Design Contest Winner: Architecture
"Throughout the house, the intention was to maintain the integrity of the traditional detailing while creating open spaces for modern living," says architect Michael Gallin. "The second-story loft was an innovative way to layer and connect informal family living space above the formal living and dining room." Judge John Boscarello of NYSID agreed, calling it a "dramatic and unique use of space." Photography by Gregory Molesworth
---
Summer 2013
An Artist's Touch
The spine of the home is a long, vaulted corridor that runs the length of the main house. It is paved with bricks recycled from a building at Yale University, giving it the feel of an outdoor courtyard. At one end of the corridor is a room that Anne Villeméjane, a painter and sculptor, has made her home studio. At the opposite end, through an arched doorway, is a glass door that opens onto a patio. This central, unifying space sold Villeméjane and her husband on the house. Photography by Phillip Ennis
---
Winter 2014
Design Contest Winner: Architecture
The judges were unanimous in their praise of this Chappaqua property, all proclaiming it "gorgeous." Architect Daniel Contelmo had worked on the redesign of the clients' original home, and "was thrilled" when asked to take on the challenging project. To accommodate the property's steep drop-off, he designed the home to have two stories in front and three in the back, allowing for a walkout basement that includes a wine cellar, 19-seat home theater, and a billiards room. Two wings with stone facing on either side of the front door ground the house, while an angled garage wing responds to the natural contours of the landscape. Photography by Roger William
---
Winter 2014
A Garden for All Seasons
A cutleaf maple is glorious in each of the four seasons in this Scarsdale garden designed by Sanchez & Maddux of Palm Beach, Florida. Photography by Andre Baranowski
---
Winter 2014
Design Contest Winner: Dining Room
The dining room in this Craftsman-style Scarsdale residence lacked a focal point, and the client wanted something modern and eye-catching for the space, according to Claire Paquin of Clean Design. "We added eggplant-colored wallpaper by Romo and vibrant original art by Allan Forsyth to the wall niche at the back of the room to draw the eye in," she says. A floating credenza from ALF via Canal Furniture provides function and storage for the space; the chandelier is from Flos, the table by Poltrona Frau, and the chairs by Desiron. Photography by Donna Dotan