Photographs by Geoffrey Tischman
To celebrate man's (and woman's) best friend — along with many other adopted family members who bring joy to our lives — we sent out a call earlier this year for the cutest, most interesting pets in the county, via an online survey.
We asked owners why they think their dog, cat, pig, squirrel (!) should be included in our feature. After our in-house selection committee combed through 255 heartfelt submissions, WM invited the furry (and not-so-furry) winners to our photo studio for a yearbook-style shoot with a professional pet photographer.
We hope you enjoy our Class of 2020; perhaps next year your pet will be an alum.
Make sure to scroll all the way to the bottom to watch the adorable behind the scenes video of our photo shoots!
Prickliest Personality
Gertrude
African Pygmy Hedgehog
Despite her prickly exterior, this adopted hedgehog and Peekskill dweller can be quite friendly. She loves sweet smells and tastes, including mangoes and peaches — just beware of her teeny teeth.
Best Eyes
Richard
Dalmatian
With icy blue eyes and dashing good looks, Richard has snagged himself some stellar modeling jobs, including walking for Nana Judy during New York Fashion Week. When he's not on the runway, you might spot this down-to-earth Pound Ridge resident playing fetch and Frisbee.
Most Mischievous
Jade Maggy
Ferret
Energetic and playful, this Yonkers-based rascal likes attention and hiding whatever she can get her paws on.
Class Smarty-Pants
Snoopy
Ragdoll Cat
Snoopy is intelligent and intuitive — running to the door when the bell rings at her Bronxville residence and following everyone everywhere. She knows when her human family have had a bad day and will stay close by to provide comfort.
Most Adventurous
Rudy
Maltese-Yorkie Mix
A Bronxville resident, 8-month-old Rudy likes exploring the whole county, from meeting new friends at Shore Park in Pelham Manor to hitting Pete's Tavern in Bronxville.
Biggest Nut
Thumbelina
Eastern Gray Squirrel
Rescued when she was only a few hours old, Thumbelina is now unable to survive in the wild and lives with NYS wildlife rehabbers. She fully embraces the life of a celebrity — with 172,000 Insta-followers — even if she must lie low sometimes.
Most Likely to Be Birthed by a Khaleesi
Leslow
Bearded Dragon
Leslow likes to chill and watch Game of Thrones reruns in his Dobbs Ferry home, where he often dresses up as a cosplay dragon.
Most Unlikely Pair
Kai & Kooney
German Shepherd; Kunekune Pig
A transplant from Germany, the naturally friendly Kai spends his time as a staffer at the Wolf Conservation Center in South Salem. Since befriending Kooney, the two have become inseparable.
Biggest Overachiever
Ozzie
Australian Shepherd
This transfer student from Kansas, who now lives in Hastings-on-Hudson, is incredibly well-rounded: He is a singer (find him on YouTube belting out "Jingle Bells"), a volunteer (a Golden Outreach dog with the SPCA), and an all-around kind soul (visiting seniors at Tarrytown's Brightview Senior Center) who loves bringing joy to others.
Groomer's Pet
Khloe
Pomeranian
This photogenic Hartsdale pup never prances without being preened, looking her well-coifed best with stylish hair bows and an infectious smile on her face.
Most Athletic
Derby
Shetland Sheepdog
This Harrison jock has earned six agility championships, was a national finalist in the agility program for the American Kennel Club, and has earned ribbons in Westminster Kennel Club's agility competition.
Most Curious
Malcolm
Scottish Fold
A White Plains cat, Malkie is playful and enjoys exploring. A true "Mrs. Kravitz," she will butt into your business and follow you everywhere. She also enjoys bird-watching while perched on top of the sofa.
Flightiest Personality
Aphrodite
Lutino Cockatiel
The mighty Aphrodite is a Somers avian who likes to nibble on her owner and anything shiny. When ready for some fun, she will fly to the kitchen sink and turn around in circles.
Class Clown
Hudson
Golden Retriever
This Dobbs Ferry Golden loves to have fun, but if he is not played with constantly, he pouts like a baby.
Best Smile
Sparta
Rottweiler
One look at this rescued Rottie and you can't help but smile. The Katonah resident has a sweet disposition and is charmingly goofy — the perfect companion.
Most Likely to Become a Lounge Lizard
Ruthie
Leopard Gecko
This night owl embodies the concept of "Netflix and chill." When she's not snoozing during the day, she likes to watch TV with her owners in Yorktown Heights.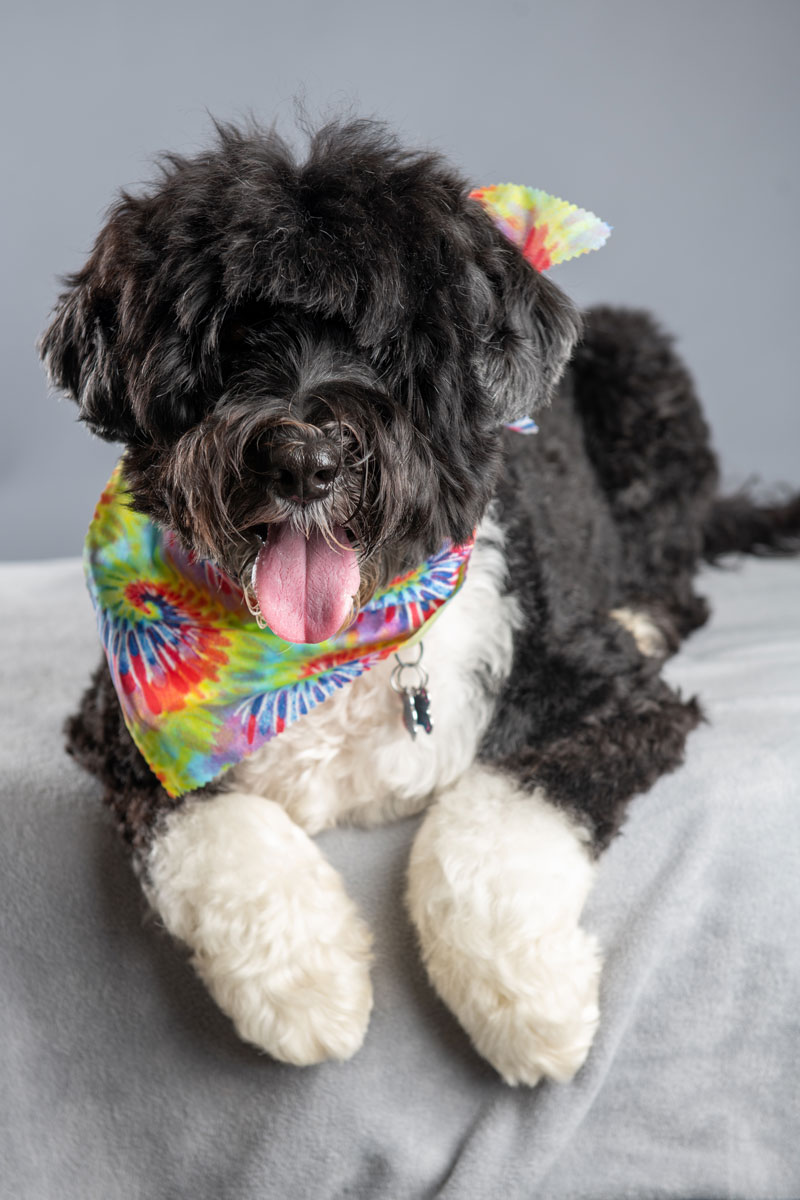 Class Flirt
Sadie
Portuguese Water Dog
A Dobbs Ferry charmer, Sadie is smooth and endearing, always angling to be the center of attention.
Best Hare
Mico and Ollie
Mini Rex Rabbits
Donning ultra-soft locks, these Hartsdale rabbits are always down for a photo shoot, starring in annual calendars distributed to friends and family.
And just in case you weren't already wishing you had our jobs….