Photography by John O'Donnell
Any successful business owner can tell you it takes a great idea, a smart plan, a little bit of luck, and a lot of hard work to successfully start a new business—and that's when times are good. During the past year, many local entrepreneurs opened for business in what has turned into an economic nadir for the nation and the county. We checked in with a cross-section of several new businesses to see how they're weathering the winds of this economic storm.
Business: Elemental Design Concepts, 197 E Post Rd, White Plains; (914) 422-3323 (Also see under "New Stores") Owner: Fred Mastroianni Type of Business: 7,000-square-foot design center and showroom Opened: Signed lease and started construction November 1, 2007; opened doors December 15, 2008
What was the dream? I just wanted to open this type of business—before I had worked for Cappelli Enterprises as a purchaser liaison and doing quality control—and somehow, some way, I knew I could make it work. And the positive feedback has been overwhelming, with people saying that they haven't ever seen anything like this before, not even in Manhattan.
How did you finance this? I used personal funds and I have a minor investor.  
What was the first sign that the economic downturn might affect your plans? Over the summer, it started to resonate that the economy was going to be a little bit more difficult than I had anticipated to get a business such as this off the ground. I was too far along then to change my plans.
Sorry to have opened now? No. There's nothing about the business I would change or downsize. But I am planning more special events in the showroom, inviting realtors, designers, and people from other industries whose work and clientele complement mine.
What about sales? I've only been open a short while so it's hard to say. We have jobs; not as many as I'd like, but I'm assuming, once my advertising hits, we'll have more of them.
What if the economy gets worse? I wouldn't pull the plug. To me that's not an option.
You sound very confident. Are there nights you can't sleep? I've never been a good sleeper. My mind is always constantly going.
Are there any positives about opening a new business in this economic climate? Being interviewed by Westchester Magazine and getting this nice free publicity!
Business: Auray Gourmet, 144 Larchmont Ave, Larchmont; (914) 833-2274 (formerly Auray Cheese Shop on Palmer Avenue) Owners: Carolynn Dilworth (interviewed here) and Ben Aiello. Former partner Matthew Peretz left in February 2009. Opened: August 4, 2008
So how'd you get into this business? I had been working as a caterer in Hamburg for a while but moved back in 2002 and after a few years decided to try to go into business with a partner. I met Matthew as a customer. Auray Cheese Shop was only two-hundred eighty-five square feet. I thought, 'Wouldn't it be neat to expand the business?' On a fluke, I asked Matthew if he needed a business partner. I told him my idea, to have a bistro and catering service. We built our building ourselves. Ben, who happens to be my uncle, and I built the store with the help of our family. I even laid tiles down and painted. The only thing we couldn't do ourselves was the electrical and plumbing because that has to be done to code.
When did you get inklings that things were going sour? In the first two weeks of October, Larchmont was a ghost town. Nobody was coming down the street, and for about ten days, there wasn't much business. It was very slow and I was concerned.
So what are you doing to keep going? We added quiches and homemade soups to our menu. At six-dollars fifty-cents with a salad, they are a hit. We also started advertising more and, as a result, got more traffic. We are starting to cater more, and are now open for business seven days a week as opposed to six days a week. We opened up Sundays for brunch. Ben and I work every single day and we hired part-time employees as well to work on the weekends. We saw a ten- to fifteen-percent dip in October. Since we made all of our changes, we are back up to when we originally opened. Wow. You're doing well, then. Things are going great and we plan on expanding. We have decided to open up for dinner—we're already open for breakfast and lunch—have outdoor seating, and keep our store open until eight pm in May; we close at six pm now. We also offer free coffee refills.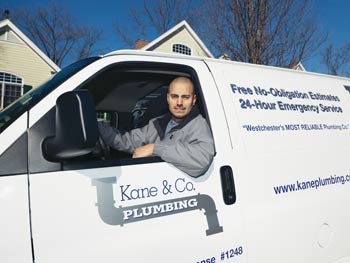 Name of business: Kane & Co. Plumbing, a full-service residential plumbing company in Harrison; (914) 323-8848 Owner: Javier Santiago, licensed master plumber Opened: September 2008
How do you let people know about your new business? The business is mostly referral-based and has been from the start. Friends, vendors, and current clients refer me on a pretty regular basis. Also, I joined the Business Council as soon as I launched, and have used my membership to meet people and build relationships. We're accessible via the Internet, on our own website, and through some search sites, like superpages.com. Also, our truck is a great mobile marketing tool.
What made you start a plumbing service? I worked for about ten years for another plumbing company and another before that. I went into business for myself because I wanted to do what I love—and what I'm good at—on my own schedule and have control over the kinds of jobs I take on, plus I saw an opportunity to start a small business that really delivered exactly what customers want: hassle-free estimates, reasonable rates, and, believe it or not, a plumber who shows up when he says he will! I believe that one thing holds true no matter what the economy looks like: if you work hard and treat your customers well, you'll flourish.
And are you flourishing, despite the economy? It hasn't hurt me. In an economic downturn, homeowners will spend more time seeking out service providers who can deliver.
What advantages do you have over other plumbing businesses? The larger plumbing companies may be hurting because of their tremendous overhead. As a small business owner, I can maintain a lower overhead.
Do you work from home? I do have a home office. It's a one-person show right now, but I'm considering hiring someone.  
Business: Just Dogs! 134 Main St, Mount Kisco; (914) 244-DOGS Owners: Adam (interviewed here) and Emily Gilman Opened: September, 2008
Tell us about your business. It's a gourmet-treats shop and boutique for dogs. Our idea was to fill a void in the dog market, from mass-produced supermarket brands to healthier, natural alternatives. We own two dogs and two cats ourselves, and we spare no expense when it comes to giving them the best-quality food. The recession officially began December, 2007, so you must have known it was going to be tough. When we opened in September it was slow, but we didn't expect to have customers blow our doors down—we knew it would take time. During the holidays, we started to pick up, but then January hit and everything fell flat.
So what's your plan? I've been in the retail business for ten years, starting with Starbucks, and at Starbucks, you learn the customer is king. We're responding to the downturn by creating extra value for our products. We're also redoubling our efforts when it comes to our marketing. 
Are you thinking of pulling the plug? What we're struggling with now is, 'Do you quit while you're ahead or just wait it out?' We think we have something great to offer, and it makes sense to stay. If we have any control over it, we're not going anywhere anytime soon.
Is all your money invested in this business? Yes.
How many customers walked through the door yesterday? About twenty customers came and twelve made purchases—mostly treats, collars, and leashes.
Business: Oasis Day Spa, 50 Livingstone Ave, Dobbs Ferry; (914) 409-1900 Owners: Bruce (interviewed here) and Marti Schoenberg of Hastings-on-Hudson When opened: Signed lease and started construction April, 2008; Opened doors November 24, 2008
How have your expectations for this business changed? I originally thought we could achieve our full occupancy rate, about four- hundred-twenty spa treatments a week, within six months, and pay back our investment within sixty months. Now, it may take a year to achieve that occupancy rate, and seventy-two months to pay back our investment.
When did you begin to realize the economy was tanking? I saw it start to impact our two New York City spas in late summer. But as the news continued to worsen in the fall, I was already too far down the road to change things in Dobbs Ferry.
And now? We have many fewer customers than we had planned. We are the type of a product that people cut first. They're not going to give up the essentials in life; they're going to give up the manicure or monthly massage.  
What are you doing as a result? I'm working harder and for longer hours and trying to meet as many people as I possibly can through corporate outreach and networking groups. And we're doing more events—like setting up a mini-spa at an American Heart Association function or offering free wellness seminars on-site—in order to bring customers in the door.
What do you hear from other business owners? Everybody's in the same position; they're all tightening their belts. The only people doing well are the liquor stores and the bankruptcy attorneys.
Have you given yourself an out? I do not think about failure. It's not a matter of 'if,' it's a matter of when. 
What keeps you from getting despondent? People are overwhelmed by how great the spa is and they're getting the word out. We're behind where I thought we'd be, but we're moving in the right direction. 
Got advice for others contemplating opening a business? If you've never opened a business before, now is not the time. If you do have business experience, make sure that all your partners are on board with you. My vendors need me in business to keep their businesses; we're all helping one another cope now. And once this passes, we'll all start moving again.
Business: Five Corners Holistic Fitness, 6 Palmer Ave, Scarsdale; (914) 713-3226 Owner: Todd Giorgi (interviewed here) and Stan Margerum. Opened: January 2008
How's business? I know that a lot of people are afraid and have lost their jobs, but we've actually grown. We've gotten a lot of word-of-mouth business. When we first opened, we hit the numbers we wanted to have for August in March.
So what did you have to do? We've had to adjust our business plan—for the better. It started as a business of two people—myself and my partner, Stan—and we're now a business of seven people. We've had to hire more trainers because our workload has increased.
Why do you think you're doing well when so many others are not? The universe is shifting so that health is seen as a priority and not as a luxury. If you don't have your health, you don't have anything. It's going into people's schedules now, like showering and brushing your teeth.
Business: Chubby's Express, 102 Fisher Ave, Eastchester; (914) 961-5233 Owners: Joseph Luciano and Anthony Piacquavio. (Interviewed here: Linda Luciano, Joseph's wife and restaurant manager) Opened: October, 2007
What was your business idea? We wanted to start a pizza and panini takeout/delivery franchise and eventually expand to full-service. My husband had owned a deli at the time, and I was working as a bartender. Anthony came in as a partner and invested three-hundred-fifty-thousand dollars to completely gut the place and transform it from a deli to a pizzeria. This was August 2007, and we saw no sign of the impending recession.
When did you begin to see signs? In the summer of 2008, with the rise in gas prices, came the first big drop in business. Customers who once came in two or three times a week began to come in just once a week.
And now? Definitely fewer customers. We sell seventy-five fewer pizzas per week than we used to. Sales are down twenty to twenty-five percent from last year at this time. Our food costs have risen, too. For example, a fifty-pound bag of flour was twelve dollars when we first opened and, by the spring of 2008, it was sixty dollars a bag! It has since come down to between twenty and twenty-two dollars, which is still almost double what we paid in 2007. We used to utilize purveyors who delivered to us but now we go to pick up products at the Restaurant Depot in Mount Vernon. Same ingredients but less cost—about ten to fifteen percent less or about four-hundred dollars savings per week—because we're doing more of the work.
What are you doing to bring customers in? We offer economic stimulus specials: Monday to Thursday, you get two entrées for twenty dollars—entrées normally average about thirteen dollars each; or two large pies for twenty dollars—one pie is fourteen dollars regularly. Also, we've cut the kitchen staff hours from seventy-two to sixty and close at nine instead of ten. We originally wanted to expand and open a second location in White Plains, but that is now on hold.
Thinking of closing? We're not at the plug-pulling point yet. Friday nights are jammed, but Mondays and Tuesdays are terrible.
What advice would you give to others contemplating opening a business now? Forget about taking vacations!