Ellen and James Best were respectful neighbors. You wouldn't find them craning their necks to discern what neighbor Sara Stein was up to; they wasted no time on wondering what she was growing; and the fact that she had bascially let her property go wild totally escaped their notice. Sara was the Bests' adjoining neighbor, but besides the occasional, "Hey, look — they don't even mow their lawn!" when they happened to glimpse her meadow in passing, the Bests paid the Steins no heed whatsoever. So naturally they weren't aware, either, that Sara Stein was starting a revolution. It wasn't until the Bests began feeling cramped for space that the parcel next door showed up on their radar.
The Bests made no secret of the fact that their family needed more space. They put the word out to real estate agents, rejecting other parcels in Pound Ridge — where they wanted to stay. James Best is an architect, so expanding the house they had owned since 1997 was the option they were on the brink of exploring when the call came in from a real estate agent/friend in 2007. "I have the house for you," he said. "Meet me next door."
Clockwise: The pond's edge is planted with Joe Pye Weed, willow and other moisture-tolerant plants for the benefit of dragonflies. Paths lead out from the terrace to the woodland habitat. A Canadian tiger swallowtail visits Joe Pye weed blossoms.
Two years after Sara died, her husband, Marty Stein, was selling their Pound Ridge house and land. The property comprised 5.5 acres and included a pond. Plus, it harbored all the wildlife anyone could ever hope for. "This is paradise," said the Bests before making an offer.
Although the house needed some architectural updating to suit the family's needs, Ellen knew immediately that she wanted to maintain Sara's objectives in the garden — and by that time had gotten up to speed with Sara's work. Earlier, the Steins had themselves relocated from another Pound Ridge property, with Sara becoming increasingly aware that her newly acquired property was not meeting its potential to host wildlife. While she struggled to coddle fancy, finicky plants, she noticed that insects, frogs, and other animals were moving out. So, Sara made a choice to go natural. Not only did she skip harmful pesticides, she also studied methods of strengthening habitats to nurture nature. In 1993, Sara Stein published a book that shook the gardening world to its roots.
Clockwise: A pear tree is tucked beside the house, in the brick patio. Native Dutchman's pipe vine climbs up a teepee supporting a birdhouse.A stone bench is set in the moss garden created for Stein by Christine Cook of Mossaics.
Noah's Garden: Restoring the Ecology of Our Own Back Yards describes Stein's efforts to return her property to the sort of habitat that would welcome wildlife while still claiming to be a garden. She planted meadows, mowing paths around their periphery for access. She bought and excavated a pond to create a frog-friendly habitat, and she nurtured the wetland habitat already in place. Carefully researching ecosystems, she created as many habitats as possible — including a woodland, prairie, swamp, and rock barren — to lure diversity into the fold. Planting large swaths of natives gave pollinators plenty of fodder. Planting up to the pond's edge nurtured dragonflies, etc., while dissuading Canada geese from marching up to the house. Although her laboratory consisted of a generous 5.5 acres, she argued that the same feats could be accomplished on a modest parcel of typical suburban proportions. Her stance was seen as radical at the time, but her appeal for a backyard that serves all creatures great and small made waves that reverberated across the gardening world. Every crusade has someone leading the way. Sara Stein was the drum major for the natural gardening movement. "She was a pioneer," confirms Best.
Meanwhile, Best was a vegetable gardener, an avenue that didn't bring her in contact with the native-plant contingent. But the Bests were invested from the day they purchased the property. "I knew that I wanted to keep it natural," Best recalls of her immediate reaction. However, she didn't realize how much work maintaining a natural space involves. Education still proves to be a major summit as they strive to help people understand natural gardening.
Annually, they open the landscape on certain dates via The Garden Conservancy Open Days Program (www.gardenconservancy.org), plus they can be contacted through their Sara Stein Garden Facebook page. The Bests have been faced with responses that include "Where have all the flowers gone?" and "Aren't these weeds?" And they are always learning from their landscape. "It's a major misconception," Best has discovered, that "everyone thinks natural and sustainable are maintenance-free."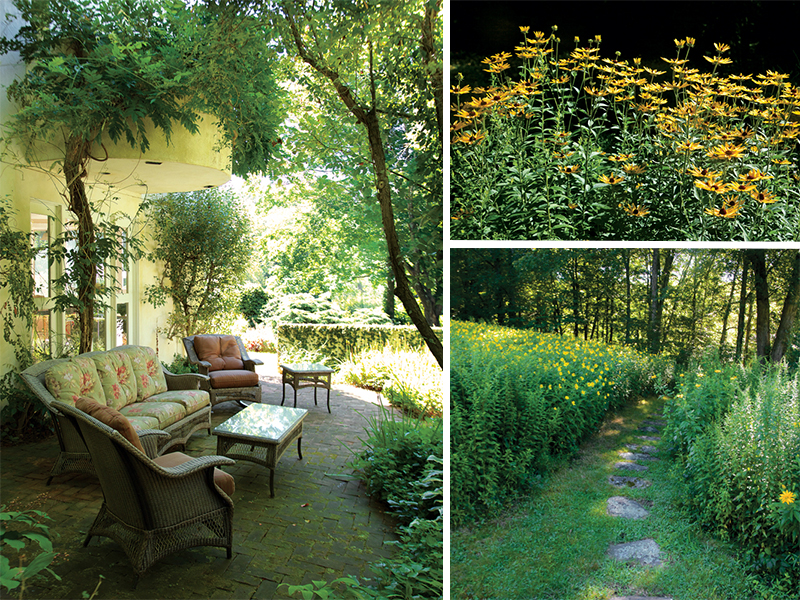 Left: Plants lap at the feet of furniture on the patio. Top Right: In the "small meadow," Rudbeckia nourish late-season pollinators. Below: Stepping stones define one of many paths around the property.
For a mature landscape maintained naturally for more than two decades, keeping the delicate balance in check is dicey. Fortunately, the Steins' gardener, Dimas Duarte, still helps with the property, working three hours every two weeks and offering insights. Their focus is on keeping each separate habitat chugging along and serving the wildlife they were crafted to host. The major battle throughout the property is ridding the landscape of invasive plants that might go unchecked when mowers don't rumble in weekly. Editing is key.
In addition to the wild and wooly outposts, there are plenty of cultivated spaces in the landscape. In fact, Sara Stein had a flower garden as part of her configuration. In stone terraces and planting areas around the house, the Bests now nurture the herbs and vegetables that still hold Best's fascination. As a result, the garden fulfills on all planes. "I love sharing and making connections," Best says of a process that often includes swapping native plants for vegetable starts.
Nurturing Sara Stein's garden to maturity has entailed some tough choices. In addition to invasive issues, plants crowd each other and require ruthless pruning or removal, but that's all part of the gig. Meanwhile, Ellen Best is keeping abreast of current knowledge as it hits the native-plant movement. She goes to lectures and listens to scholars. But mostly, she is a student of the land.
"Nature teaches us," Best says. This legacy is in good hands.