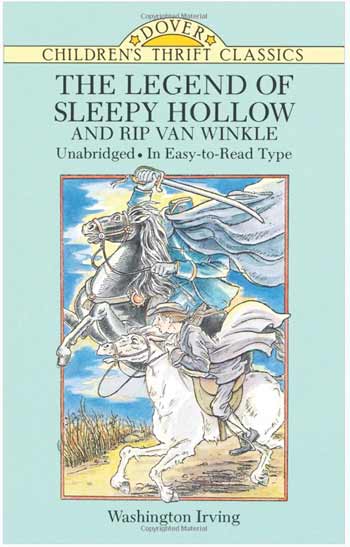 Maybe they should start calling it Hollowood.
As we've all noticed countless times before, fairy tales and spooky stories are on the rise in movies and television—and they often come in pairs. There were two Snow White-related movies this year, for example, and two TV shows about characters from Grimm's stories living in the real, modern-day world. And, now, there may be two versions of Washington Irving's Sleepy Hollow headed to the small screen.
The first, which has received "put-pilot commitment" from Fox (meaning it's pretty much guaranteed that at least the pilot will air), is described thusly by the Hollywood Reporter: "The…dramatic take on Sleepy Hollow is described as a modern-day supernatural thriller based on the 1820 short story in which Ichabod Crane partners with the town's local female sheriff to bring peace to a beleaguered community."
Some heavy hitters are attached on the creative side. The show will be written and executive produced by Fringe's Alex Kurtzman and Roberto Orci, who have also written movies such as People Like Us, Cowboys and Aliens, The Proposal, and Star Trek. Len Wiseman will also executive produce the show and direct the pilot—he just directed the Total Recall do-over with Colin Farrell. Okay, none of them really have a fabulous filmography, but most of their projects are big and entertaining in some way.
Photo © Karen M. Sharman
Still, those big names weren't enough to scare off the CW's/Warner Bros. TV version of Irving's tale, also called, for the moment, Sleepy Hollow. The people attached to this version are nowhere near as big-ticket. The team includes executive producers Grant Scharbo and Gina Matthews, who also executive-produced TV series The Missing (the one where Ashley Judd is a former spy who needs to go in search of her son). Deadline reports that the announcement of the Orci/Kurtzman version of the tale "led to the CW pushing the pause button in the negotiations to reaccess [sic] the situation. The network eventually proceeded with buying the project, described as a boundary-pushing horror story for television."
So, there you have it. I wonder if any of the producers are going to take a ride up to Sleepy Hollow for some inspiration. (More points to them if they actually shoot on location here.) If they do, they definitely should stop over at Washington Irving's Sunnyside—maybe some of Washington Irving's creative genius will rub off on them.
Now, the important part: Who do you see in the role of Ichabod Crane? Those are some big shoes to fill: both Johnny Depp and William H. Macy have done the park in the past. I could see Jonny Lee Miller doing a good job if he wasn't already Sherlock Holmes in CBS's Elementary. (It's a shame, too, since it'll be hard for Jonny Lee Miller to live up to the brilliant Holmes performance that Benedict Cumberbatch is currently giving on PBS's Sherlock.) Cillian Murphy, who often takes offbeat roles and is now free of his Batman commitments, could also be a good match. If you could play casting agent for a moment, who would you pick?