Pinehurst Resort • Pinehurst North Carolina
The fabled North Carolina resort steps up with a complete remake of Pinehurst's Number 4.
By Declan Russell
Pinehurst Resort, never one to rest on its considerable laurels, took yet another leap forward last year with the opening of Pinehurst Number 4, a new major-championship-caliber golf course designed by Gil Hanse that joins several other head-turning additions to its already-fine portfolio of attractions.
There are nine courses to choose from at the resort, but the most famous is Number 2, the site of numerous major championships, including the 2014 US Open (Men's and Women's) and the iconic 1999 US Open, won by Payne Stewart, which is memorialized by one of the most-photographed statues in golf next to the 18th green.
The new course, Number 4, may actually outshine its sister's reputation as more players experience the all-new design that replaced the very fine old course on the site. Hanse says the new course is meant to be a companion to Number 2, and it is. Hanse is often cited as the architect of the Olympic course in Rio, but locally he is responsible for updating some of Westchester's most iconic courses, including Winged Foot.
In Pinehurst, Hanse built a course with routing, exposed sand, and native grasses similar to Number 2 (as restored by Coore and Crenshaw) but made everything bigger, to fit the new layout's topography. Fairways are expansive, but so are the bunkers, water hazards, and greens. While Number 2's small turtle-back greens punish a weak short game, Number 4's treacherous bunkering penalizes poor tee shots and approaches. The greens on Number 4 may be more receptive than Number 2's, but that's mainly because they're larger in keeping with the scale of the course. That doesn't make three-putts any less likely, though, since forty-footers are all-too common, and the contouring is stronger, too.
When you're filling out your dance card, be sure to include a spin with Pinehurst Number 8, a tough and dazzling Tom Fazio design built to celebrate the resort's 100th anniversary, in 1996. You should also check out Number 9, the only Jack Nicklaus-designed course in the Sandhills, which was added to the portfolio in 2014. And don't forget the other five — yes five! — good tracks at the resort.
Finally, no trip to Pinehurst would be complete without a round (or two) on the Cradle, a delightful Gil Hanse-designed par-3 course that's perfect for families to enjoy together or for serious golfers to hone their wedge play and putting. The Cradle sits between the massive putting green with its own 18-hole putting course, "Thistle Dhu," and the Pinehurst clubhouse.
Also new at Pinehurst (and almost worth a trip in itself) is the Pinehurst Brewing Company, a microbrewery that occupies what was once a steam plant. Its diverse lunch-and-dinner menu, with not-to-be-missed barbecue, will be a highlight of your visit. In addition, Pinehurst provides seven other drinking-and-dining options, including The Deuce, which overlooks the 18th green of Number 2 and is filled with photos and memorabilia of golf history. You can stay in one of three hotels or rent a condo, and the resort sits in the midst of a village full of laid-back amenities to enjoy.

The Bear Trap — holes 15, 16, and 17 — on PGA National's Champion Course
Photo by Brian Oar, Fairways Photography
PGA National Resort & Spa • Palm Beach Gardens, Florida
There may not be a million-dollar purse on the line, but the Champion Course will test your golf nerves.
By Stephen Lewis
One of golf's unique appeals is that even rank amateurs can play the same courses as the tour pros. If you've got the bug to see how your game measures up, one of the best places to find out is PGA National Resort and Spa in Palm Beach Gardens, Florida. The Champion Course, which has hosted the Ryder Cup, PGA Championship, the Senior PGA Championship and, since 2007, the Honda Classic, will test your game in the same demanding way it does the pros for whom the course was designed.
The Champion Course just underwent another major renovation by Jack Nicklaus and his team in a never-ending effort to keep it tough enough to remain one of the top venues on the PGA TOUR. The layout is best known for the "Bear Trap," three challenging holes where wind and water demand extraordinary "course management discipline" and shot execution.
PGA National also features four other first-class tracks: The Palmer, which was renovated in 2017; The Fazio, which was recently modernized by Tom Fazio II; The Squire, named in honor of Westchester's own Gene Sarazen; and The Estates, a shorter but still challenging course located a few miles from the main resort.
If playing the five courses doesn't adequately scratch your golf itch, take it to the David Leadbetter Golf Academy on-site since 2008. Or sharpen your short game at the Dave Pelz Scoring Game School at PGA National. For a tour player training experience, check out Every Ball Counts Elite Training located at The Estates Course.
PGA National's amenities were greatly enhanced by a recent multimillion-dollar resort-wide renovation touching every facet of the facility. The European Spa was redesigned, the sports and racquet club features a new pavilion and tennis shop with hospitality stations and child-focused areas, and the fitness facility was expanded and refreshed.
Whether you're traveling with a group of 36-a-day diehards or getting away with your better half, PGA National Resort and Spa has a vast array of accommodation options, ranging from guest rooms and suites to golf cottages and long-term rentals. You'll also enjoy spectacular dining opportunities, including the resort's signature Ironwood Steak & Seafood, winner of the Wine Spectator Award of Excellence. There are seven other excellent culinary concepts to enjoy on site.

Streamsong Black, Hole 9
Photo by Laurence Lambrecht
Streamsong Resort • Bone Valley, Florida
Extraordinary golf in a unique resort.
By Dave Donelson
Florida golf like no other in the Sunshine State is found in the Bone Valley, home to Streamsong Resort and its three must-play links. Built on a gigantic scale with sweeping vistas of the Central Florida landscape, Streamsong's courses are a welcome respite from the theme park crowds and house-lined fairways often associated with Florida golf. Add in the resort's upscale amenities, and Streamsong makes for an ideal buddy trip or gals' getaway destination.
The trio of golf courses at Streamsong sprang from the imaginations of the hottest architects in the game. Each team was given a generous and unique piece of property and each produced a surprisingly different masterpiece.
The newest — and most thought-provoking — addition to the Streamsong portfolio is the Black Course, a par 73, 7,331-yard colossus of a golf course designed by Gil Hanse and his partner Jim Wagner, whose deft touch can be found all over Westchester including Sleepy Hollow, Quaker Ridge, Fenway, and both courses at Winged Foot. The Black Course is absolutely wild, with sand features and landforms born of the property's prehistoric past. Even as long as the Black Course plays, though, a patient and deft short game is more important than driver bombs off the tee.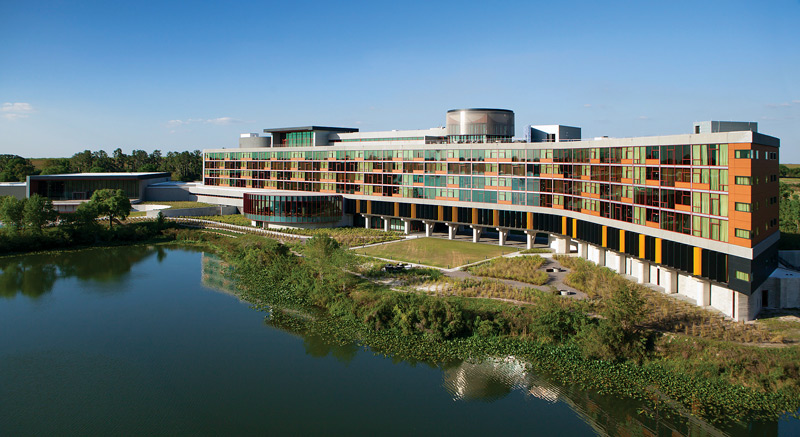 The Lodge at Streamsong
The greens are roughly double the size of those played on the PGA Tour, which might seem like an advantage until you realize that the approach shot you thought was perfect leaves you with a 120-foot putt that breaks five times. In fact, shovel-tusked mastodons, 30-foot crocodiles, and hornless rhinos that roamed the Bone Valley millions of years ago could easily be buried just beneath the slick surface of the staggeringly large and radically contoured greens. That makes chipping interesting, too, with aiming lines 25 feet away from the cup not unheard-of.
But is the Black Course fun? You bet!
Bill Coore and Ben Crenshaw, known in Westchester for their renovation of Wykagyl, put their talents on display on the Red Course, a tough 7,148-yard gem that winds through muscular sand dunes and natural bunkers in rolling terrain. Well-thought-out greens are protected by not just bunkers and water, but intimidating landforms, as well. Tom Doak used elevation change to its best advantage on the Blue Course. Its 7,176-yards follow a track through fairways lined by hip-deep wild grass rough and enormous bunkers among towering dunes.
Here's an insider's tip: Don't book 36 holes in a day. Not because you can't handle it, but so you'll have time to play The Gauntlet, the two-acre putting course next to the clubhouse at the Black Course, and The Roundabout, a seven-hole free-form practice course abutting the range there. Both just magnify the fun of your golf experience at Streamsong. You'll also want time to enjoy a lakeside swim, the Acqua Pietra Spa, guided bass fishing, archery, sporting clays, and tennis, all available on the 16,000-acre property.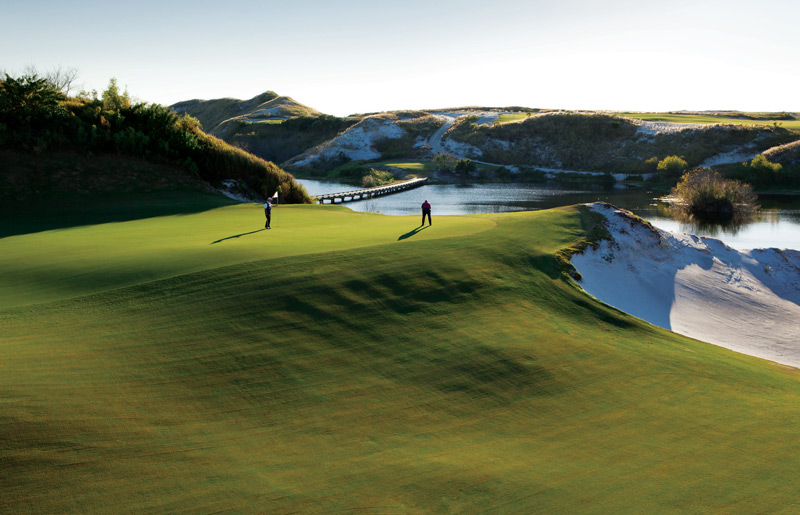 Streamsong Red, Hole16

Save some energy for dinner, too. Four dining options range from above-standard to above-excellent, if that's possible. Sotto Terra, the intimate fine-dining spot in the Lodge, may have an Italian theme, but the menu is far from traditional. A favorite starter is semolina gnocchi with enoki mushrooms in a creamy Gorgonzola sauce, while halibut with creamed cauliflower and black truffles or linguine in pesto surrounded by perfectly seared sea scallops make spectacular entrées.
For steak, it's Restaurant Fifty-Nine at the Clubhouse. Under new chef Joshua Tanner, it's one of the most creative steakhouses you'll ever experience. Sure, there is a perfectly presented 28-day-aged 18-ounce rib-eye, but there is also a dish of creamed greens that takes that place of standard spinach. You'll also want to start with the 59 charcuterie plate, which features house-smoked meats like duck bacon and cheeses served with house pickles and honey made from hives on the property. New to the menu is onion soup made with seven varieties of the allium and Jägermeister. Still not sated? Finish with crème brûlée flavored with the local honey and rosemary.
The luxurious, 216-room lodge is as unique as the golf courses. It's modern; it's sophisticated; yet it's relaxing and has a surprising feel of the outdoors brought inside by floor-to-ceiling windows throughout, offering wonderful lake views. Streamsong is easy to reach by car from Tampa or Orlando.

TPC Danzante Bay, Hole 17
Photo by Julien Leveau
Villa del Palmar Beach Resort • Loreto, Mexico
Beach. Mountains. Golf. What more do you need?
By Jeremy Leigh
Villa del Palmar Beach Resort & Spa at the Islands of Loreto in Mexico serves up everything you need for a relaxing getaway with casual grace and bonhomie. Golf tops the list of amenities, but not by much over the world's second-largest protected national marine park with more than a half-million acres of untouched natural wonders at your doorstep. Then there's the charming capital city of Baja Sur, Loreto, a short 30-minute shuttle ride away. Add fine dining, some raucous nighttime entertainment, and a 39,000 sq. ft. spa, and you have everything you need.
The gem of the resort is the TPC Danzante Bay Golf Club, home of a beautiful and user-friendly golf course designed by Rees Jones, which was completed in 2017. With wide fairways, welcoming greens, and tee boxes that enable you to play it from 4,916 to 7,237 yards, the course is fun for hackers and bombers alike.
The course plays through a desert valley before climbing into the Sierra de la Giganta mountains, then winds back down to kiss the ocean before turning back skyward where it peaks at the spectacular 17th hole, a 178-yard one-shotter perched on a precarious cliff 250 feet above the glittering Sea of Cortez. Seriously, golf doesn't get any better than the tee shot on this gem.
The club has a fine range, short game area, and a nine-hole putting course for extra fun. When you visit, be sure to ask affable head pro Danny Garcia about the time he received an apology from Ben Hogan!
Golf competes with water activities at Villa del Palmar, and quite frankly, it's pretty much a tie. In addition to the usual pool/beach pastimes like swimming, paddling, and volleyball, you'll want to explore the magnificent Bahia de Loreto National Park, the marine preserve where you can snorkel among the dolphins, sea turtles, and 900 other protected creatures, explore the five islands in Loreto Bay, or just sail around the serene marine park undisturbed by Jet Skis and speedboats.
There's plenty to do on dry land, too. A hike into the mountains on nine miles of well-marked trails will lead you to some magnificent vistas along with a solid cardio workout. You can also arrange ATV tours and visits to the marketplace and picturesque 1697 mission in Loreto. Afterward, a visit to Villa del Palmar's Sabila Spa will rejuvenate you. Dining options include a casual buffet-style eatery, a poolside restaurant with a full menu, and Danzante, the resort's fine-dining steakhouse.
Villa del Palmar opened in 2011 and is ready to take its place among the best resort destinations in Mexico. It's an easy 90-minute flight from LAX.