Photography by Cathy Pinsky
Hairstyling by Diane Mamanna and Amanda Bisignano of Salon Posh
Makeup by Jill K. Imbrogno of JKFlashy Makeup Service
The Entrepreneur & Musician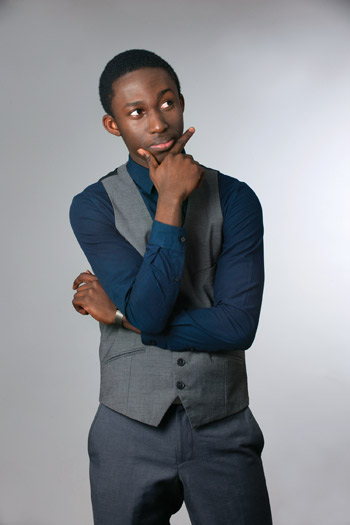 Eugene Boakye-Firempong
Grade 12, Woodlands High School, Hartsdale
Originally from Ghana, Eugene Boakye-Firempong is thrilled about the opportunities he has had in Westchester to develop his entrepreneurial and musical skills. He was a semi-finalist in the Westchester County "bizplan" competition for Fly Kickz, his custom-art sneaker business plan. "I made it to the top five," he says.
And playing the marimba, he made it to the national Afro-Academic Cultural, Technological, and Scientific Olympics (ACT-SO). "Music is a very big part in my life," he says. "Growing up, I would listen to songs on the radio with my family. But it wasn't until I came to the U.S. that I was introduced to jazz."
"He came here not knowing how to read music," says Iantheia Calhoun, Woodlands High School's band director. "He learned it faster than most of my other students, and now he's our percussion and drum leader. I hate to lose him."
Though he wants to be a mechanical engineer (and his own boss one day), Boakye-Firempong would like to keep music as a central part of his life.
The Humanitarian
Helen Brosnan
Grade 12, School of the Holy Child, Rye
Helen Brosnan is a true humanitarian. She's traveled to a variety of cities in South America, Africa, and Asia, learning about the hardships many third-world citizens face. In "What's Buggin' Brosnan," her column for the school newspaper, readers learn about the issues she cares about.
In the fall of her sophomore year, Brosnan co-founded Project India, which raised more than $4,000 to help build an all-girls school in Calcutta. Her inaugural trip abroad was to Peru with her school in June 2010, when she was a rising junior. There, she volunteered at an orphanage for a week. She then traveled to Ghana, again with her school. "This, I am certain, has changed my thinking, my morals, my life forever," she says. "As expected, poverty was ubiquitous. But there was something other than overwhelming poverty that struck me—the people."
Brosnan also has used her column in Holy Child's newspaper to express her opinion on political and social issues that irk her, hoping that a more aware and informed American youth will prompt them to do more humanitarian work overseas. "I think writing and communicating are integral steps in changing the world," she says. In addition, she writes an online column for PolicyMic, a Harlem-based organization where she has a full-year remote internship.
"She's stellar," says Colm MacMahon, head of the upper school at Holy Child. "She understands her responsibilities in her small community and in the larger world. She has a tremendous passion for global issues. And she also feels a deep personal responsibility—she never tries to pass the buck."
Brosnan plans to continue to be an activist after graduation. She's been accepted to Georgetown's School of Foreign Service; she plans on majoring in international politics. "I want to work in state office or as an ambassador, whether in the outer sphere or more directly in policy, but I also want to write," she says. "At some point in my life, I plan to do journalism, too."
The Golfer
Nicole Morales
Grade 10, John Jay High School, Cross River
T hanks to numerous medals and triumphs over international golfers, as well as the prospect of an LPGA title, Nicole Morales is one of New York State's top golfers. Nevertheless, her teachers will tell you, Morales is humble, respectful, and hardworking.
Tagging along with her dad to the golf course, Morales hit her first golf ball at age four—and she hasn't stopped since. As a freshman, she made the boys' varsity team and went to states. She won medals in several matches and also won the New York State Junior Girls Amateur Championship by 14 shots. This past Thanksgiving, she won the AJGA Polo Golf Junior Classic, an international event in Palm Beach Gardens, Florida. She beat 78 girls, four of whom were All-American.
"She's a natural golfer—she's one of the best girls in the world in her age group right now," says Cheryl Anderson, Morales's longtime golf coach. "She's played in a futures tournament with professional golfers and she finished thirtieth, so she's already competing against people who do this for a living. She works harder at her game than anyone I've ever seen."
"Golf has taught me honesty, integrity, and respect," Morales says. "It's a game that asks everything of you and gives nothing back—so if you want it, you have to love it and work hard at it."
The Pianist & Scientist
Alan Cha
Grade 10, Walter Panas High School, Cortlandt Manor
Alan Cha knows how to compete and he knows how to perform. On an average day, he can be found acing college-level music classes and playing piano in front of a full house—or winning international science competitions.
Cha admits he does get nervous performing at some of the storied venues he's visited, including Carnegie Hall. "I try to just think about the music," he says. "I don't want the audience to affect my playing."
But there is much less anxiety when vying for science prizes in competitions such as the international RoboCup. "It basically involves two-on-two soccer matches with homemade robots and an infrared-emitting LED soccer ball," he says. "In 2010, when we went to Singapore, we finally managed to get first place, along with a pretty handsome trophy."
The Javelin Star &Medical Researcher
Stephanie Riocci
Grade 12, John Jay High School, Cross River
Stephanie Riocci is no typical high-schooler. When she isn't making medical discoveries, she's breaking records throwing the javelin for John Jay. She is ranked No. 1 in New York State.
Riocci spent her last two summers as a member of the therapeutic proteins department at the Regeneron bio-pharmaceutical lab in Tarrytown. Last summer, Riocci basically, "found a way to add a gene to DNA, or add DNA to DNA." Last year, as a junior, she used this project to compete in the Westchester-Rockland Junior Science and Humanities Symposium, in the biology category of the competitive poster competition—and received the first-place award. During her second summer at Regeneron, Riocci discovered a unique way to cut the drug discovery process down from five to three days. She plans on giving a PowerPoint presentation on the subject at this year's Westchester-Rockland Junior Science and Humanities Symposium.
She took up javelin to stay in shape for soccer season. "I have never liked running—in soccer I'm a goalie—so I looked to try out for one of the three throwing events my school offers," she says. "I soon realized that I didn't have the right size and build to ever be very good at shot put, and I never really got the spin of the discus quite right. Javelin was not just about brute strength—it required speed, agility, arm strength, and a lot of focus." After winning All-League, All-County, and All-Section, her coach thought she should enter the Eastern States Championships competition. Her first time out, she ended up taking third place and breaking the javelin all-time school record.
The Orator
Omar Gouda
Grade 12, Pelham Memorial High School
Let's face it: most people don't even know what competitive oratorical declamation is, or that you can be "back-to-back state champion in forensics speech." Omar Gouda has achieved that distinction, along with being ranked No. 5 in the nation in said category. Gouda is also a two-time student-body president and a member of an award-winning chorus.
Gouda says he started in forensics because his height prevented him from getting lead roles in the school play. Once involved, he found it was like putting on a one-man play.
This past year, Gouda stretched himself even further, entering in two other categories: Humorous Interpretation, where he had to perform a multiple-character comedy by himself, and Original Oratory, where he had to recite a speech of his own creation. "Compared to oratorical declamation, they are both much, much deeper," he says. "With oratorical declamation, it's someone else's voice—steady and easy to assume because it's all set in ink before me. A champion of original oratory is a true wordsmith and a master of his own personality. If I can do that, then I will truly be allowed to call myself a champion. Maybe I'll even be able to get a date one day!" Gouda is planning to go to Williams College in the fall.
The Volunteer
Catherine Ann Gray
Grade 12, School of the Holy Child, Rye
There is a lot that ought to be fixed in this world, and people like Catherine Ann Gray have made it their personal mission to do so. She has volunteered her time to help people affected by natural disaster and deadly epidemics.
Having had a Hurricane Katrina survivor cry in her arms during a volunteer trip to New Orleans, Gray knows just how much her efforts can make a difference. "We'd go down to the Lower Ninth Ward, which was the most affected area and clear lots for building new houses," she says. "We'd rake debris and clip weeds. Knowing that our work might improve the quality of the lives of those who have been displaced left a lasting impression on me."
Back home, she vowed to continue helping people who need it, no matter where they may be. Two years ago, she introduced her school to a program called Nothing But Nets, which raises money to purchase mosquito nets for malaria-affected regions of Africa. "Malaria remains one of the deadliest diseases on the continent," she says. At a basketball-themed fundraiser she planned, more than 60 Fordham Prep and Holy Child students raised more than $2,000 for the campaign.
"She really is passionate about the cause," says Dorothy Harris, the director of campus ministry and diversity director at Holy Child. "She understands, however, that you won't get anywhere unless you can get others involved, too."
Gray notes, "I've also worked closely with students in the grades that follow so that when I graduate, the work and success will continue." Another Nothing But Nets event is planned for this spring, and Gray is eager to take the idea with her to college. "My sister goes to Boston College and they have a similar fundraiser called Hoops for Hope, so whatever college I end up at, I'd love to create my own club if they don't have one."
The Spokesman
Jason Jakoby
Grade 12
Solomon Schechter School of Westchester, Hartsdale
As a young man with type 1 diabetes, Jason Jakoby has become an outspoken advocate and a member of JDRF, formerly known as the Juvenile Diabetes Research Foundation, and has gone nose-to-nose with U.S. Congress members about the importance of finding a cure for diabetes.
Some of Jakoby's most rewarding moments have been the speeches he has given on behalf of JDRF. He was chosen by the foundation after it discovered a moving letter he had written to President Obama about the issue of stem cell research. As a result, he met with Congresswoman Nita Lowey to discuss the importance of diabetes-related legislation. "Afterwards, she agreed to co-sponsor vital legislation," he says. The following year, he was selected as New York's delegate for JDRF's Children's Congress, one of 150 kids who traveled to Washington D.C. last June to explain to members of Congress why research to find a cure for diabetes is so critical. "There is still much more work that needs to be done," he says, "and I intend to do it."
The Traveler
Grace Lee-Niosi
 Grade 9, Briarcliff High School, Briarcliff Manor
"Isn't it the duty of those who are more fortunate to help those who are less fortunate?" Grace Lee-Niosi asks rhetorically. Lee-Niosi views her annual charity work in Nicaragua as common sense. She has traveled for the past three years to San Juan del Sur, Nicaragua, to work at an eye clinic at the local elementary school. "I go on ten-day trips with an organization called VOSH that my mother was involved in," she says. "It's mostly adults; I'm one of the only kids there. Doctors give us prescriptions, and we're in this huge room with thousands of pairs of unsorted glasses, so we have to go through them and try to find the closest match." VOSH-CT serviced more than 2,700 patients on its last trip.
"Grace is an integral part of the team; we couldn't do the mission without her," says Audrey Blondin, clinic co-director of VOSH-CT. "She is mature beyond her years—graceful, poised—and an asset to the entire mission. She is the youngest on the team age-wise, but certainly not professionally."
Lee-Niosi is planning to go again next year. "Every year we see improvements," she says. "There is no greater feeling in the world than seeing the smile on a young child's face. It makes all of the grueling hours worth it."
The Swimmer
Devin Marrero
Grade 12, Saunders Trades and Technical High School, Yonkers
Devin Marrero was affected by cerebral palsy from an early age. "In second grade, I realized I was different," he says. "At recess, when all the other kids played tag, I wondered why I couldn't keep up with them." Still, he had dreams that he refused to put aside. "I wanted to accomplish more to prove to myself and to my doctors that I could do anything I put my mind to." Today he is a successful competitive swimmer, having won gold and silver medals in the 50-meter freestyle at the Special Olympics.
"I once thought making the varsity swim team was as likely as winning the lottery," he says. "But I made it." The tough training he went through not only improved his strength, it actually helped his walking ability.
Marrero is also involved in community service, raising money for cancer research through Relay for Life for the past five years. He raised $3,500 the first year he was involved, and, this year, he was named a Top Youth Participant for raising $7,000. "Devin's participation in this event shows how he has turned tragedy into triumph, inspiring others around him to join him in the fight against cancer," says Kerry Wong, manager of special events at the American Cancer Society. "His charisma, energy, and dedication shine, so that others can't help but join in."
Marrero hopes to become a special education teacher.
The Defender
Hannie Everett
Grade 11
Solomon Schechter School of Westchester, Hartsdale
Hannie Everett, who is studying Latin, Arabic, and Hebrew, is a member of the nationally acclaimed Solomon Schechter Moot Beit Din team, which is similar to Mock Trial, but with a focus on Jewish law. Last year, she was selected to be one of three students sent to the national competition in San Francisco.
Moot Beit Din demands rigorous, writing- intensive preparation. Everett and her team had to prepare a 10-page, single-spaced, written argument about human cloning, then present it in the "court room." Then, they had to submit to a barrage of questions from the judges. Teams were tasked with making a ruling based on modern and ancient code—from Judaic law to UN-inspired proceedings. Everett competed against 20 teams from around the country. Her team placed first in its division.
Everett, who is also a three-season varsity athlete, says that harnessing language is the key to creating international peace and acceptance. "If we could all understand each other through language and also understand each other's values and beliefs, I strongly feel that worldwide acceptance and tolerance could be achieved," she says. "A key belief in Judaism is 'tikkun olam,' or repair of the world. While we may not be able to complete the job in one generation, we must start the process."
She plans on defending her title at this year's national competition. After that? "I definitely want to go into international relations, but right now all I'm worrying about is the SATs."
The Train Aficionado
Aaron Grand
Grade 10
Solomon Schechter School of Westchester, Hartsdale
Aaron Grand has always been fascinated by trains. But who knew his fascination would lead to countless awards in rocketry design, engineering, and aeronautics—all before the ninth grade?
Grand's interest in trains has been apparent since nursery school, when, instead of drawing rainbows and flowers, he drew the New Jersey Transit system. It moved on to making model trains from there, and, eventually, he needed his own "train room." That led to his passion for building and designing rockets and remote control devices. "In Discover Camp, I've taken classes that are specifically dedicated to engineering," he says.
Additionally, Grand is extremely passionate about theater. He has played Rooster in Annie and Hines in The Pajama Game at Solomon Schecter and Grandpa Joe in Charlie and the Chocolate Factory for the Play Group Theatre. (He's also been a cellist for the past five years.) "Trains, history, and math are things that I can only enjoy by myself," he says. "Theater, however, gives me the opportunity to accomplish something as part of a group. I have to learn how to work with others."
The Actress
Kathryn Faughnan
Grade 12, Pleasantville High School
You may have seen Kathryn Faughnan in one of her three films—The Forgotten, The Great New Wonderful, and Coach—on an episode of Law & Order, or in her role as Jane Banks in the original cast of Mary Poppins on Broadway. She even won the Metropolitan High School Theater Awards' Oustanding Actress in a Leading Role trophy for her performance as Princess Winnifred in Pleasantville High School's Once Upon a Mattress in 2010, when she was a sophomore.
She's been the high school lead three years in a row, an unprecedented feat. This year, she is playing Belle in Beauty and the Beast at Pleasantville, a production with about 80 cast members, plus another 80-student or so crew. "I get to wear this great dress with a big skirt—that's probably what I'm most excited about," she says.
"She has instinctive ability," says Kathleen Donovan-Warren, Pleasantville's theater and choral director. "She knows how to move on stage and has a lot of personal presence. But she's also a wonderful kid who takes direction."
Faughnan has loved participating in her high school productions. "I'm able to work with other kids my age," she says. Faughnan relishes the opportunity to perform for her community. "Last year, I was especially grateful because we incorporated children from the elementary and middle school in our town into our production of The Wizard of Oz," she says. "It was great to be able to get the younger community involved with the arts."
As for the future: "I'm always going to incorporate acting in my life—I've been doing it since I was five—but I don't know whether I'll be doing it as a profession or on the side."
The Birder
Benjamin Van Doren
Grade 12, White Plains High School
Twelfth grader Benjamin Van Doren is a dedicated birdwatcher who not only watches birds, but spots new species.
As secretary of the New York State Young Birders Club—he is a founding member and a former president—Van Doren has written for a number of publications, including North American Birds, the American Birding Association's quarterly journal, the bi-monthly journal Bird Observer, and Birding magazine. He's spent weeks at a time birdwatching in Arizona, where he recorded the first-ever sighting of a brown-backed solitaire in the United States. "Finding a bird so rare—it wasn't on the official species list for this country—is a big deal in the birding community; it doesn't happen very often," he says. "Over the next couple weeks, hundreds of birders traveled to see the solitaire." He spent the summer on a small island off the coast of Maine helping research at-risk nesting seabirds, including Atlantic puffins.
Van Doren was recently named an Intel Science Talent Search national finalist—one of only 40 in the country—for his research on "morning flight," a certain migratory phenomenon in birds. "His accomplishments in organizing, coordinating, collecting, compiling, analyzing, and interpreting his data for his Intel submission would be highly regarded if accomplished by a talented undergraduate or graduate student," says mentor Andrew Farnsworth of the Conservation Science Program at the Cornell Lab of Ornithology. "To see this level of excellence from a high school student is, frankly, amazing."
You can read about Van Doren's adventures on his birding blog, warblings.wordpress.com.
The Scholar & Athlete
Caleb Gilligan-Evans
Grade 12
Archbishop Stepinac High School, White Plains
There's no denying that football is a rough and exhausting game. But balancing the challenging sport with an equally challenging academic schedule is something Caleb Gilligan-Evans has mastered.
His PSAT scores qualified for National Merit recognition, but that's only one of his many accomplishments. "He has won so many awards: National Honor Society, Golden Dozen, All-State, All-County," says Coach Mike O'Donnell, Stepinac's athletic director, who reports that Gilligan-Evans was awarded the Catholic High School Football League's highest honor, the Monsignor Peter's Award, "which is given to the league's best scholar-athlete football player."
"Since Caleb has been a varsity starter," O'Donnell says, "Stepinac has won thirty-four games in four years. We have been to three championship games, and won a championship in 2010 in an undefeated season. Caleb is the leading career rusher and scoring leader in school history."
Since age five, Gilligan-Evans knew he loved football. To play the game today, he does all his schoolwork as soon as it is assigned. "Then I can focus on football until my next assignment," he says.
Any wonder colleges are courting him? Bryant Univeristy and other colleges have offered him scholarships as early as last spring. (He is, however, going to Yale, the only school to which he applied.)
The Shoe Collector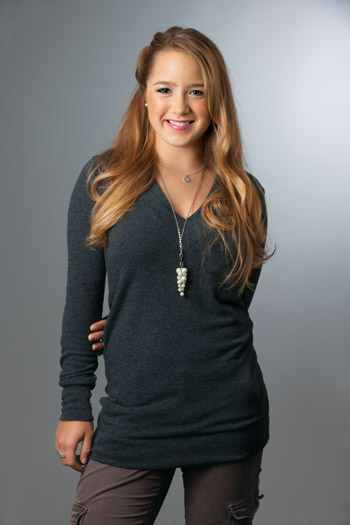 Amanda Hurlbut
Grade 12, Rye Neck High School, Mamaroneck
Leaving the house with shoes on is something we probably all take for granted. Not so for the poor in Liberia—something that Amanda Hurlbut is out to change.
"I'm in the Independent Learner Program at my school, which has given me the opportunity to explore global issues like human aid efforts," she says. "A Youth Action International leader visited us at school, and I started contacting NGOs about how that works around the time of Haiti."
Though the Kids with Sole organization, which helps collect shoes for Liberia's poor, originally was formed by an older student at her school, Hurlbut took it over. To date, Kids with Sole has collected 2,000 pairs of sneakers. The organization has also participated in charity events, including a walk and fundraiser it hosted with the Boy Scouts of America.
"Most people have an old pair of sneakers hiding in the back of their closet that can be donated," she says. "Giving a gently worn pair of sneakers is something that anyone can participate in."
The Documentarian
Remy Litvin
Grade 11, Rye Neck High School, Mamaroneck
The next Scorsese may be right here in Mamaroneck. Remy Litvin has been volunteering at LMC-TV for several years, where he directs, edits, and co-produces Rye Neck Students: Above and Beyond, a monthly TV series that highlights the contributions and achievements of his classmates at Rye Neck. "It's much easier in today's society to focus on a bad story than focus on a good one," he says. "Having a show that puts out positive stories about high school kids made me proud, as cheesy as it sounds." The show was nominated for an LMC-TV Best New Series Award.
Documentaries like The U.S. vs. John Lennon and Man on Wire inspired Litvin to make his own documentary last year about the 1960s. "So many people were really generous to share their stories and memories with me—it was hard to edit it down to just a half-hour piece." The final product was nominated for the Best Single Program Award at LMC-TV.
"He's not afraid to try and learn, and he's not afraid to accept advice," says Dena Schumacher, the studio production manager at LMC-TV. "He's still developing and he's growing. A lot of kids who do well can let it go to their heads, but he's not one of those. He knows he's doing well, yet he's very grounded."
Litvin's aspirations include direction, not just in television, but also in film. "When I watch a movie that I really enjoy, the first thing that passes through my mind is, 'I hope they have a lot of cool, behind-the-scenes footage.'"
The Runner
Mary Cain
Grade 10, Bronxville High School
Mary Cain can run—fast. Lately, she's been breaking records regularly. Last April, she received the national No. 1 ranking in the 800 meter, and her sprint-relay team is nationally ranked at No. 2. Cain is being called one of the greatest running prodigies in the U.S., but she admits running isn't always easy. "Nerves sometimes still get the best of me," she says.
She began running at the start of seventh grade but didn't realize until she was at the nationals in North Carolina the magnitude of what she'd accomplished in just one year. At the nationals, they didn't really have a category to place her in, because seventh graders don't usually make it that far. After such a successful first year, she became a three-season runner. "I'm on varsity, but I'm kind of on the boys team now," she says. "After cross-country this year, I started training with the boys."
"She is the fastest middle-distance runner to have ever come through Westchester," says Cain's coach Ed Stickles. "She's two-tenths of a second away from qualifying for the U.S. Olympic Trials. She's very humble and internally motivated, both athletically and academically."
As for the future, Cain says, "I really don't know where I'll be, but I love running. No matter what, you'll see me out on the track."
The Triple Threat
Jacob Seidman
Grade 12, Harrison High School
Jacob Seidman excels in three very different fields: music, science, and athletics. His musical talents are undeniable, having won him the Maestro Award for Best Jazz Soloist at the Heritage Music Festival in Atlanta. Additionally, he was accepted into the prestigious Rockefeller University Science Research Program and holds the Harrison High School indoor record for pole vaulting. Talk about a unique triple threat.
"It might seem that jazz and scientific research are complete opposites, but after spending the past summer doing research at The Rockefeller University, I realized that I'm partially drawn to research for the same reason that I am to jazz," he says. "In both cases, you're moving forward into some unknown that you haven't experienced before."
Yet setting the indoor record for pole vaulting last winter was, he says, his greatest accomplishment—until he broke it again this past January. "As much as I love pole vaulting, it isn't something that comes naturally to me." Last winter, his record-breaking vault came in at 11' 6". This year, he beat that by nine whole inches, for a vault of 12' 3". Perhaps his luck will continue in college: Seidman was accepted to Harvard under early-action. 
The Composer
Travis Petre
Grade 12, White Plains High School
As a gifted musician, Travis Petre can pick up a beat or rhythm anywhere. That's why, as a senior, he's already arranged his own musical score and conducted his very own high-school band.
"I guess you could call me a reed guy," says Petre, who not only plays the bassoon but the clarinet and oboe as well. And though confident in his abilities, his unique arrangement of the Nintendo Medley was a challenge. Using score-writing software, he began creating a piece based on Nintendo themes his freshman year that he hoped his band director would let him play one day. He got his wish. "My director had me conduct most of the rehearsals and eventually conduct the full piece in concert," he says. Petre maintains he couldn't have done it without his supportive band, who, he claims, clapped louder than the entire audience.