Ask a handful of local high-school or college students what career advice they hear most, and they'll likely cite this refrain: "Want a good job? Study STEM."
In recent years, a background in STEM—an acronym for science, technology, engineering and mathematics—has been heralded as the ticket to a secure, rewarding, and high-paying job. It's hardly empty talk: Last year, President Obama pledged to invest more than $3 billion in federal STEM education programs across the country. But while not every student may heed the advice, Westchester County is definitely paying close attention.
Across the region, local schools and nonprofits are increasingly investing in STEM-oriented curricula and training, with the goal of creating science-savvy, career-ready graduates. And they're not alone: Local industry is investing in STEM, too, training residents and employees with the goal of shaping a capable, cutting-edge workforce.
Westchester's commitment to building STEM skills is a sound bet, but it's also one driven by necessity, says Laurence Gottlieb, president and CEO of Hudson Valley Economic Development Corporation (HVEDC).
"[STEM] is permeating literally every type of job," Gottlieb notes. "It's been an amazing transformation. Where Westchester industries weren't necessarily dependent upon STEM skills, now every employee must have background in science, technology, engineering, or math.
"If you want to be part of the economy, you have to have at least an appreciation for STEM," he continues. "You can't just say, 'I wasn't very good at science in school.' It's not an excuse anymore."
These days, Westchester students hardly have a reason to shrug off science. A growing number of school districts and nonprofits are partnering to make STEM education lively, engaging, and ubiquitous. At Girls Inc. Westchester, a nonprofit dedicated to empowering local young women, STEM education is a top priority.
"We want to dispel the notion that only men do STEM," says Heather Apollonio, development coordinator at Girls Inc. "There's a huge gender gap in STEM fields."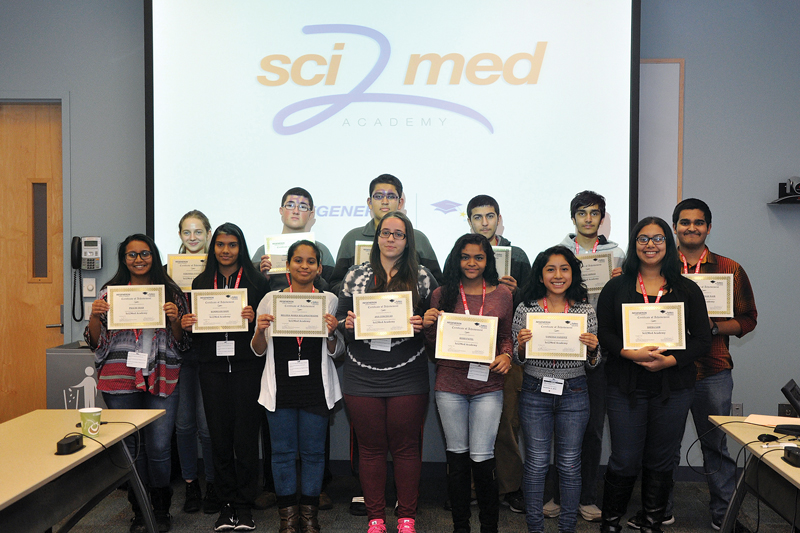 Renegereon supports a number of STEM education programs; (below) Girls Inc. of Westchester runs programs to empower budding female scientists.
To empower budding female scientists, Girls Inc. runs programs at local middle and high schools within nine Westchester school districts. One program, titled Operation SMART, invites female scientists from IBM, PepsiCo, and elsewhere into classrooms to explore subjects ranging from computer science to agriculture.
"These women not only talk about their current careers but also how they got to that point, why they got interested in science, [and] what their education paths were," Apollonio says.
Girls Inc. also helps organize coding parties that teach the basics of computer programming. In 2015, the group held over a dozen coding parties, reaching about 300 Westchester students. "We anticipate doing the same, if not more, this year," says Vanessa Santiago, director of programs for Girls Inc. Westchester.
Apollonio says that Girls Inc.'s investment in STEM is largely driven by the opportunity it creates. "The number of STEM jobs continues to grow every year, and they seem to be exceeding the workforce," she says. "We want to make sure our girls know about these opportunities."
Gottlieb believes it's programs like these, and the students they create, that will keep marquee corporations in Westchester for the long haul. "The more the school systems in Westchester County turn out top-flight students, the better it is for local companies like Regeneron, PepsiCo, and MasterCard," he says.
MasterCard itself is nurturing local STEM talent, with initiatives like Girls4Tech in a Day, a nascent program inspired by MasterCard's global Girls4Tech initiative. MasterCard may not seem like a STEM company at first, but "MasterCard is all about algorithms, digital convergence, and cryptography," says Susan Warner, vice president of worldwide communications. "If that's not STEM, I don't know what is."
Warner has been instrumental in bringing these subjects into local classrooms. In January, as part of a pilot program, Girls4Tech in a Day visited Anne Dorner Middle School in Ossining, commandeering the library for hands-on STEM education. Warner notes that the program eschews lectures for more dynamic lessons, like cracking codes and analyzing data, all alongside MasterCard employees. Since then, Girls4Tech in a Day has also expanded into schools in Port Chester. "[We're] hopefully inspiring girls to become more passionate about STEM," Warner says.
Another locally headquartered organization giving a boost to promising STEM talent is Acorda Therapeutics. Based in Ardsley, the biotech company develops therapies for individuals diagnosed with multiple sclerosis and other neurological disorders. Acorda has also developed the Acorda Scientific Excellence Award, in collaboration with WGCH radio personality Lisa Wexler. The award is doled out weekly to high-school students in Westchester and neighboring regions who are carrying out independent STEM research. Winners are rewarded with a plaque, bragging rights, and on-air recognition at WGCH.
"We continue to be impressed with the level of scientific research being done by high-school students in our area," says Tierney Saccavino, executive vice president of corporate communications at Acorda. "By encouraging and supporting the next generation of scientists, Acorda Therapeutics can play a role in helping to create the future researchers who go on to discover the next generation of medicines."
A little further up the Hudson lies Regeneron Pharmaceuticals in Tarrytown, a linchpin in Westchester's STEM landscape and the largest biotechnology company in New York State. A peek at their career website gives a sense of who they're hiring: "Scientific Data Architect," "Flow Cytometry Operator," "Oncology/Angiogenesis Intern."
When it comes to investing in STEM locally, Regeneron has a range of approaches, says Hala Mirza, the company's vice president of corporate communications. "We want to make sure people who show scientific promise at various points in their careers…[have] the support they need."
In doing so, Regeneron hopes to cement Westchester as a scientific hub and create a pool of local STEM talent. "The region really has a lot of interest in positioning the Hudson Valley as a hotbed of science and technology," Mirza says.
Regeneron is the presenting sponsor for the Westchester Science and Engineering Fair (WESEF), an annual event that engages hundreds of students across the region. Participants from Yorktown, Sleepy Hollow, Pelham, and beyond explore topics that range from breast cancer to wind turbines.
Regeneron also offers training for adults, particularly local teachers, says Potoula Gjidija, Regeneron's senior manager for community relations. The biotech company has developed a fruitful relationship with the STEM Leadership Center, a Westchester nonprofit that provides professional development for local science educators. The two collaborate on the STEM Teaching Fellowship program, now in its second year. The fellowship initiative began when Executive Director Lawrence Perretto—a sixth-grade science teacher at Hommocks Middle School in Mamaroneck—reached out to Regeneron with a novel idea.
"Most science teachers do not have any professional scientific background at all," Perretto says, discussing the program's genesis. "There is a profound disconnect between what happens in the science classroom and what professional science actually looks like." That disconnect, he adds, "is failing to encourage young people to pursue science and engineering in college and in careers."
The fellowship seeks to provide a solution. It's an ambitious program: Regeneron furnishes funding for 10 local science educators to receive hands-on training (and a $2,500 stipend) over the course of 16 months. Participants complete graduate coursework in STEM pedagogy, receive a graduate certificate from the Teachers College of Columbia University and spend two weeks working side-by-side with Regeneron professionals in the laboratory. "We think it's an innovative way to show teachers real laboratory skills and give them the opportunity to transfer that into their teaching experience," Gjidija says.
The STEM Leadership Center also seeks to make science education more engaging for Westchester students. The Center's staff—"seven full-time teachers, all working in part-time roles," Perretto says—run informal after-school science programs for youngsters. Students design and test wooden planes, to learn about aerodynamics; build model roller coasters, to unpack kinetic and potential energy; and launch rockets, to grasp the nuts and bolts of engineering.
"It's all project-based, experiential and discovery learning," Perretto says.
While the Center's classes can be fun and explosive, there's an endgame, as well: preparing Westchester's youngsters for a changing workforce here at home.
Freelance writer Kevin Zawacki is a frequent 914INC. contributor.