These 26 changemakers have excelled in their respective fields and are making waves throughout Westchester County and beyond — all before the age of 35. Meet this year's class of Wunderkinds: entrepreneurs, government employees, nonprofit leaders, and many more who decided that living a little deeper wasn't an option; it was a necessity.
Brittany Moretti, 32
Director of Operations
Ronald McDonald House of the Greater Hudson Valley
Many parents stricken with the misfortune of a sick child have found a reliable, safe, and supportive facility in Ronald McDonald House of the Greater Hudson Valley. Brittany Moretti has been helping to provide that home away from home for local families for more than eight years. In her time with the organization, Moretti has grown as program coordinator to her current role as director of operations, continually going above and beyond.
Currently, she manages the 12-bedroom facility located on the campus of Maria Fareri Children's Hospital at Westchester Medical Center and develops, implements, and measures outcomes for the various programs offered to families of hospitalized children.
Her passion, drive, and empathetic nature have allowed her to provide staff members, dozens of volunteers, and families with a safe and family-oriented care environment during a time of crisis. (She developed and implemented safety measures and COVID protocols to protect the Ronald McDonald House community.) Moretti, who has also served as an adjunct assistant professor for the School of Public Health at New York Medical College, has consistently garnered more than $100,000 annually in in-kind donations for the organization, as well as program services, helping to elevate the organization's mission in the community. —GV
Lauren Mcmahon, 28
Senior Staff Engineer
Langan
Barely five feet tall, Lauren McMahon manages to stand shoulder to shoulder with her civil engineering peers in what has traditionally been a male-dominated field. With a no-nonsense, common-sense approach to her job at Langan, a White Plains-based engineering-and-environmental consultancy, McMahon earned a double promotion in 2021 and was granted special dispensation to advance two levels in a single bound.
Day to day, McMahon delves into a wide variety of development projects, from industrial warehouses to commercial developments, mixed-use retail/residential projects, utility relocation jobs, roadway improvements, solar fields, battery storage sites, and more, while cross-training with Langan's environmental and geotechnical groups. "Each job comes with its own unique site constraints and challenges, so each job is an opportunity to learn something new and continue to grow."
With that positive-growth mindset and a dose of youthful confidence, McMahon is preparing to sit for the professional engineer certification exam. "I am fully expecting to be a licensed engineer this summer!" —MGL
Sarah Lonergan-Rothschild, 29
Director of Adult Housing & Services
Westhab, Inc.
Sarah Lonergan-Rothschild was raised with a commitment to helping others. A Mexican American adopted from Texas by a family with strong values of service, Lonergan-Rothschild channeled that devotion to help those who may not have the opportunities that she did, traveling throughout South America on mission trips. It not only connected her with her Hispanic identity; it also inspired her to focus her life on the assistance of others. "I realized, what can I do back in my local community? And I was always committed to youth," she explains.
Lonergan-Rothschild arrived at Westhab in 2014, beginning her career as a youth counselor with a passion for the mission that was immediately evident. By 2020, she had gone through three more role changes at the Yonkers-based affordable-housing nonprofit, the most recent as director of adult housing. But that promotion was coupled with the unthinkable COVID outbreak, putting an already vulnerable class of homeless people at even higher risk.
She was immediately faced with pressing issues, like finding new ways to feed clients at the Yonkers drop-in shelter and offering on-site testing. The increased demand for food donations caused her usual sources to dry up. Refusing to abandon those who depend on her, Lonergan-Rothschild and her team went to work to locate a new pipeline of donations. "I think people don't realize how much the pandemic can affect populations like those who are battling mental health and substance abuse and homelessness; it was a complex addition to their regular lives," she explains.
Changing lives for the better is what keeps her going, and Lonergan-Rothchild is optimistic for the future. "We have an amazing, new homeless initiative in Yonkers that started last March, and it's been doing so well," she says. "I am excited to see how it grows."—CC
Patrick Bardsley, 34
Cofounder & CEO
Spectrum Designs
Patrick Bardsley launched Spectrum Designs from a 200-square-foot barn in the backyard of a Long Island home. He had a single heat press, two employees, and a dream to make the job market a kinder place for neurodivergent people. In the 11 years since then, Spectrum Designs has evolved into a full-service custom-apparel-and-promotional-products enterprise that remains fully nonprofit, with a stacked client roster that includes Google, Uber, and J. Crew.
Born out of a mission to create meaningful and inclusive job opportunities for those on the autism spectrum, Bardsley wanted to do more for young adults aging out of the school system who would most likely face a bleak, jobless future. "The unemployment rate for autistic adults in America is estimated to be anywhere between 60 and 80 percent — and that's pre-pandemic," explains Bardsley. "There are people with and without disabilities, working alongside one another. Everyone is paid a living wage, and if you're full-time, you have benefits. We really want to stress that this is a business and an opportunity for economic advancement, like any other."
Bardsley is optimistic that more organizations will follow his lead of tapping into an overlooked workforce. "My hope is that misconceptions and patterns of thought around what neurodivergent people can do will change. Contrary to the saying, not all great minds have to think alike."— CC
Emily Bayuk, 23
Author of The STEM Diaries
Cybersecurity Consulting Analyst // Accenture
Emily Bayuk is pretty much the poster child for the push to make the science, technology, engineering, and mathematics (STEM) fields more inclusive and diverse. At age 23, the Bucknell University grad with a degree in electrical engineering is already riding a meteoric ascent to the top of her field.
Bayuk is currently a cybersecurity consulting analyst for Accenture, a Fortune Global 500 company that provides IT and other professional services to many of the world's largest corporations. Barely out of college, she is already a leader, overseeing a team whose mission is to ethically hack clients in order to detect vulnerabilities in their systems.
The Bedford native is also the author of two books — The STEM Diaries: Circuits and The STEM Diaries: Energy Conversion — that became No. 1 releases on Amazon in the Children's Electricity Books category after being published in 2021. "I wish I'd learned about circuits earlier in my academic career," says Bayuk. "I think students should have the opportunity to be exposed to it at a younger age." She has also established social media partnerships with such elite brands as Intel, Spotify, and RadioShack, and cohosts Women in STEM on Instagram Live every Wednesday.
Bayuk says her biggest reward is "just knowing I made a difference in [people's lives] and maybe inspired them to pursue a STEM career." —JM
Dante Hudson, 33
Chief Operating Officer
YWCA White Plains & Central Westchester
Dante Hudson knows how difficult it is to be a child with limited resources. "I'm a child of adversity, and having gone through a traumatic childhood motivated me to always work hard and be overly ambitious," he explains. The difference-maker for him came at age 14, when Hudson was working at a summer camp for the White Plains Youth Bureau. Being able to provide that level of leadership and childcare, while making a difference in the lives of others, cemented Hudson's legacy of a career dedicated to service, kindness, and leaving the world in a better place than he found it.
Hudson's job as chief operating officer at the YWCA White Plains and Central Westchester is now on the business side of the operation — cultivating the strategic vision of a portfolio of programs and operational services, as well as helping promote and diversify sources of revenue, among other responsibilities. But he still looks forward to the YWCA's camp every year with the same childlike joy that influenced him to enter this field. "When it comes to camp, I'm head-deep in it," he says. "I can't help myself; I love the experience of camp. I think that it gives kids such a different feeling: to be free, to be themselves, and to give them a change of environment." —CC
Corinne Perry, 30
Marketing Director
The Cappelli Organization
Although she works as marketing director for the Cappelli Organization, one of the region's largest full-service real estate development companies, giving back is at the heart of everything Corinne Perry does. While overseeing the company's social media, marketing, and advertising strategies over the last five years, Perry has also assisted CEO Louis Cappelli with a host of philanthropic efforts, including raising a million dollars for the March of Dimes.
To honor Cappelli and the enormous donation they raised, Perry also created a video to be screened at his acceptance ceremony. "When I showed him, he had tears in his eyes," says Perry. "When we screened it in front of 400 people [at the ceremony], it brought a lot of people to tears. It was one of the highlights of my career."
Perry, who also singlehandedly designed the company's website upon arriving at Cappelli, says she has grown to embrace her unique perspective. "Representation for women entering industries that have been historically male-dominated is very important to me now," she says. "Our company benefits so much from having a diverse set of viewpoints at the table, and it's really nice to work for an organization that understands that and makes me feel supported." —PA
J Guerra, 32
Celebrity Makeup Artist
Thanks to beauty moguls like the Kardashian-Jenner clan, Instagram, and YouTube's platform to graphically highlight talent, celebrity-makeup artists (MUAs) are now experiencing fame and well-deserved recognition in their own right. But long before internet tutorials were omnipresent and catapulting many MUAs to star status themselves, Larchmont resident J Guerra was blazing his own path.
Guerra began his journey doing makeup for friends at Mamaroneck High School. Now, more than a decade later, he has established himself as a well-respected MUA for international and local individual clients, bridal clients, and such corporate media giants as MTV, E!, Bravo, VH1, Food Network, HBO, and Netflix.
In addition to a celebrity client roster that includes music star Wyclef Jean, NFL legend Rob Gronkowski, and TV personality Bethenny Frankel, the 32-year-old received his New York State teacher's license and teaches makeup locally for brands such as MAC, Yves Saint Laurent, and Chanel in stores across the county. The latest gig for this film-set mainstay? Working at the brand-new Lionsgate Studios in Yonkers.
Guerra's accolades include being honored as Best Makeup Artist by Westchester Magazine and securing Best On-Screen Makeup and Best High Fashion Makeup honors from the International Beauty Industry Awards. —GV
Terrence Turner, 33
Senior Research and Discovery Specialist // Regeneron
Terrence Turner did not begin his college career with dreams of being a scientist. Attending Marist College on a partial football scholarship, his epiphany came when taking chemistry courses in his freshman year. The shift to a biomedical science major would not only change Turner's career path; a decade later, it would also place him on a global stage and squarely in the trenches of a pandemic.
Turner is a key member of the VelociGene Molecular Group, Regeneron's homegrown technology platform that accelerates, improves, and disrupts the traditional drug discovery and evolution process. Turner helped advance Regeneron's disease model development and has taken a crucial role in the expansion of tools to provide researchers with a better understanding of the correlation between a sequence of DNA and its role in disease biology. Regeneron was one of the first names in science to fight the pandemic, and Turner worked on the COVID program and the public response to it.
As an accomplished scientist, Turner now looks to motivate underprivileged students via science, technology, engineering, and math (STEM) outreach. "When you're exposed to it in your community," says Turner, "you can see yourself in that field easier." His goal is a simple one: He wants kids in underserved areas to know that they're as capable as anyone else. "Keep pushing forward, stay focused, and feel like you belong," he says.
As if Turner weren't impressive enough already, he boasts another pretty incredible notch on his belt: He was the New York Metropolitan Heavyweight Amateur Boxing Champion in 2017. —CC
Avery Zuvic, 30
Director of Community Impact
United Way of Westchester & Putnam
There are few things more important to Avery Zuvic than aiding the people of Westchester and beyond. As director of community impact for United Way of Westchester and Putnam, Zuvic wakes up each day with the mission to oversee a team of volunteers, staff, interns, and others in service of United Way's Essential Goods for Basic Needs Program, which "helps connect nonprofit organizations that we work with to items that are donated through retailers or philanthropic organizations," says Zuvic.
Beyond that, Zuvic also works on United Way's early-childhood literacy programs, programs for school-age children, and the organization's financial stability programs. She also aids in the company's annual nonprofit leadership summit. Yet, above all, Zuvic is most inspired by the people working alongside her.
"What I really enjoy about my job is getting to work with the partners in the community we serve. Honestly, I am often in awe of just how dedicated and motivated a lot of the people we work with are to making our community a better place," says Zuvic. "That is something that really keeps me going and makes me enjoy what I do."—PA
Stefania Gabriele, 28
R&D Platforms Associate Manager // PepsiCo/Scriptivity, LLC
As an R&D platforms associate manager for one of the largest employers in Westchester, Stefania Gabriele isn't short on responsibilities, orchestrating beverage-innovation projects across the entire PepsiCo portfolio. The certified Project Management Professional has led more than 15 projects in her two years at the F&B giant, managing timelines, supporting teams of scientists and engineers, and managing budgets skillfully and successfully. Her hard work has paid off: She was promoted after her first year and has since received several internal PepsiCo awards for her work.
The 28-year-old newlywed is also making her mark in an entirely different field, through her own wedding calligraphy company, Scriptivity. Her rapidly growing biz has captured the attention of TikTok, Instagram, and YouTube, and she is now part of their creator platforms.
Though her career accomplishments are considerable, what Gabriele is known for most is her ability to create genuine relationships and make others feel special, often giving back to the community. She is part of the Million Women Mentors program, which encourages young women to pursue STEM, through which she has mentored two Valhalla High School students to foster their interest in STEM careers.—GV
Sam Wallis, 32
Executive Director // Yonkers Partners in Education, Inc.
A teacher first, Sam Wallis is laser-focused on the need for a just educational system for all, regardless of ZIP code. Since 2019, Wallis has been the executive director of Yonkers Partners in Education (YPIE) — a nonprofit that provides academic support, enrichment opportunities, and social/emotional guidance to 1,200 students annually to ensure they are ready for, enroll in, and complete college. He leads a community of motivated learners and dedicated educators in one of the state's most severely under-resourced school districts.
Overseeing 22 staff members and 250 volunteer mentors — many of whom are teachers and counselors — Wallis fosters a community where student voices, opinions, and abilities are valued, and trusting relationships are the norm.
After staring at YPIE in 2015 as chief program officer, most of his time as executive director has been during the pandemic, when which fundraising events were cancelled. Yet, revenue grew by 25% and student outcomes increased: 90% of YPIE students enrolled in college versus 51% from similar high-poverty schools.
He attributes this success to the relationships YPIE builds with students and their schools. "We focus on listening to students rather than thinking of them as empty vessels to be filled with adult knowledge." —MGL
Brittany King, 25
Controller // DeCicco & Sons
Brittany King has experienced her most transformative years at DeCicco & Sons. After walking through the doors of the supermarket chain's Brewster location in 2014, she worked as a part-time cashier while in high school but quickly rose through the store's ranks. Nearly a decade, several promotions, and a master's degree in business administration later, she is responsible for all of the company's money movement.
King not only handles the finances from payroll but also ensures that all vendors are paid on time; she issues credits for products and manages an accounts payable (AP) team of five. This past year, she led the charge for developing a new AP system, two years in the making, that unified all of the stores under one system. She worked with the developers and went to every DeCicco store to train all the teams on how to use it.
But King does more than just lead by example. She has established a reputation as someone who rolls up her sleeves and lends a helping hand. For King, dedication and symbiosis in her role come naturally. "My favorite part is the team's dynamic, especially because a lot of the people in corporate have come from the same situation I have, where we'd all started out in the store," she says. "Their growth, and the way they look at growth, is really important." —CC
Domenick Cocchiara, 29
Social Media and Digital Advertising Manager
Thompson & Bender
Public relations specialists know the importance of staying up-to-date with the ever-evolving landscape of social media. Thankfully, Westchester-based Thompson & Bender has 29-year-old Domenick Cocchiara in its corner.
Cocchiara studied both political science and business administration at American University, during which time he enlisted in the National Guard, just after his freshman year. He served as a combat engineer for six years, earning the rank of sergeant. Post-discharge, he served as the deputy director of the Orange County Veterans Service Agency and the director of marketing and communications for the Dutchess County Regional Chamber of Commerce, using his background to guide several vital projects for both counties.
He is currently the social media and digital advertising manager at T&B, where he helps many high-profile clients utilize social media to expand their reach and speak directly to their customers. His greatest accomplishment is his work for Yonkers on the River, a campaign intended to rebrand Yonkers as a hub of art and success. The campaign resulted in over one million impressions on social media and brought a sense of pride back to many Yonkers residents. "My secret to success is to never stop learning," says Cocchiara. "I almost learn more from my failures than I do from my successes because they teach me, and they reinforce the need to learn. Learning is the key to it all." —DB
Giovanni Green, 34
Owner, Founder // Break Bread Not Hearts
"That I am able to provide youth with an exposure to new foods, cuisines, nutrition, and an example of entrepreneurship is a blessing and what motivates me each morning," says 34-year-old Giovanni Green, founder of Break Bread Not Hearts, which provides a variety of culinary services to the community, including catering, cooking classes, and meal solutions.
But Green's company — which he launched in 2012 and whose products you can find at local farmers' markets — has an even bigger mission: food literacy education. Through Break Bread Not Hearts' mobile cooking apparatus, Green offers essential, on-site lessons and information on food disparities and social justice and how they intersect with Black and Indigenous People of Color (BIPOC) history.
Green's other community-oriented work includes on-site cooking classes for the Mount Vernon School District, through the youth bureau's S.T.R.O.N.G program, in addition to partnerships with such nonprofits as D.I.G. Farm of North Salem and New York's Teens for Food Justice. Green, who holds a bachelor's degree in food, nutrition, and social justice and is pursuing a master's degree in public health, says collaboration has always been at the core of his being.
"Through the intersections of community activism and my scholarly endeavors, I hope to provide healing to the deep-rooted traumas that affect our identities and communities," he says. —JM
Copernicus "Copper" Crane, 27
Assistant Director // Westchester County Office of Intergovernmental Affairs
Copper Crane knows a little something about putting his money where his mouth is. Feeling disenchanted after the national political paradigm shifts of 2016, he left his job as a social worker with the NYC Civic Corps to work on Westchester County Executive George Latimer's campaign in 2017. Over the past four years, he's ebbed and flowed with the tide of local government, moving through whatever positions the county needed him to fill, from establishing the intern program to working with communities and police departments on policy reform.
That same pursuit of fairness has also helped him allocate Westchester County's budget money. He took a leading role with the county's budget director and an Albany lobbyist in preparing and writing the 2021 and 2022 Westchester County Joint State Legislative Programs. He negotiated the final document with County Board of Legislators staff and leadership.
"I'm a logic guy, so most of what I do during the budgeting process involves making sure everyone has the information they need," explains Crane. "From there, I make sure that I can be a resource for them. I learn as much as I can, as quickly as I can, on the topics that are important." —CC
Megan Glander, 27
Regional Director, Hudson Valley
United States Senate Majority Leader Chuck Schumer
Megan Glander is the person you want in your corner, no matter what you're trying to accomplish. In fact, you've likely encountered some of her handiwork in your own day-to-day.
Glander has been with U.S. Senate Majority Leader Chuck Schumer's office in various roles since 2016 and currently serves as the youngest regional director on the senator's team. When Hurricane Ida devastated hundreds of thousands in Westchester County, Glander led the charge on securing more than $88 million for Mamaroneck Flood Protections through the U.S. Army Corps of Engineers. Glander was the lead who worked with the City of New Rochelle to deliver in excess of $12 million for the New Rochelle LINC project, which will transform a portion of Lincoln Avenue into park space, working with Schumer to secure this through the U.S. Department of Transportation. Consciously prioritizing Westchester's underserved communities, Glander is currently leading the fight to secure $1 million to revamp the St. John's Riverside Maternity Unit. During the pandemic, she hosted workshops for religious institutions across Westchester County to make sure they could access capital and federal programs available to them.
Glander's enthusiasm for the people she serves is palpable. "Everything we do, big or small, touches people's lives," says Glander. "Every day, I get to work with some of the most amazing people. Being able to deliver for them, problem-solve, and cut through red tape is extremely rewarding." —CC
Danielle Settembre, 27
Owner // Hair Saloon & Cafe
Don't use the words "too much" around Danielle Settembre. There is no obstacle that takes up "too much" time, no measure that's "too much" effort, and no challenge that's "too much" of a risk. In March of 2020, a mere week before COVID put America at a standstill, Settembre signed the lease to her dream salon space, which was previously a rundown insurance agency in Scarsdale. While her construction project and permit filings were thrown into flux, Settembre forged ahead, determined to do her own legwork wherever possible. "I think that if you know you are ready to take on your dream, you have to ask yourself: Do you want to drown, or do you want to swim?" says Settembre. "That was the choice I had; I was put in the middle of the ocean with no island, and I decided to start swimming."
For Settembre, it wasn't only about keeping her own livelihood going. She took on 13 employees for the salon and kept them all employed during a time when many other companies were unable to do the same. She saw her role as a hairdresser during uncertain times as maintaining a sense of normality. "People confide in you; they tell you about their lives. It's really rewarding to build a relationship with someone and make their confidence level higher and make them feel good." —CC
Arden Franklyn, 28
Founder // 4$IDE
You wouldn't think that someone could be a veteran journalist and successful entrepreneur at age 28, but it all makes sense when you realize it's Arden Franklyn you're talking about.
Now in the 12th year of his media career, Franklyn realized his true calling at just 16, when he began writing articles and creating content on platforms like Facebook, Tumblr, and YouTube. "I couldn't afford to go to college, so I decided not to wait to start my career and just do what I loved — writing."
Smart decision, because since then, Franklyn has contributed content to such famous brands as Billboard, FanDuel, SB Nation, USA Today, and most recently, ONE37pm, often focusing on sports and hip-hop culture.
In 2016, Franklyn launched 4$ide, a multimedia content company that explores and presents the surprisingly robust hip-hop scene in Westchester County. Today, 4$IDE is not only profitable but has added approximately 10 contributors who have helped grow his media network to more than four million views on key social media platforms, including Instagram, Apple Music, and YouTube. Last October, the company also launched its own record label, 4$IDE Music.
"When you do what you love, what you're passionate about, you may or may not win," reflects Franklyn, "but you will surely never lose." —NB
Rachel Staropoli, 24
General Manager
Tredici Restaurant Group
Rachel Staropoli is now packing the very same tables she was waiting on less than six years earlier. Cutting her restaurant teeth through tredici's ranks, Staropoli worked as a hostess at 18 years old, determined to thoroughly learn the industry and elevate her career. Not only does she offer her patrons the warmest welcome at the door, as if they've been friends for years, behind the scenes she's doing tredici's payroll, designing seasonal cocktail menus, and even booking private events. Yet, her job wasn't always as seamless and effortless as she makes it look now.
When the pandemic hit and the restaurant industry was thrown into a tailspin, Staropoli traded her stilettos for sneakers and walked the neighborhoods surrounding tredici's Purchase location, placing takeout menus in mailboxes. "There was no way this place was going down without a fight," says Staropoli. "I would get to over 100 houses before the restaurant would open. If we received just seven or eight calls from that, I was happy." But she didn't stop there: Staropoli created a cocktail menu specifically for to-go orders, assisted in the development of an outdoor dining space, and donated hundreds of lunches to essential workers.
Despite the depth of success she's experienced at such a young age, Staropoli remains focused. "For me, it's not about being the best," she says. "If I'm making a difference in my customers' dining experiences and providing them with something more elevated than they've known before, that's my reward." —CC
Joseph Rendina, 32
CEO // Iron Health
Joseph Rendina has been a lifelong athlete. When he tore his ACL while playing football his senior year of high school, he needed surgery to repair the injury. In a time of uncertainty and anxiety, he found his surgeon to be cold and stoic toward him and his situation. The real change in his condition came when Rendina began physical therapy, thanks to the kindness and knowledge of his therapists. "They were able to bring me from walking with crutches to running and back on the football field," says Rendina. "From that experience, I knew I was going to be a PT."
Combined with his drive for wellness and his longstanding goal of becoming a business owner, Rendina opened his first location, in Briarcliff Manor, in September 2016. Since then, he has built two more practices in Westchester, on top of purchasing his first commercial real estate property. Rendina's dream allows others to chase theirs: He employs more than 30 physical therapists, personal trainers, and support staff, all while continuing his mission of helping people feel better and pain-free on a regular basis. For Rendina, integrity is everything. "We deliver an experience for people that I call a 'living room experience.' When someone is in pain, they don't want to feel like they're in a hospital. They come into our facility, and it's set up to make them feel comfortable and welcome." —CC
Kelli Sherelle Scott, 31
Chef/Instructor // The Children's Village
Kelli Scott knows that the importance of food extends beyond merely serving as something to eat. A chef by training who was raised in a rural parish in Louisiana, Scott's culinary reach was previously found in restaurants and summer camps across the country and while whipping up a cuisine de force for the staff of the Masters golf tournament in Augusta, Georgia, every spring. But despite working in upscale kitchens and gaining extensive training as a chef, nothing has been more rewarding than her work as chef and instructor at The Children's Village in Dobbs Ferry.
As a haven for teens who have had experience in court or trouble in their foster homes, Scott's classes at The Children's Village have imparted communication skills, relationship building, responsibility, and job readiness, all while developing a bond that can only be forged working side by side in a kitchen.
But Scott's reach has extended far beyond the kitchen. Since arriving in Westchester in early 2020, she has become an active force in her local community, planning and leading several rallies in Irvington, following the deaths of George Floyd and Breonna Taylor, and spearheading the mostly White village's first Juneteenth celebration. When racist T-shirts turned up in Dobbs Ferry, she sprang into action and organized a huge rally that drew hundreds of Rivertowns residents to the village's waterfront. Despite being a relatively recent arrival in Westchester, Scott has become a fixture on both local and New York City news broadcasts for her community leadership. "The most rewarding thing for me has been to bring diverse people to the table to have difficult conversations through the food storytelling," says Scott. "I also get to work with a passionate group of people." —CC
Related: Westchester's Women in Business in 2021 Are Making an Impact
Jessica Philindas, 33
Owner // Jessica Philindas Insurance Agency
After a successful career as a self-taught insurance broker, Jessica Philindas wanted more. With more than a decade of experience under her belt, she took the entrepreneurial leap and left her stable job to open her own agency. The book of clients she purchased was largely dormant, but with Philindas at the helm, she was able to reactivate 75% of those previous policies. Her agency now boasts an incredible 96.7% retention rate.
For Philindas, it's about not getting comfortable but rather letting the pressure drive her. "I didn't take the path that many of my friends did, which left me with a lot of uncertainty," she notes. "At the end of the day, it came down to being okay with being uncomfortable in order to grow."
Philindas is a nontraditional success story, yet she represents a shining example of how hustle and grit pay off. Opting not to go to college and instead jump immediately into the workforce, she dedicated herself to learning every nuance and detail of her complex industry. Not only has she found success in the highly competitive field of insurance, she's also been able to scale her growth at a rate that surpasses even seasoned agents. Still, the expectant mom pays tribute to her family for her triumphant career. "I couldn't have done any of this alone. I was blessed with a support system that never stopped pushing me to be the best version of myself." —CC
Marisa Rodriguez, 22
Member Relations and Communications Coordinator
Federated Conservationists of Westchester County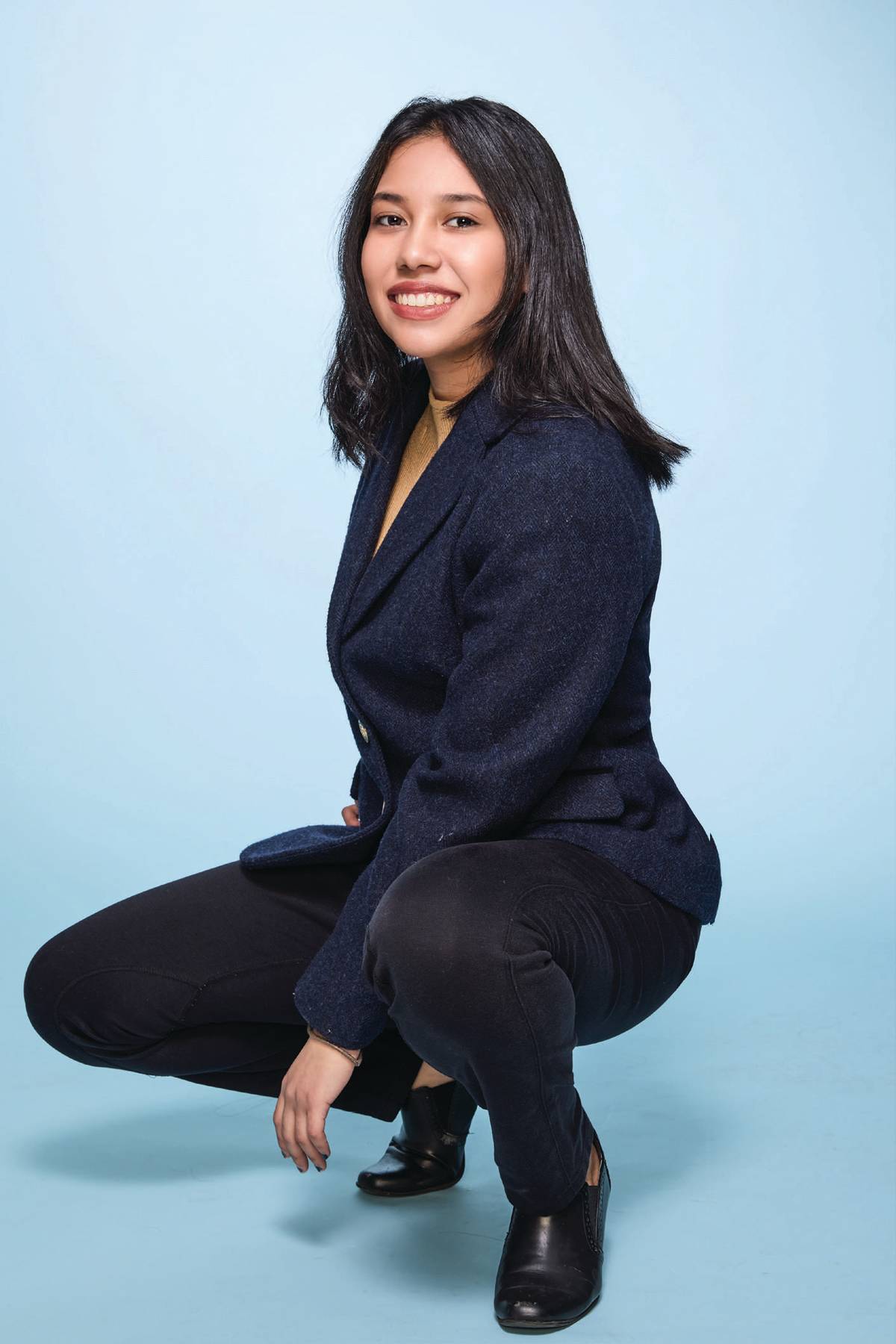 Marisa Rodriguez uses her communications talents for some very worthy causes; namely, protecting the Earth and improving the lives of area residents. As member relations and communications coordinator for the Federated Conservationists of Westchester County (FCWC), Rodriguez handles countywide communications with municipal environmental advisory committees, as well as with government officials and environmental organizations. Rodriguez also oversees the board of directors' communications for the FCWC's website and social media platforms. "My role as membership-and-communications coordinator is to handle the upkeep for the membership from our various member organizations throughout Westchester County that work on specific problems involving environmental issues," explains Rodriguez.
Rodriguez also manages oversight of the FCWC's Student Network, where she helps middle school, high school, and college students find careers in sustainability and conservation. She has also served as summit chair for Westchester County's inaugural Youth Climate Summit. In addition, Rodriguez helped found the Inclusion, Diversity, and Equity Advisory (IDEA) Board at the FCWC. "As the population is changing in Westchester, we want to make sure we are inclusive" says Rodriguez. "There are so many brilliant people in this county. We just want to make sure everyone has a platform to speak and a platform to engage." —PA
Andrew Weisz, 32
Executive Vice President // RPW Group Inc.
As the executive vice president of RPW Group, Andrew Weisz has plenty of hats to wear. Not only responsible for directing the firm's real estate investments, Weisz also oversees leasing activities. The idea of juggling tasks is not new to Weisz, who cut his teeth in Manhattan's commercial real estate world as an associate director with Newmark Knight Frank, repositioning and leasing properties on top of his marketing efforts. "The time I spent as a broker in New York City was critical and offered some great perspective for me," Weisz says about how he's been able to grow RPW's reach.
A four-time national collegiate squash champion, Weisz has taken his passion for sports and focused it on the service of those who need it most. He is also a founding member of Squash Urbano' a Colombia-based nonprofit that uses the game of squash to help support underprivileged children in Latin America. "These kids are the poorest of the poor. We use squash as a vehicle to then help them learn English and strengthen their academics." —CC
Lauren Enea, 30
Associate
Enea, Scanlan & Sirignano, LLP
For Lauren Enea, law runs deep. "I've been a part of the law landscape in Westchester since I was a kid," shares Enea. "My father brought me to events as a child, and I learned a lot from him." Following in her father's footsteps at the White Plains firm Enea, Scanlan & Sirignano, LLP, Enea has plenty on her plate as an associate handling estate planning, elder-law planning, estate administration and probate, special-needs planning, and guardianships.
Enea has already made quite a mark, being named a Rising Star in the 2021 New York Metro edition of Super Lawyers and earning the Westchester County Bar Association (WCBA) Outstanding New Lawyer Award. In addition, Enea serves on the Executive Committee of the WCBA Trusts and Estates Section and is co-chair of the WCBA New Lawyers Section, treasurer of the Columbian Lawyers Association of Westchester County, and co-chair of the New York State Bar Association Elder Law and Special Needs Section Publications Committee, and co-editor of the Elder Law and Special Needs Section Journal.
Enea is also secretary of the board of directors of Valhalla's CAREERS Support Solutions, a nonprofit agency in Westchester that caters to disabled individuals and assists them in getting job placement and training. "I find what they do instrumental in continuing to give autonomy to the disabled population." —PA