New GM At Jefferson Valley Mall
In the midst of its extensive renovation, the Jefferson Valley Mall now has a new general manager, David Napolitan. The announcement was made by Jed Reichard, vice president, regional director of properties for WPGlimcher.
"This is an exciting time at Jefferson Valley Mall and we are thrilled to now have David Napolitan at the helm of our dynamic team," said Reichard. "His extensive mall-related management experience will be a great asset as we continue to grow Jefferson Valley Mall's appeal within the local community." Napolitan, who served for more than a decade as the general manager of Champlain Centre in Plattsburgh, NY, will be responsible for day-to-day operations of Jefferson Valley Mall, including budget management, leasing, staff supervision, business development, tenant relations, and strategic marketing. Napolitan graduated from Williams College with a bachelor's degree in psychology and earned his master's degree in business administration from Western New England College.
CareMount Medical Appoints Deputy Chief Medical Officer
CareMount Medical (formerly The Mount Kisco Medical Group), a multi-specialty medical group practice serving Westchester, Putnam, Dutchess, Columbia and Ulster Counties, recently appointed Robert Newborn, MD to Deputy Chief Medical Officer and Chief Quality Officer. In his new position, Dr. Newborn will assist Thomas Lester, MD, CareMount's Chief Medical Officer, with the management of the medical aspects of the organization. Most recently, Dr. Newborn was Vice President, Medical Services at Phelps Memorial Hospital and Northern Westchester Hospital, both part of Northwell Health. Previously he served as Chief Medical Officer for the Western Connecticut Medical Group, and as Associate Medical Director for Northern Westchester Hospital. Dr. Newborn has broad clinical experience in Primary Care, Hospital & Observation Medicine, and Urgent Care & Emergency Medicine. In addition, Dr. Newborn serves on the Board of Neighbors Link Northern Westchester, a regional non-profit focused on the healthy integration of immigrants into the community.
HEINEKEN USA Promotes Tara Pallisco
Tara Pallisco has recently been promoted to Associate Manager of Corporate Events and Consumer Affairs. In her new role, Pallisco will be responsible for HEINEKEN USA's consumer affairs work including the day-to-day management of their consumer call center. She will also support the planning and execution of corporate events such as their National Distributor Conference, annual Day of Giving, Take Your Kids to Work Day, and other DC and trade association events. Pallisco joined HEINEKEN USA in 2012 and works out of their headquarters in White Plains. Prior to joining HEINEKEN USA, Pallisco was the Development and Communications Assistant at the Long Island Children's Museum for five years. She earned her Bachelor's in Fine Arts in Public Relations from Long Island University Post in 2007.
Bleakley Platt & Schmidt Adds Partner
White Plains-based law firm Bleakley Platt & Schmidt is pleased to announce that Stephen J. Brown has joined the firm as a Partner in the Litigation, Corporate and Estates and Trusts Practice Groups. Brown focuses his practice in the area of complex civil and commercial litigation, corporate law and trust and estate matters for clients before state and federal trial courts in New York and Connecticut. He has extensive experience with contract disputes and employment, education, and commercial litigation. Prior to joining Bleakley Platt, Brown was a partner at the law firm Veneruso, Curto Schwartz & Curto, LLP. Before his legal career, he worked an actuarial risk management and insurance consultant at Deloitte & Touche, LLP. Mr. Brown received his J.D. from Pace Law School in 2004, cum laude, where he served as Case Note Editor for Pace Law Review. He has been President of the Pace Law School Alumni Association since 2012.
New Director of Kidney Transplantation at Westchester Medical Center
Westchester Medical Center welcomes Hiroshi Sogawa, MD, FACS, as the Surgical Director of Kidney Transplantation. In his new role at Westchester Medical Center, Dr. Sogawa will oversee the continuing growth of Westchester Medical Center's kidney transplant program and help expand the liver transplant, hepatobiliary surgery, and living donor transplantation programs at the hospital. Dr. Sogawa brings to Westchester Medical Center vast expertise in abdominal and hepatobiliary surgery, specializing in liver, intestine, multi-visceral, kidney and pancreas transplantation. He also performs minimally invasive hepatobiliary surgery (laparoscopic and robotic surgery). Prior to joining the medical staff at Westchester Medical Center, Dr. Sogawa served as Director of Abdominal Transplant Surgery Fellowship/Assistant Professor of Surgery at the University of Pittsburgh Medical Center, preceded by an appointment as Assistant Professor of Surgery at Mount Sinai Medical Center.
White Plains Law Firm Adds Two Attorneys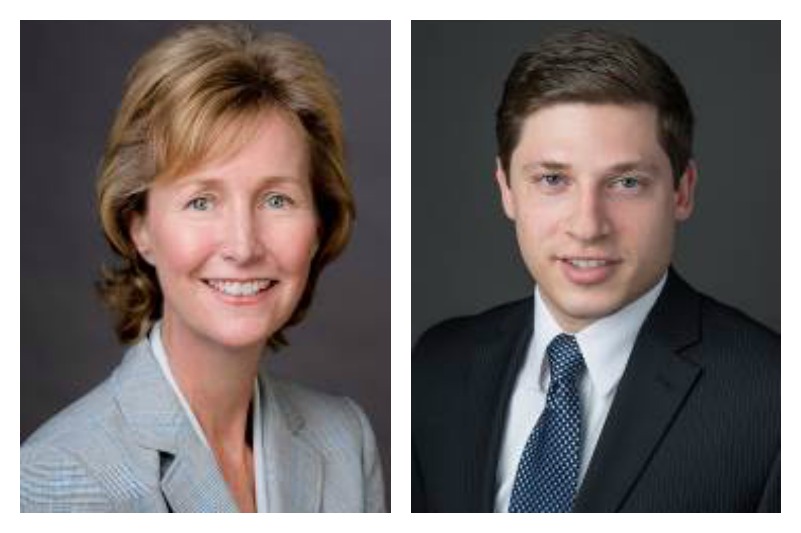 Brown, Gruttadaro, Gaujean & Prato, PLLC (BGGP), a full-service law firm with offices in White Plains, New York City, and Rochester, is pleased to announce two additions to the White Plains office. Joan M. Ruddy has been named partner in the firm's health care practice group and will focus on medical-malpractice defense. With more than 20 years' experience as a litigator, she has successfully defended many medical-care providers before The New York State Office of Professional Medical Conduct and The Office of Professional Discipline. Ruddy has also defended physicians before The Office of Medicaid Inspector General involving allegations of fraud and abuse. She has extensive knowledge of multi-district litigation, AIDS phobia and health law. Before joining BGGP, Ms. Ruddy served as an attorney at Meiselman, Denlea, Packman, Carton & Eberz P.C. Hillel E. Sussman has been named associate attorney at BGGP (awaiting bar admission), where he will focus his practice on corporate and business transactions, construction law, commercial and residential real estate transactions, health care law and municipal law. Sussman previously served as a law clerk for the City of Long Beach, N.Y., where was instrumental in helping re-draft the Zoning Code to ensure local construction would withstand another major natural disaster in the wake of Hurricane Sandy. He previously worked with the Town of Brookhaven, N.Y., where he was awarded the Cali Award for Excellence for his Civil Practice Externship and was published within several legislative Zoning Board decisions.
Buzz Creators, Inc. Promotes Account Supervisor
Cathy Pinsky, Pinsky Studio
Buzz Creators, Inc., a full-service, Valhalla-based PR and marketing firm, has promoted Daniella DiMartino to the position of Account Supervisor. DiMartino has been with Buzz Creators for three years and has made vital contributions to both the agency and its clients. She currently helps manage the HEINEKEN USA, CareMount Medical (formerly Mount Kisco Medical Group/MKMG), Castle Hotel & Spa, and Harrington, Ocko & Monk, LLP accounts. DiMartino helps manage day-to- day client activities, including strategic planning, media and influencer relations, and social media programs, which are all tailored to each clients' individual needs.
DiMartino has served on the board of several organizations including the PR Committee for The Crohn's and Colitis Foundation's Fairfield/Westchester chapter and on the Board of the Westchester/Fairfield Chapter of the Public Relations Society of America (PRSA). Prior to working at Buzz Creators, DiMartino worked at Lisa Lori Communications in Greenwich, CT. DiMartino helped manage client service, handled press for galas, luncheons and kickoff parties, and created strong relationships with key NYC- based journalists. DiMartino has also held a variety of editorial and production roles at leading local news outlets, including Westchester Magazine, The Poughkeepsie Journal, WRNN Radio and Fios1 News. DiMartino received a Bachelor of Arts degree in Journalism at Purchase, State University of New York.
The Builders Institute Appoints New Director of Membership
The Builders Institute/Building & Realty Institute of Westchester and the Mid-Hudson Region recently appointed Margaret A. Collins as the organization's new director of membership, advertising and communications. According to Albert A. Annunziata, the organization's executive director, Ms. Collins has reached out to members in key sectors to collectively determine how to better serve The Building & Realty Institute's 800+ membership throughout Westchester and the Mid-Hudson Valley region. "Margaret brings a depth and breadth of experience to this new position. Her sales and editorial skills are exceptional, with notable publishers as diverse as The Atlanta Journal Constitution, Harper & Row Publishers and The Civil War Monitor magazine," said Mr. Annunziata. In addition, Ms. Collins is skilled on the quantitative side of the creative process, valuing the need for-and the analysis of-critical information from advertisers and members alike. The Building & Realty Institute is one the largest construction, development and real estate-related industry trade associations in New York State.