For Jason Evege, founder of linen-sheet manufacturer Linoto, the decision to launch his own business didn't stem solely from dreams of becoming a self-made entrepreneur. Instead, the idea to start his linen-bedding company was born from a desire to maintain a pleasant home life.
"Basically, it started because I was in a relationship with someone who was always complaining about being hot when they were sleeping," Evege explains.
Evege, who has a background in textiles and holds a degree in fashion design, hoped that a new set of linen sheets might solve his relationship dilemma. Compared with traditional cotton sheets, linen is more breathable, keeping sleepers cooler during warm nights. "The reason people like linen is scientific," Evege says. "Linen fabric can absorb a large amount of moisture without feeling wet. It absorbs and releases moisture more quickly [than cotton], which is also why linen dries so quickly."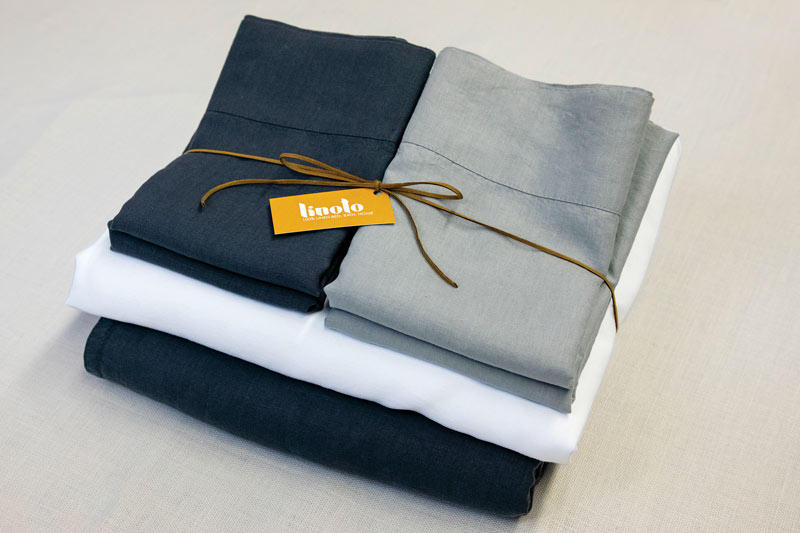 That led Evege and his then-partner to an upscale French store in SoHo that offered the linen sheets he sought. When they arrived, however, Evege found the process of purchasing those sheets to be far from enjoyable. "Going to that store was like a scene from Pretty Woman," Evege recalls, "with the snobby salesperson who made you feel like they were doing you a favor by selling you these sheets."
Not only did Evege find those sheets to be overly expensive (at roughly $1,000 per set), they were primarily shipped from Europe and would take up to six weeks to reach his doorstep. "It was all just so complicated," he says. Instead of purchasing a sheet set that day, Evege had a better idea.
"I went home, and I just made the sheets," he says.
Compared with his previous work — assisting notable designer Ralph Rucci and designing clothing for brands that included Calvin Klein, DKNY, and Old Navy — creating a sheet set was a decidedly simple task. For Evege, "making a sheet set was like asking a chef to make a hard-boiled egg."

To help keep operating costs mostly flat, employees are paid a base rate and sewers get a bonus per piece shipped.
He went on to gift his linen sheets to friends and family. Soon, those loved ones were urging him to start his own company, and in the summer of 2007, Linoto was born. "If someone bought something, I'd literally use the money to go buy the fabric, then make it," Evege says of those early days in business.
It only took a few short months for Linoto's sales to take off. By the end of the first year, the company had sold more than $40,000 worth of product to customers across the globe.
"At that time, the industry was this sleepy thing," he says. "We made it possible for people to have [linen sheets] without the complications."
Startup costs for Linoto were minimal, Evege explains, something he maintained by doing much of the work himself. He designed the logo, took product photos, and created a website. The spare bedroom in his apartment became his miniature factory space, where he'd cut sheets out on the floor and use the sewing equipment he already owned. The business, he jokes, "was like the worst roommate you could ever have."
"In June of 2008…we sold $25,000 worth of sheets, and I was like: Okay, maybe we can do this."

—Jason Evege, Founder, Linoto
In the beginning, Evege managed Linoto on the evenings and weekends, while also holding down a full-time job. But that would all change when the financial crisis hit in 2008, and Evege was laid off from his position with clothing designer Carole Hochman. At that time, Evege notes, his business was "doing okay, but it was never enough to live on," with sales typically running between $5,000 and $8,000 per month. "But in June of 2008, when everything was sort of falling apart, we sold $25,000 worth of sheets, and I was like: Okay, maybe we can do this."
In 2018, sales of the company's made-to-order products ran north of $1 million. That figure has fallen slightly from the company's best year, 2016, when Linoto brought in more than $1.2 million. This past November was Linoto's most successful month ever, with sales reaching $111,000. Evege credits those figures to a rare 15-percent-off sale the company ran, which was advertised through email blasts, as well as a Facebook retargeting, a Google shopping campaign, and coming to better understand his customers' buying cycle.
By far, the company's largest expenses are fabric costs, accounting for more than 25 percent of overall expenditures. "In order to get high-quality linen fabric, you can't constantly be on the hunt for the cheapest price," Evege explains. "I have never, from any of the mills in Europe I buy from, negotiated a better price. They tell me what the price is, and if I don't like it, I can choose not buy it. But in the end, it will all be bought [by other manufacturers]. That's where the squeeze is."
Since Linoto's launch, the cost of the fabric Evege purchases has tripled. Despite that, sheets on the company's website are sold for the same price as they were a decade ago, starting at $239 per set. "I would love to raise the price by $50 a set, but that would be suicide," he says. "We lowered it by about $30 per set for like three or four years," Evege notes, but he realized last year that the price point was not sustainable and raised the price back to the current level.
Purchasing the fabric from Europe comes with its own set of complications. All transactions must be paid for in Euros and most accounts are paid in advance. Evege relies on wire transfers to complete the transactions. In recent years, the introduction of online money transfer services, like TransferWise, have been "a huge help for us," Evege says, saving him roughly 30 percent per transfer.
Apart from the fabric's high quality, Evege prides himself on building lasting relationships with each customer. The company's return rate is less than 1 percent, a feat for anyone in the e-commerce field, where average rates of return hover around 20 percent.
"It's not necessarily about making money from each customer; it's about the lifetime value of the customer," Evege notes.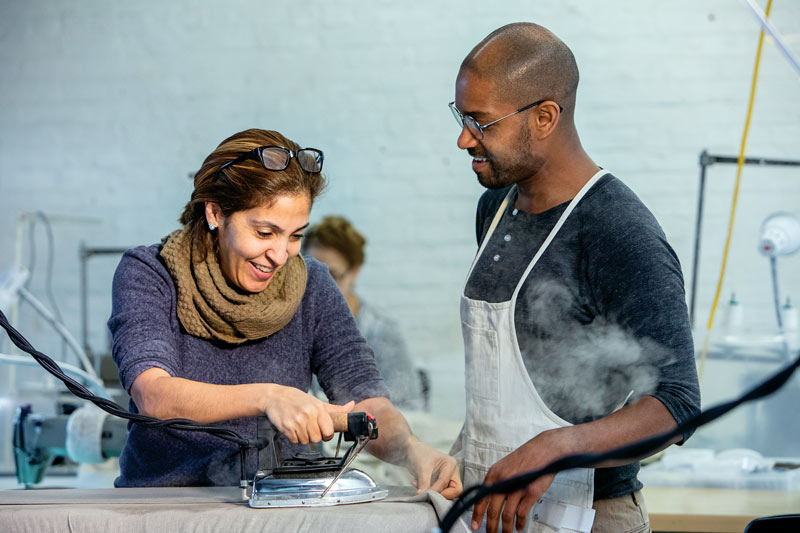 Evege has also relocated a number of times in an attempt to cut costs, first to Harlem and later to Yonkers before moving in 2017 to his current 4,000 sq. ft. warehouse in Buchanan, where the rent is just $2,300 per month. To help keep operating costs mostly flat, Linoto's six employees at the Buchanan factory are paid a base rate and a bonus per piece shipped for sewers, "so I know that my amount of spending is connected to the amount we're selling," Evege says. "And it's worked for everyone."
In the past, Evege has sold his sheets in brick-and-mortar stores, something he would be open to doing again in the future, though he notes that "retail stores are very difficult to make work because the markup just doesn't make sense anymore." Selling his products in stores "worked when there was 50 percent margin to play with," Evege continues. "We have maybe 25 to 30 percent margins to play with if we're lucky, and that doesn't interest stores that have a limited amount of space."
Navigating the world of e-commerce has its own set of challenges, Evege notes, especially since the direct-to-customer linen bed-sheet space has become more crowded in the years since Linoto launched. New retailers in this niche include Brooklinen, Parachute, and Crane and Canopy. National brands, like West Elm and Eileen Fisher, also offer their own lines of linen sheets.
While being an e-commerce company eliminates the need for high overhead, it's "tricky to get customers to your doorsteps," Evege says, adding that the company hired an outside firm to work on its online marketing efforts: "The amount of money we spend on Google AdWords is crazy."
Still, Evege remains optimistic about the company's future. "We're a small company with just a few people, but we're holding our own against these giant stores," he says. "We've had a lot of challenges, but we're still here. We're hopeful."
Aleesia Forni is a freelance writer based in Westchester County.