Here, we have the lowdown on all things boating in the county — from where to dock your boat to what to wear when you clear harbor for the open water.
By Marissa Iallonardo, Jalyn Robinson, & Sara Longstreth
All Aboard
Ready to buy a new boat? Read on or what your budget will get you.
$50,000
Glastron GT229
Westchester Yacht Sales
Mamaroneck; 914.844.4492
This 22-foot powerboat has "everything a new boater would need to get going," says Tom Schaub, director of Westchester Yacht Sales in Mamaroneck. The base model includes full instrumentation and safety gear — plus room for two to "snuggle in" for an overnighter.
$100,000
Pursuit 235 Dual Console
McMichael Yacht Brokers
Mamaroneck; 877.606.0401
Michael Beers, sales manager at McMichael Yacht Brokers in Mamaroneck, calls this family-friendly, 24-foot dual console boat the "perfect Westchester day boat" because it offers lots of shade (thanks to its hardtop) and seating for six. There's a bathroom onboard, too.
$250,000
Hanse 388
McMichael Yacht Brokers
Mamaroneck; 877.606.0401
Prefer a sailboat? Check out this 38-foot boat, which Michael Beers of McMichael Yacht Brokers describes as "a great boat for a family to cruise or day sail" — whether you're staying on the Sound or heading up to Newport. It's got all the safety features you'll need, plus three cabins, a galley, and a bathroom with a shower.
$550,000
Beneteau Gran Turismo 40
Westchester Yacht Sales
Mamaroneck; 914.844.4492
This 40-footer gives you the option of simply spending the day on the Sound or sailing all the way to Florida. It has a retractable hardtop, seating for 11, two cabins — plus a bathroom and shower — and a full galley with a microwave, cooktop, and refrigerator.
$850,000
Beneteau Gran Turismo 49
Westchester Yacht Sales
Mamaroneck; 914.844.4492
Up your budget and jump to this 50-foot boat, which includes either two or three cabins (the owner's cabin has a king-size bed), two bathrooms, a full galley, and an outdoor barbecue. You can also opt for the onboard washer-dryer combo. Into water sports? The swim platform is ideal.
$1,000,000
MJM 40z
McMichael Yacht Brokers
Mamaroneck; 877.606.0401
This 40-foot yacht is full of state-of-the-art amenities, including joystick docking and a gyro-stabilizer (no more seasickness-inducing rocking). It has lots of open-air living space, with room for up to 15, plus heating and AC, and, down below, you'll find everything from a double cooktop and bookcases to a full stand-up shower.
Dock & Dine
Here are 10 restaurants in Westchester that offer the ultimate waterside grub experience.
Fun Facts!
• The largest US yacht — measuring 287 feet and named Cakewalk — was made in Mamaroneck at Derecktor Shipbuilders.
• 11,060: That's the number of registered boats in Westchester in 2016, as per New York State's 2016 Recreational Boating Report. How big? The majority were between 16 and 25 feet.
• Looks like county residents are drinking responsibly: In 2016, there was only one arrest made in Westchester for BWI — boating while intoxicated — according to the state's 2016 Recreational Boating Report.
• Want to try your hand at fishing without committing to a license? New York State runs Free Fishing Days a few times a year (next: June 23 and 24). Check the State's website for where.
• Jet skis are all the rage: "I get a call twice a week for jet ski slips," says LeRoy Marriott, Operations Manager at Wright Island Marina in New Rochelle, who says the demand has at least tripled in the last 10 years. Lots of local marinas have slips specifically for Jet Skis.
Meet your Neighborhood Boater
Andrew and Linda Weiss of Mamaroneck own an MJM 40z powerboat, the Dragon Lady, and a Ker 43 sailboat, the Christopher Dragon (the 10th boat in the family to bear that name), chosen for Andrew's stepmother's imaginary dragon friend from childhood.
WM: How did sailing bring you two together?
LW: Andrew and I met and became friends when I crewed for his father, Steve Weiss, 30 years ago, in the 7th Christopher Dragon, a Farr 43.
WM: Have you done any races together?
LW: Yes, we have sailed many races together, including two Newport Bermuda races. The experience is like everything else in life: Sometimes it's great, and other times it's a challenge. The days we win are really wonderful!
WM: What makes sailing great as a family or couples' activity?
AW: I started sailing with my father in the first Christopher Dragon, a Ranger 33, in 1972. I got my love of sailing from him, and we sailed together for his entire life. I've tried to pass that on to my son, who has sailed all the big ocean races with me.
WM: Any advice for people who might be interested in sailing but are afraid to take the plunge, so to speak?
AW: Go out sailing with friends, enjoy the sea, the wind, and the love. There is a boat for everyone. Buy good foul-weather gear and take a Safety-At-Sea course.
Marinas With the Most
These popular county marinas may not be as swanky as area yacht clubs, but they come with their own superlatives.
All the Activities
Charles Point Marina, Peekskill
www.charlespointmarina.com
There's so much more than just boating happening at Charles Point Marina these days. You can try the indoor/outdoor ropes course, arcade, or laser tag at Spins Hudson; dine on seafood at Fin & Brew; have a locally brewed beer at River Outpost Brewing Co.; learn to waterski at NYC Water Ski and Wakeboard School — even host your wedding at Factoria. As for the marina itself, there are 58 slips, with room for boats up to 46 feet. According to the marina's property manager, Jay Melnick, 99 percent of the boats are powerboats. He expects lots of transient dockage — either by the hour or for the night — this summer.
Buy Instead of Rent
Half Moon Bay Marina, Croton-on-Hudson
www.halfmoonbaymarina.com
You own your house, your car, your boat — why not your boat slip, too? "It's really no different than owning a condo on land," says Steven Plotkin, manager and dockmaster of the "dockominiums" you can buy at the marina. "You physically own the underwater parcel of land that's under your slip," he explains. While the concept is rare in this area (it's more popular in places like Florida and Virginia), the upside is that you're always guaranteed your spot and can sell whenever you want. At Half Moon, there are 173 boat slips, with room for boats up to 155 feet. Not ready to buy? You can rent here, too.
Find the Most Boat Slips
Mamaroneck Municipal Marina at Harbor Island, Mamaroneck
www.village.mamaroneck.ny.us
With a whopping 430 boat slips, this municipal marina has room for lots of boats. And while those boats can be no longer than 22 feet — about 80 percent are small powerboats, says harbormaster Joseph Russo — if you need more room, there are 150 moorings for boats up to 120-feet long. There's also space for kayaks or you can purchase a day pass and use the ramp area to launch your boat. The no-frills marina usually has a small waiting list, and residents get first dibs, but, says Russo — who has docked his own boat there for 45 years — in recent years "everyone on the list has been accommodated."
Visit One of the Oldest Marinas
Nichols Yacht Yard, Mamaroneck
www.nicholsyacht.com
"Nichols has been a steadfast hub of maritime activity since the early 1900s," says general manager Dennis McCarthy of Nichols, which was officially established in 1901 and ranks as one of the oldest in the area, not counting yacht clubs. The full-service marina has been run by the current owners for 42 years and these days, there are 150 boat slips, with room for boats up to 90 feet and a huge winter-
storage facility for upwards of 500 boats. One fun fact: In the '80s, Virgin Atlantic's Richard Branson "used Nichols as a base of operations while [trying] to break the New York to England boating record with the Virgin Atlantic Challenger," says McCarthy.
Get Away from It All
Tide Mill Yacht Basin, Rye
www.tidemill.com
"We're off the beaten path," says Peter Donahue, whose family has been at the helm of the marina for 46 years. And off the beaten path is right: Tucked away, down residential Kirby Lane in Rye and right on Mill Pond, you'll find the marina's standout feature: a red mill that's been around since the 1770s. A former working mill — which today is the marina's store — its "output at times was as high as 150 to 180 barrels of flour a week," according to Tide Mill's website. Today, the serene space offers "turn-key service," with 50 slips for boats up to 70 feet.
Check Out Great Views
Westerly Marina, Ossining
www.westerlymarina.com
When it comes to gazing out over the Hudson River, it's hard to find a spot with a bad view. But Westerly Marina takes the vistas up a notch, with its scenic views of the new Gov. Mario M. Cuomo bridge to the south and the Palisades across. "The best part about [the view] is that the land across the way from us is state land, and it's never going to change," says manager Joseph DeMarchis. The full-service marina, which has been owned by the family for almost 60 years, boasts 180 boat slips for boats up to 75 feet and room for more than 250 boats for winter storage. Want to see what the river looks like in real time? Check out the feed on their website.
Meet your Neighborhood Boater
James Licata, of Croton-on-Hudson, owns a 32-foot Kirie Elite 32.4 and a "dockominium" at Half Moon Bay Marina.
WM: How did you become interested in boating?
JL: Growing up on Long Island, I started going out on fishing boats. When I moved to Westchester, I took a sailing course at the Croton Sailing School. From there, I became a member, then bought my own sailboat — this is my second. I am now an "avid" club racer and weekend "cruiser."
WM: You don't hear much about dockominiums in this area. What made you want to buy one?
JL: I was looking for a deep-water marina on this side of the Hudson, so I started renting at Half Moon Bay. When it went condo, I thought it would be a good real estate investment.
WM: Do you race?
JL: Yes — I race every Wednesday in the HRYRA (Hudson River Yacht Racing Association) and occasionally at the regattas and on the Sound on my friends' boats.
WM: What's the best part about boating in Westchester?
JL: The winds are always changing, and there is frequent commercial traffic, which all makes you a very attentive sailor. And the summer sunsets — plus fall foliage!
Safety First
It's important to do these often-overlooked maintenance and safety checks. Dennis McCarthy, the general manager at Nichols Yacht Yard in Mamaroneck, gives us the scoop.
Test your sound. "All boats are required to have a signaling device of some sort," he says, whether it's a hand-held horn or a built-in. But with the exposure to water, moisture, and salty air, it might not work — and you might not realize it.
Check expiration dates. Along with a sound signaling device, all boats have to have visual distress signals, as per the US Coast Guard, like flares. But check the expiration dates: "Once they're out of date, you should get new ones," says McCarthy.
Assess your fire extinguisher. Another on-board requirement, make sure you have a fire extinguisher — and that it's in working condition.
Inspect life jackets. Keep two things in mind, advises McCarthy: Once a year, make sure they're clean and in good shape (some have status indicators). Then, put them in a place you can get to easily should you find yourself in an emergency.
Rock the Boat in Style
Whether by motor or sail, boating never looked so good, thanks to this must-have gear.
Yeti Hopper BackFlip 24 cooler

Bring along 20 beers (or 25 pounds of ice) in Yeti's newest cooler — the first in the line
that can be worn as a backpack.

$299.99 | www.yeti.com

Outward Hound Life Jacket for Dogs

Make sure your four-legged friends stay safe with this life jacket, which comes in sizes for dogs from 5 to 100 pounds.

$39.99–$49.99, depending on size
Provisions For Pets | Bronxville; 914.779.0414

Orvis Drirelease Conservation Tee

Let everyone know where you'll be this weekend with this limited-edition T-shirt. Also great? Five percent of pre-tax profits go toward nature-focused organizations.

$49 | www.orvis.com

Musto Evolution Sunblock Polo

Spending the day in the sun? This men's polo has UPF40 protection — like SPF, but for UV rays.

$85 | www.musto.com

Sperry A/O Venice Canvas Boat Shoes

Ladies, go full on nautical with these navy-and-white-striped boat shoes.

$80 | www.sperry.com

Boss Marine Portable Speaker

Blast tunes from your phone or through Spotify on this wireless, Bluetooth-enabled speaker, which is "fully marinized" — meaning it'll
hold up against the wind and water.

$74.99 | Sound Shore Marine Supply
New Rochelle; 914.654.1561
www.alandjohnsmarine.com

West Marine Sand Bar Chair

Whether onboard or hanging at the dock, this chair dries quickly
and has "marine-grade feet" to keep your boat safe from scratches.

$49.99 | www.westmarine.com
Regattas 101
If you're looking to race, check out these two Westchester events — both more than a century old.
On the Hudson River
After more than 130 years, the annual Shattemuc Regatta, which takes place at the Shattemuc Yacht Club in Ossining, is still drawing sailors to the Hudson. "In recent years, we've been getting about 20 to 25 boats for the regatta," says club secretary and past commodore Peter Oden. Happening on September 8 and 9 this year, the weekend-long, invitational regatta includes races on both Saturday and Sunday, as well as a dinner and awards ceremony. The Hudson River Yacht Racing Association (HRYRA), which also oversees the handicapping system, called the Performance Handicap Racing Fleet (PHRF), includes the regatta in its annual season series.
On the Long Island Sound
There are more regattas happening on the Sound-side of the county — and one not to miss is Larchmont Yacht Club's annual Larchmont Race Week. The week-long regatta, now in its 120th year, is set for July 15 – July 22 and has separate events for both adult and junior sailors (There are three days just for kids and teens.) All in, you'll find more than 600 boats with about 1,200 sailors taking part. "Race Week combines excellent on-the-water competition for boats of all shapes and sizes, complemented by exceptional after-sailing, shore-side entertaining and camaraderie," says the Club's Fleet Captain, Edward R. Padin.
A few others:
• Spring Series at American Yacht Club in Rye • Fall Series at American Yacht Club in Rye •
• The Edlu Race at Larchmont Yacht Club in Larchmont •
• Can One racing series out of the Huguenot Yacht Club in New Rochelle •
3 Things to Know Before Buying Your First Boat
From a First Timer
It was just last year that Frank Gadaleta of Rye bought his first boat: a new Pursuit DC 265, a 26-foot, dual-console powerboat. We asked him to share his tips for newbie boat buyers.
Take a safety course. "I did mine online and received my New York State Boating Safety Certificate," he says. The course also provided info on what safety gear to have onboard —from fire extinguishers and life jackets to a first-aid kit.
Hire a professional captain. Frank and his wife, Caroline, had Oliver Calloway from Venture Yachting in Norwalk work with them for two three-hour sessions, where the couple learned to pilot and dock their new boat. "Considering the cost of boating, hiring a professional captain was the best money we spent," he says.
Ask lots of questions. A self-declared car enthusiast, Gadaleta says, "Car enthusiasts love to talk about cars and are always happy to lend a hand. I have found boaters to be the same kind of people. Boaters love to talk about boats or fishing or the best spots to dock up and eat and are always happy to answer questions or give advice."
Meet your Neighborhood Boater
Adele H. Pascucci of Ossining owns a 32-foot Catalina sailboat and has been a US Coast Guard-licensed captain for 20 years.
WM: How did you become interested in boating?
AP: My family had everything from a 14-foot runabout with an outboard motor to cabin cruisers. As a kid, I was the only girl in a kids' fishing club in Yonkers. We fished off the rocks and had a catfish fishing derby, which I won, much to the embarrassment of the boys. As a teenager, I would waterski from the Tappan Zee Bridge to the George Washington Bridge, with my dad trying to make me fall. Dad used to say that we had Hudson River water in our blood.
WM: How have things changed over the years?
AP: The traffic on the river has increased in volume and speed. The noise and wake from Jet Skis and powerful boats are contemporary challenges for those who choose to kayak or canoe or sit on the shore to enjoy the peace of the river. The shoreline has changed with the development of river communities. This has increased access to the river for many who want to enjoy the beauty of it.
WM: You've written three children's books that feature the Hudson River. What was your inspiration?
AP: My books, Duck on a Dock, and Rusty's River, were inspired by a mallard who frequented Half Moon Bay Marina. I named him Rusty because of the color of his chest feathers. A female mallard who had an injured foot inspired The River Princess.

Reel Fun
Whether it's a fishing charter, sightseeing cruise, or moonlit party on the water, there's a county charter service for you.
Fins Up Charters
Port Chester; www.finsupsportfishing.com
Looking for a family-boating experience? Fins Up Charters offers the 32' Osmond Beal downeast for a relaxing cruise or fishing instruction for the entire family using custom rods.
Klondike IX
New Rochelle; www.klondike9.com
Klondike's Lydia Charter boat can be chartered for fishing or floating parties of up to 134 people. You can exercise your fishing arm during the day or cruise by moonlight out from the New Rochelle port to the Statue of Liberty and back.
Moontide Charter
New Rochelle; www.moontidecharter.com
Moontide Charter offers a ride on their custom sport fishing boat straight out of New Rochelle. Rent a diving charter or a fishing expedition for all different catches including blue fish, striped bass, fluke, porgies, and blackfish. Ice, bait, and tackle are supplied.
Shamrock Charter boat
New Rochelle; www.shamrockcharterboat.com
The Shamrock IV is a 60' fiberglass boat that can carry up to 60 passengers on private-charter fishing trips for fluke, porgies, and striped bass — there's even fish-cleaning services available. Party cruises are also offered, with up to 50 guests headed down the East River to see the Manhattan skyline and sites like the Empire State Building, Brooklyn Bridge, LaGuardia Airport, the Statue of Liberty, South Street Seaport, and Ellis Island.
Sound Bound Fishing Charters
New Rochelle; www.soundboundcharters.com
There are three vessels in the Sound Bound fleet: a 32' Pickerell seating six; the Sound Bound Too, a 35' Young Brothers seating six with LED lights for night fishing and an enclosed bathroom; and Sound Bound III, a custom-built, 25-passenger, 43'x16' Torres. Fishing rods and bait are provided with each vessel.
Sound Fishing Charters
Port Chester; www.snowgoose2.com
The Snow Goose 2 vessel sails Monday, Wednesday, and Friday 4 p.m. to 8:30 p.m. through Labor Day and includes complimentary fishing rods and bait. Interested in renting the vessel for the afternoon? They offer private charters for up to 35 people, 2:30 p.m. to 7:30 p.m
Yacht Clubs
Fine traditions and camaraderie bring sailors, powerboaters, and oarsmen to the county's 19 private yacht clubs.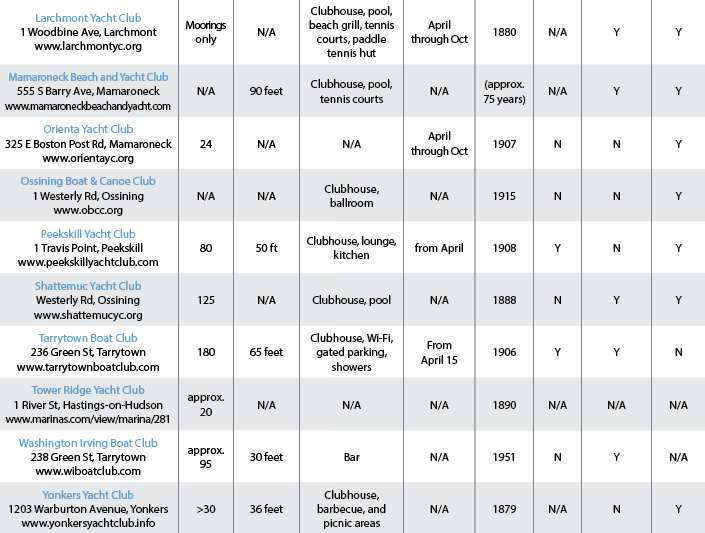 Meet your Neighborhood Boater
Charles "Butch" Ulmer of Larchmont is a sailmaker who has been sailing for 60 years, once tried out for the Olympics, and calls his time sailing dinghies with his kids at the Larchmont Yacht Club one of his favorite experiences.
WM: How did you become interested in sailing?
CU: My father was a sailmaker, and I grew up on City Island, one house from the water. I had my first sailboat at about 7 or 8 years old. I'm also a graduate of the Naval Academy, and I was on the Navy sailing team.
WM: Your father established his sail-making business in 1946. You ran the business before selling it in 2013. How have things changed?
CU: When I started, everything was done by eyeball and by hand, including the computations. Today, everything's done by computer. Also, when I started, all the boats were wood. City Island used to be the boating capital of the world, with some of the best boat builders here on
the island.
WM: What do you like about sailing in the Long Island Sound?
CU: It's a very protected, yet large body of water, in proximity to the major metropolitan area. Because it's so, sailing can be done in conditions that, in other places, you might not want to.
WM: You've done a lot of competitive racing. Was it based in Westchster or other areas?
CU: While I was in the Navy, I tried out of for the Olympics and the Pan American games in a boat called a Finn. After leaving the Navy, I got into sail-making and sailed a variety of one-design boats and that took me all over the country. Subsequently, I spent 14 to 15 years sailing dinghies at Larchmont Yacht Club all winter; it's called frostbiting. I also did a lot of ocean racing, including 18 races to Bermuda. In 1966, I raced from Bermuda to Copenhagen (21 days) with Bob Derecktor, of Derecktor Shipyards in Mamaroneck.
AW: Go out sailing with friends, enjoy the sea, the wind, and the love. There is a boat for everyone. Buy good foul-weather gear and take a Safety-At-Sea course.