Trying to find a gorgeous beach resort that's serene, affordable, but doesn't skimp on the amenities is like trying to find a unicorn. Yet, that's exactly what the newly re-opened Belleview Inn has to offer.
The 35-room boutique hotel was once a sprawling, 400,000 sq ft behemoth of 145 rooms, originally constructed in 1897 by rail tycoon Henry Plant. For more than a century, the hotel played host to Gilded Age Hollywood royalty, rock stars, and presidents — and even the U.S. Army Air Corps during World War II — but sadly closed shop in 2009.
In 2016, the property was purchased by a local St. Petersburg, FL developer and relocated its current location at the heart of a new-construction gated community and golf course (which of course also has access to the inn's facilities). As of this year, those amenities are open to you too.

Courtesy Belleview Inn
Rooms are immaculately appointed, with modern design elements and quite a few timeless touches — the house maintains more than 80% of its original construction even 120-plus years later. Each room features both sleeping and sitting areas, and includes beautiful bath fixtures, a plethora of plush pillows, and independent central air systems to keep every guest comfortable, where they want to enjoy the balmy Floridian summer or chill out like a penguin after hitting the pool.
Utterly picturesque, said pool is ringed by perpetual fountain arcs of water and sports an adjacent hot tub that just might be the perfect way to end a night (after a few games of bocce or corn hole and the hotel's daily porch-side sunset champagne toast, of course).

Courtesy Belleview Inn
The Inn also offers a fitness center, history-packed reading room, and an events space that can comfortably seat about 60. While the hotel doesn't have a dedicated restaurant, guests are sure to enjoy breakfast: Every morning each person receives an adorable picnic basket of fresh fruit, juice, and a fresh-baked pastry along with a copy of the daily paper.
Be sure to also stop by Masie's Marketplace — named for the wife of Plant's son Morton, under whose stewardship the hotel nearly doubled in size to a mind-bending 800,000 square feet — where one can purchase snacks and café items, soft drinks and alcoholic beverages, and other various vacation sundries. All guests are also welcome at the bars and restaurants of the exclusive Belleair Country Club.
While many Florida resorts endeavor to keep you on the property, the Belleview Inn takes full advantage of its location: Located on the mainland (Belleair), the hotel is just minutes to downtown Clearwater and nearby restaurants like the homey Wildflower Café or the upscale, seafood–inflected Seaweed and E&E Steakout. The hotel is only 20 minutes from Dunedin's Artisan District, full of new mixed-use housing, boutiques, art, and eight (!) local breweries within a two-block radius.
Art lovers will also want to take a morning to drive into St. Petersburg proper, and enjoy the Dalí Museum, the largest permanent collection of Salvador Dalí works outside of Europe. (About a 40 minute drive, depending on highway traffic.) The Inn even provides bicycles, free to guests, to help enable exploration of the surrounding community.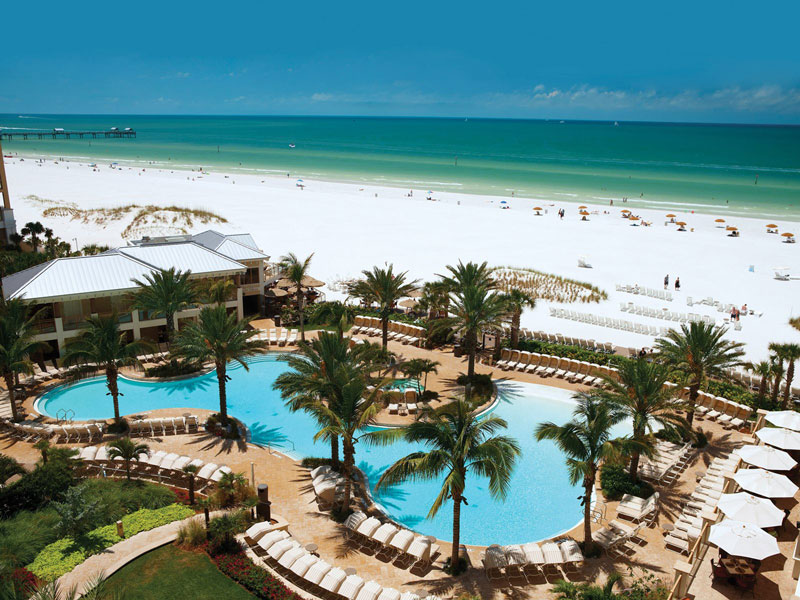 Belleview Guests gain access to Sandpearl's white sand beach, decadent spa, and delectable restaurant — basically everything but the pool, as it has its own far more private experience.
Courtesy of Sandpearl Resort Clearwater Beach
But what if you do want to spend your entire vacation parked on the beach? Belleview Inn is a member of the Opal Collection, meaning it's owned and operated by the same company as Sandpearl Resort. Belleview guests can take full advantage of this relationship, enjoying unrestricted access to Clearwater Beach, named TripAdvisor's Number 1 Beach in the U.S. in 2016. Dive headfirst into the warm waters, or lay out on the white sands tanning with a good book. Belleview guests also have access to Sandpearl's AAA four-diamond restaurant, Caretta's, and the resort's decadent spa.
Season rates start at $220 per night.
25 Belleview Blvd.
Belleair, FL
877.905.4496

Courtesy of Belleview Inn